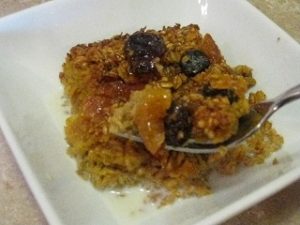 Nothing starts off a cold wintry morning better than a bowl of hearty, warm, good-for-you baked oatmeal.  Not only is it absolutely delicious, it is nutrient dense, a great source of energy to fuel your busy day and a great way to send your kids off to school—and best of all, you can prepare this version the night before and bake it in the morning!
Some notes about OATS!
Oatmeal is considered an almost magical food, given its many health benefits.

While most people end up loving the taste of it once they have tried it, oatmeal somehow remains one of the least eaten available foods in the world. The USDA estimates that only 5% of the world's entire oat crop is actually eaten by humans.

 Oatmeal helps you lose weight because it actually reduces your craving for foods that are not good for you.
  All of the nutrients in oatmeal are exceptionally good for your heart
 Oatmeal gets rid of cholesterol.  It helps to compare the little pieces of oats found in oatmeal to small sponges. These small sponges soak up all of the bad cholesterol in your body. They then take the yucky stuff and remove it from your body.  All of this is attributed to the very valuable fiber that is found in oats.
 Oatmeal strengthens your children's bodies
There are several types of oatmeal. Rolled oats are oats that have been steamed and flattened, and they generally cook in 15 minutes or less. They are good for baking, but instant oats aren't. Instant oats are rolled oats that are precooked and dried, so they cook almost instantly and are too soft and gooey for baking. Steel-cut oats are not rolled. Instead, the grains are cut into a couple of pieces and left whole. This chewy-textured version of oatmeal takes 30 minutes or more to cook.
Oatmeal is an excellent source of carbohydrates, as it is a whole grain that  the body processes slowly.  This means that if it is eaten in normal quantities,  it will not tend to spike your blood sugar. Watch out for instant packets of  oatmeal, however, as these may contain as much as 13 g of sugar whereas plain  oatmeal only contains 1 g.
Oats are rich in minerals, including phosphorus, magnesium, manganese, iron and zinc.  Oats are a rich source of B vitamins including folate – that critical nutrient which is vital to reproductive health and the proper development of babies growing within their mothers' wombs.
WHY SOAK OATS???? 
For this recipe, you will be soaking and refrigerating the oats overnight.  Due to the effects of naturally occurring anti-nutrients found in whole grain, such as phytic acid, oats need to be properly prepared in order to get all their nutritional value.  Soaking the oats increases your body's ability to better digest the grain and better absorb minerals.   It is recommended that you soak oats any time you use them to make any recipe that uses them—including a pot of simple morning oatmeal.   For this recipe they are being soaked in milk, however they can also be soaked in water if preparing them for other uses.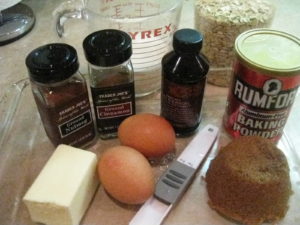 Ingredients
1/3 cup butter
2 large eggs
3/4 cup brown sugar—you can use less if you are trying to cut your sugar intake–I have used 1/2 cup brown sugar and it tastes just as good
1 1/2 teaspoons baking powder
1 1/2 teaspoons vanilla
1 teaspoon nutmeg or 1 teaspoon cinnamon–I like to use both!
1 cup milk
3 cups regular rolled oats—or try substituting some of the rolled for steel cut–it will add slightly chewier texture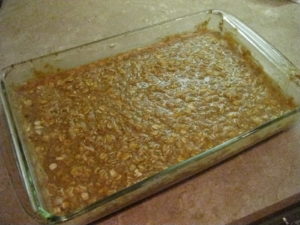 Melt butter.

Grease 1 1/2 quart baking dish and drop in eggs and beat well.

Add brown sugar, baking powder, vanilla, nutmeg or cinnamon, and
salt. Mix well, no lumps.

Whisk in butter and milk, then add oats.

Stir well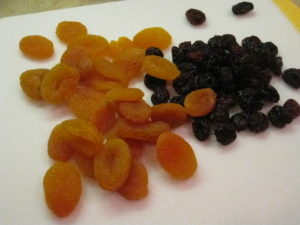 For some added natural sweetness, extra fiber and vitamins add a handful of chopped dried apricots and dried cherries (or raisins).  If you like walnuts, they are also a great additional option.
After refrigerating overnight, incorporate dried fruit into oatmeal mixture right before placing into the oven.  Cherries will brown in oven if too close to the surface so mix them in well!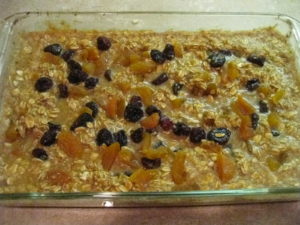 Refrigerate overnight, then bake, uncovered, at 350 for 35-45 min, or until set in the middle.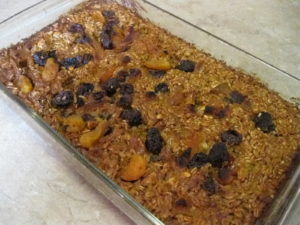 Serve hot with warm milk poured over top. You can add additional sweetener such as agave or brown rice syrup over the top but use sparingly as this recipe already contains brown sugar and dried fruit which provides plenty of sweetness!  What a great way to start off the day!!  Refrigerate any leftover portion and heat later for dessert or breakfast the next morning.
SPEECH SNACKS FOR /l/: 
The /l/ sound is produced by age 5-7  by 90% of children according to most development charts.   We have addressed the /l/ in  the previous post  "Almost Lasagna".  Refer to this recipe for additional /l/ practice. 
One of the most common substitutions that children make is a /w/ for /l/ sound…as in "weap" for "leap".  This sound requires good lingual (tongue) strength and placement  for proper production.  I will tell my students, "to make this sound, you must place your tongue behind your front teeth, on the bumpy part of your mouth—hold your tongue up and turn on your voice!"
Other tricks to help teach the /l/:
Have your child practice licking peanut butter with his tongue from behind his front teeth. (you can also try other nut butters, marshmallow fluff or, icing—look out for the sugar rush!)
Have your child hold a  cheerio up behind his front teeth with his tongue tip.
Try stimulating the tongue tip with a toothbrush and then stimulating the alveolar ridge. This will help create better awareness of these two contact areas.
Practice the sound at the syllable level—la,le,li,lo,lu–as well as in middle and final position of syllables.  Sing "Deck the Halls" and have them practice "Fa,la,la,la,la…".  Move on to the word, phrase, sentence, and conversation levels when they are successful at each of the previous levels.
While preparing this recipe with your children, use the following key /l/ words to reinforce this sound:  OATMEA

L

, BOW

L

, RO

LL

ED OATS, VANI

LL

A. MI

L

K, ME

L

T, FULL. 

Practice the /l/ words, then use them in sentences. 

Educate your children about good nutrition and tell them why the oatmeal is good for them—refer to the  "Notes about Oats" section.

There are many steps of this recipe that your kids can help with—

greasing

the pan, 

cracking

the eggs,

pouring

the ingredients,

stirring

the ingredients.  Focus on these "action words" to help build their vocabulary of verbs.

Talk about the concepts BEFORE and AFTER.  Compare how the oatmeal looks before it's baked and afterwards. Print out and use the photos in this recipe to compare the differences.