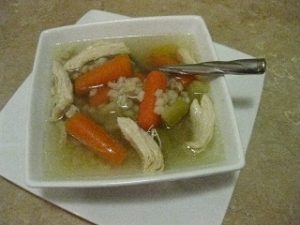 Nothing is more comforting when you are feeling under the weather than a bowl (or two) of homemade chicken soup.  I can remember this remedy being a magical elixir for me many times throughout my life.  Luckily, I had a mom who instinctively knew when a bowl of homemade soup was in order.  As a child, it got me and my sisters through many cold and flu seasons.  As a young adult, I can remember returning home from college for a quick weekend visit and walking in the door greeted by family and the familiar, comforting aroma of mom's chicken soup.  As a parent, with a family of my own, I have been lucky enough to have this wonderful recipe passed on to me—and it has come in handy on many occasions—for my child— and my husband who becomes a child when he is feeling sick!!  This holiday season (and cold and flu season) I am passing on the gift of Homemade Chicken Soup to all my viewers.  I hope it comforts and warms your heart and soul as well as your ailing body the next time you are in need of a natural healing cure! 
Enjoy this fun tune: " Chicken Soup with Rice" written by the amazing children's author Maurice Sendak and put to music by the voice of  Carole King—it may bring back childhood memories for some of us!!  Have your kiddos sing along with you as you practice the /s/ and /ch/ sounds together!!! 

Can Chicken Soup Really Cure the Common Cold???   
When properly prepared, chicken soup is loaded with valuable nutrients. This includes:
Chicken: Chicken contains an amino acid called cysteine, a substance released when you make soup. This amino acid is similar to the drug acetylcysteine, which is prescribed by doctors to patients with bronchitis. It thins the mucus in the lungs, making it easier to cough out. And hot chicken vapors have been proven more effective than hot water vapors in clearing out the cold in your nose.
Carrots: Carrots, one of the routine vegetable ingredients found in chicken soup, are the best natural source of beta-carotene.  The body takes that beta-carotene and converts it to vitamin A. Vitamin A helps prevent and fight off infections by enhancing the actions of white blood cells that destroy harmful bacteria and viruses.
Onions: Onions, another chicken soup regular, contains quercetin, a powerful anti-oxidant that is also a natural anti-histamine, and anti-inflammatory.
***While chicken soup isn't a cure for a cold, it does help  alleviate some of the annoying symptoms that come with it.  And, if nothing else, it definitely is a delicious, comforting  meal that helps keep your body hydrated.
The next time the cold bug has you down, stay warm, get a lot of rest, and get your mom (or some other kind soul) to make you a big pot of homemade chicken soup!!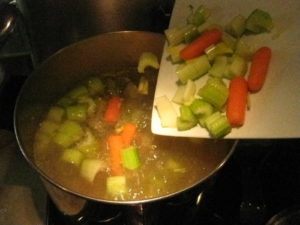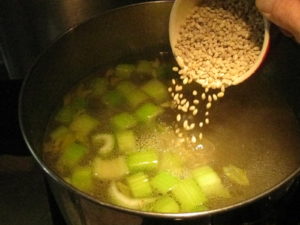 SPEECH SNACKS for /s/ and /ch/
Several posts ago, I wrote about Chocolate Cherry Pumpkin Bark with speech snacks for /ch/—click here to learn all about placement and production of the /ch/ sound and tips and tricks for helping your child make this sound. 
Practice the /ch/ words

CH

OP,

CH

ICKEN, CRUN

CH

Y, KIT

CH

EN, LUN

CH

Practice the/ch/ phrases chop the carrots, chop the celery, chicken soup, cook the chicken, crunchy carrots, crunchy celery, soup for lunch, cook in the kitchen
Ask your kiddos, "What else can we eat with the soup?"  Help them with these /ch/ phrases:  soup with

ch

eese,  soup and

ch

ips,  soup and na

ch

os, soup and sandwi

ch 

To practice the /ch/ in a short sentence: While making this recipe, say "Let's check the chicken soup"  or "Should we check the chicken soup?"and have them repeat the sentence.  Since this is a slow cooking recipe, use this phrase often while you are waiting for it to finish cooking.
To incorporate /s/ into your Chicken Soup practice:
Try these /s/ words: 

s

oup,

c

elery,

sp

oon,

s

ick,

st

alk,

s

alt, medi

c

ine 
Describe the soup with your kiddos—how it looks, tastes, smells:  i.e.: hot

s

oup,

s

alty

s

oup, ta

s

ty

s

oup, good

s

oup
Explain all the reasons why chicken soup is good to eat to your kids (see the information in the beginning of this post)
Have your kiddo practice saying "stir the soup" ,"mix the soup", "sip the soup" to address /s/ blends and /s/
Sing the song "Chicken Soup with Rice" and read the stories listed below to address auditory bombardment, which will help improve  your child's production of this sound as they hear the sound use over and over again in words and sentences throughout the stories.
Here are some great  SOUP books to read with your kids!!!
Chicken Soup with Rice by Maurice Sendak 
Stone Soup by Marcia Brown
Chicken Soup for the Soul Christmas Treasury for Kids: A Story a Day
from December 1st Through Christmas for Kids and Their Families