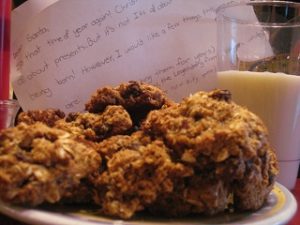 One of my fondest childhood holiday memories centers around the cooking and baking that took place in my home during the weeks leading up to Christmas and the New Year.  Christmas Eve was always the most anticipated meal of the year as we celebrated "La Vigilia" (The Feast of the Seven Fishes).  My mother spent days making her shopping list and preparing the amazing menu of fishes and side dishes.  And somehow, she was also able to magically squeeze in Christmas cookie baking!!  (While caring for her  four children and working a full time job!)  As we got older, we all started to pitch in and help with the baking.  There were always at least eight different types of cookies that were prepared.  We gave them out as gifts to our teachers and our neighbors and had plenty more for all the company that came visiting during Christmas week and up until New Year's Day.   As the oldest of four children, the tradition of making the large variety of cookies was handed down to me and every year I now bring the "cookie tray" to mom's house.  I have continued to make many of the same wonderful favorites that we made growing up and have added a few new varieties of my own.  And although I generally throw my health-conscious rules out the window during the holidays, I usually try to sneak in a recipe or two that has some health benefits.  This year I added a delicious cookie that is the perfect substitute for the old oatmeal or chocolate chip stand-by that many of us make over and over every year.  I love how this recipe utilizes yogurt in place of lots of butter and substitutes wheat germ for all that white flour. I think this has become one of my new favorites and it will surely be back on my cookie list next year!   Don't forget to put a few out for Santa too—I think he will approve!!
Oatmeal Wheat Germ Cookies
Preheat oven to 350° F. Lightly oil 2 baking sheets or line them with parchment paper.
INGREDIENTS: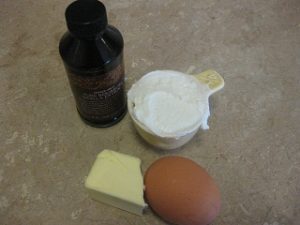 1/3 cup whole wheat flour
1/3 cup all-purpose flour
1/3 cup wheat germ
1 teaspoon baking powder
1 teaspoon cinnamon
1/2 teaspoon baking soda
3/4 cup packed brown sugar
1 1/2 cups uncooked old-fashioned oats
1/2 teaspoon salt
1/2 cup raisins
1/2 cup chocolate chips–I like to use dark chocolate chips
1/4 cup nonfat plain yogurt
2 tablespoons butter (room temperature)
1 large egg
1 teaspoon vanilla extract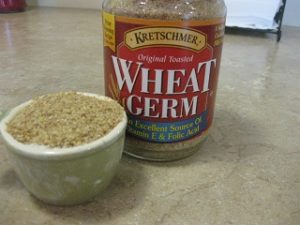 ********************************************************************************************
SPEECH SNACKS FOR /k/:
Have you tried the Quinoa Pilaf recipe posted several weeks ago??  You can find more /k/ practice as well as information on placement and production of this sound by visiting the link or clicking here.
Here are some great /k/ words to practice while making this recipe:
COOKIE, SANTA CLAUS, KRIS KRINGLE, BAKE, PACK, CHOCOLATE, CUP, WHISK, MILK, CHRISTMAS
Practice these phrases "milk and cookies," "cookies for Santa,"  "let's bake cookies", "Christmas is coming"
Cut out brown circles to resemble cookies.  Place the above /k/ words and phrases on each paper cookie.  Make two cookies for each word/phrase.  Turn them over so the words aren't showing and play a MATCHING GAME. When they find a match, they can earn a real cookie!!
Use the paper cookies to practice the /k/ at the sound and syllable level: Place real raisins or chocolate chips on each paper cookie.  Vary the number of chips or raisins on each one.  Have them practice the sound or syllable once for every chip or raisin.  If they produce the sound correctly, they earn the treat.  Collect them in a cup and enjoy them after the activity is completed.
Ask your child to politely ask for cookies using a good /k/ "Can I please have a cookie?"
Ask your child to identify all the ingredients in the recipe by using the above photos
Let your kiddos help with pouring and measuring! 
Don't forget to put out cookies and milk for Santa on Christmas Eve, with your kiddos, before they settle down for a long winter's nap!
"COOKIE BOOKS" for the /k/ sound
If you Give a Mouse a Cookie by Laura Numeroff
Who Stole the Cookie from the Cookie Jar
A Cow, A Bee, A Cookie and Me by Meredith Hooper
The Gingerbread Man
Sam's Cookie by Barbro Lindgren
Masy Makes Gingerbread by Lucy Cousins