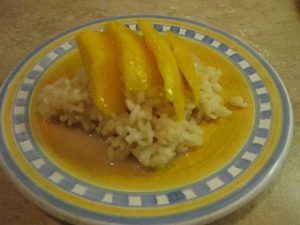 The school year is finally coming to an end (and I mean we are literally counting the hours, minutes and seconds–you'd think it was New Year's Eve and the ball was about to drop down the center of my family room) and the summer is approaching with great anticipation.   This level of excitement and enthusiasm is customary in my household which consists of a school age son, a speech therapist mom  and a school principal dad living under the same roof!   We are all so wrapped up in the land of academia all year long,  it's no wonder we can't wait for a brief respite for just a few glorious weeks!!  This summer we will be taking a well-deserved beach vacation and a few day trips, although after writing this post, I wanted to travel to a far away destination like Thailand.  I tried this incredible dish recently at a local Thai restaurant (my new favorite place to eat by the way), and was amazed by it's simplicity.  It didn't take long to figure out  how to recreate it in my own kitchen, although I did cross-reference a few recipe sites to see if I was on the right track.  Enjoy this  little taste of summer and the "speechsnacks" for this week— a summer calendar filled with many of the recipes and speech/language activities I have been posting all year.  I picked a few of the most popular ones and featured them on the calendar so you and your kiddos will have fun cooking together while practicing good speech and language all summer long!—Get your copy HERE!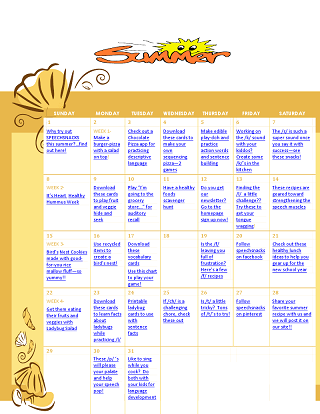 Classic Thai Mango Sticky Rice Dessert (Khao Niaow Ma Muang)
If you love mangoes or sticky rice, you will LOVE this classic Thai dessert!
INGREDIENTS:
1 cup 'sticky rice' OR 'glutinous rice', available at Asian food stores
***PLEASE NOTE:  I used short grain Arborio rice which is used for making risotto. It is very starchy and was a great substitute if you can't get to an Asian market!
1-2 ripe mangoes, cut into slices
4-5 Tbsp. brown sugar
1/4 tsp. salt
1 can good-quality (thick) coconut milk
water for boiling rice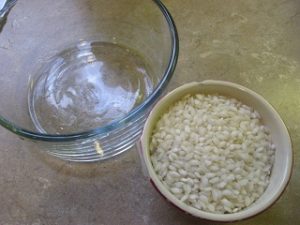 TO MAKE THE SAUCE:
Have your kids ever tried a MANGO???? It's sweet and juicy–the perfect candy substitute!  Try sneaking some mangoes into a fruit smoothie to sweeten it up!  Talk about it's OVAL shape and create a list of other OVAL objects.  Describe the COLORS of the mango–there's more than one color blending together in these beauties—-take out a box of crayolas and try to match up some of the colors to your mango.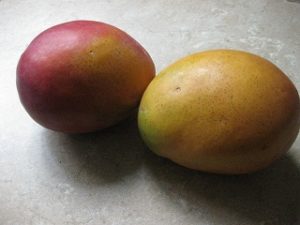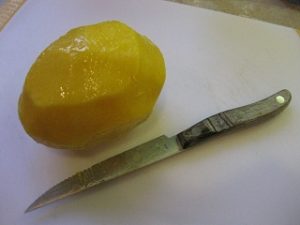 To Slice a Mango…there are many different ways I have seen mangoes sliced.  Mangoes have a tough, fibrous pit in the center so this can be tricky!  I know there is a MUCH more professional way to cut one of these fruits, however I sliced this one up in a very basic fashion.   I peeled the thin skin with a pairing knife and then cut large pieces off the sides, avoiding the center.   Feel free to check out this method:  HOW TO CUT A MANGO