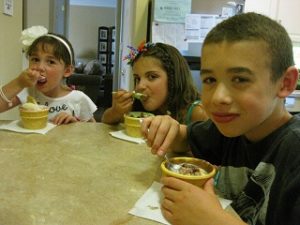 July is here and that means it's National Ice Cream Month!!  Did you know that Ronald Reagan designated July as National Ice Cream Month back in 1984???  (the Gipper sure loved his sweets….he was also a big fan of jelly beans!!)    To kick off this hot month with something cool and delicious, SpeechSnacks has a video you and your kiddos are going to love.  Check out how we took ice cream sundaes and turned them into language lessons!  It's a win/win for everyone….the kids get an ice cream party and the parents get to spend a "teachable moment" addressing important language concepts— without the kids even realizing that they are learning while having a yummy treat!    And watch closely for the healthy alternative I share—it's not ice cream, but it sure looks and tastes like the real deal!!   Enjoy this fun lesson and recipe all rolled (or scooped) up into one!!! 
Whipped Banana "Ice Cream"
Enjoy this ice cream "fake out" which contains ONE INGREDIENT, NO MILK,  NO ADDED SUGAR,  NOTHING ARTIFICIAL !!
Here's Your Language Sundae Lesson:
You can view the Language Sundae Video for a look at how we addressed language skills at various age levels.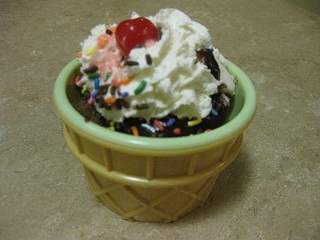 Preschoolers can practice:
1- Practical  knowledge of PREPOSITIONS (spatial concepts) by asking them key questions about the locations of  different parts of their sundae.  i.e.: Where is the cherry?  ON TOP OF (or ON) THE WHIPPED CREAM.  Where is the ice cream??  UNDER  THE CHOCOLATE SAUCE.  Where are the bananas?  BETWEEN THE WHIPPED CREAM. 
2- COMPREHENSION OF "WH" QUESTIONS i.e.:   What is ice cream made of?  Who drives and ice cream truck?  Where can you buy ice cream?
Elementary School Age Kiddos can:
1-SEQUENCE the steps they took to make the ice cream sundae (using key words to organize their thoughts–FIRST,NEXT,LAST)
2-DESCRIBE what their sundae looks like (to help develop sentence length and complexity)
3-Use ADJECTIVES to describe their sundae: i.e.: CREAMY, DELICIOUS, FLAVORFUL 
4-BUILD VOCABULARY by addressing ANTONYMS AND SYNONYMS: i.e. Name some synonyms for cold—freezing , frigid, Name some antonyms for cold–sweltering , burning 
And if you love technology like I do, grab your iPad and check out this ice cream app that is fun yet has great potential for working on language skills (descriptions, prepositions, sentence building):
Ice Cream App FREE in the itunes store–check it out here
…and if you haven't already checked out my review of  the ICE CREAM MONSTERS children's story by Erik Raj, visit my review of his wonderful app here!!!!!!