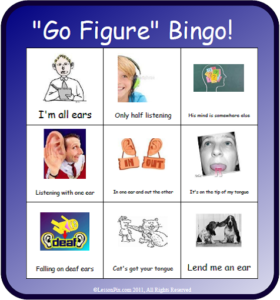 Many  Americans have never eaten a fresh fig—(blame fig newtons and dried figs)— those are NOTHING compared to a fresh fig.  A fresh fig tastes like a mix between  a peach and a strawberry.   This September I found a great use for my fresh figs that are growing like crazy on the Celeste fig tree in my backyard.  Figs can be eaten straight from the tree or used in a variety of appetizers, main courses and desserts.  Today I'm sharing a recipe for homemade fig streusel that will leave you wanting for more!      And if you would like to check out a great recipe that uses dried figs, read my post on Fig Bars from last September—and some great ways to incorporate the /f/ sound while cooking with your kids.   I give full credit to my Italian ancestry for my interest in growing fig trees.  I blogged about this a while back  and thought I'd share my cultural story with you here again.
This week's therapy idea is a continuation of the "Listening theme" from my last post.   I created figurative language bingo cards (inspired by my fig recipe, the game is called Go "FIG"ure) that can be used to teach idioms associated with listening and communication.  I found pictures that represent the idioms in a very  literal and humorous way.
GO "FIG"ure Game Rules:
1–Each player gets  a bingo card (there are three layouts).  Grab them here.
2–Copy the bingo index/hat draw cards  included in the download—make three copies and cut out all cards.  Place cards into a pile or container.
3– Draw a card and cover the spot on your bingo sheet.  You can make this game "four corners", "t-shape" , "full card"  or traditional— vertical, horizontal, diagonal.
4–When the card is draw, ask the student to read the idiom on the bingo sheet.  Explain the idiom by DEFINING/DESCRIBING IT, USING IT IN A SENTENCE and/or RECALLING A REAL-LIFE application of the expression— Ask your kiddos to try giving their own sentence for the idiom—This is a good way to apply their comprehension of the idiom in a practical way.    See my idioms sentence examples for use with this activity.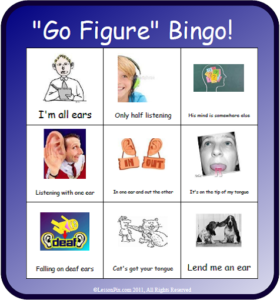 PLEASE NOTE:  the images used for this bingo game are not the property of LessonPix.  Permission to share this Bingo template has been granted by LessonPix.
Fig Streusel
***Remember to use the photos included in the recipe portion as a sequencing activity AFTER you have finished making the recipe—-print them out and have your kids practice putting them in the correct order and recalling the details—a great way to work on comprehension and memory skills!!!
Ingredients
3/4 cup uncooked rolled oats
1/3 cup All-purpose flour
3 tablespoons firmly packed brown sugar
 3 tablespoons softened butter
 3 cups quartered fresh figs*YOU CAN FIND FRESH FIGS IN THE PRODUCE SECTION OF SUPERMARKETS AND SPECIALTY MARKETS (such as Whole Foods and Italian markets)
1/2 teaspoon, ground cinnamon
1/2 teaspoon vanilla extract
Coat a Pyrex pie plate with cooking spray. Preheat the oven to 350 degrees F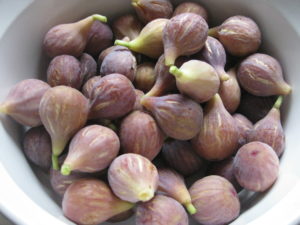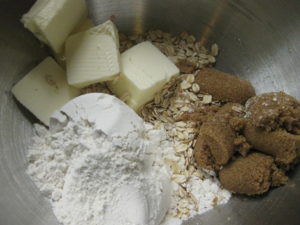 Combine  oats, flour and brown sugar in a bowl. Add butter and blend them well.
THIS IS THE PERFECT OPPORTUNITY TO LET THE KIDDOS MEASURE, POUR AND MIX THE INGREDIENTS –let them use their hands!!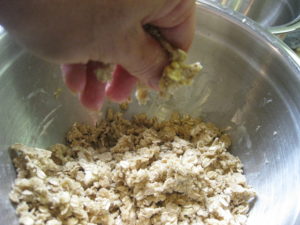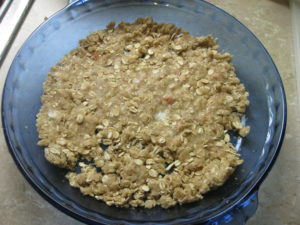 Take the coated pie plate and press half of the mixture into it.
LET THE KIDS PRESS THE MIXTURE INTO THE PIE PLATE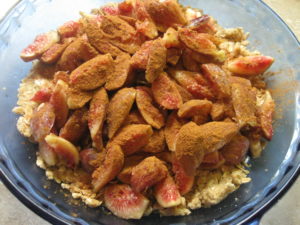 Place the quartered figs in pie plate and sprinkle with cinnamon
HELP YOUR KIDS COMPARE THE DIFFERENCES BETWEEN THE WHOLE FIG/OUTER SKIN TO THE INSIDE FLESH OF THE FIG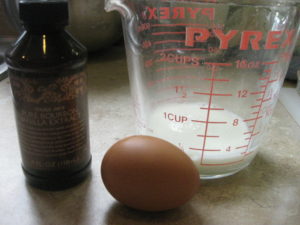 Combine  milk, eggs and vanilla and mix them well. Pour over the figs.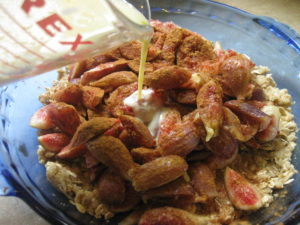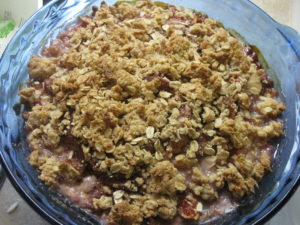 Sprinkle the remaining crumb mixture over the top.
LET THE KIDS SPRINKLE THE REST OF THE CRUMB TOPPING OVER THE FIGS BEFORE BAKING
Bake for around 40 minutes until golden brown in color.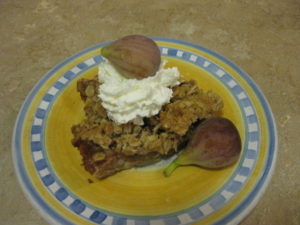 Let cool to room temperature. Serve with a dollop of whipped cream and a fresh fig on top!