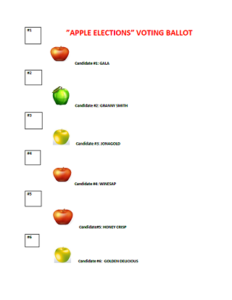 It's Election season AND apple season—-what a perfect combination!  Both are so symbolic of what defines us as Americans—we love our freedom to vote and we love our apple pie!  This week's post features a rustic all-American apple pie just like the kind our forefathers would have enjoyed four score and seven years ago!   The kiddos will have fun kneeding, pressing and rolling the dough and then filling the pie crust with delicious, sweet, crunchy, tart apples!!  And because it's a rustic pie, those little imperfections in the shape, size and folded edges make each one uniquely special.   Enjoy your slice of America as you watch the results roll in on Election Day!  
And I've created a simple ballot and voting activity to help teach our young American citizens a little about the election process.  Check out my APPLE ELECTIONS printable freebie.  You will need a sampling of several different apples for this activity.   Cut up a variety of apples (see  the printable ballot for the types used for this activity) and place each type in a separate bowl and label with the proper name.  Give students a  sample of each apple to taste.  Using the ballot provided, each student should check off ONE box as they vote for the apple they liked best.  I have also included a blank write-in ballot so that you may "nominate" your own candidates (this is for those of you who are using different types of apples, in addition to or in place of the ones I have provided)   Tally the results and declare a winner.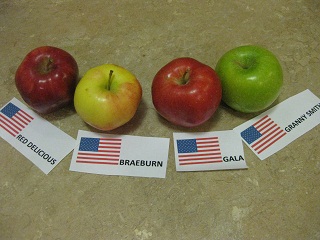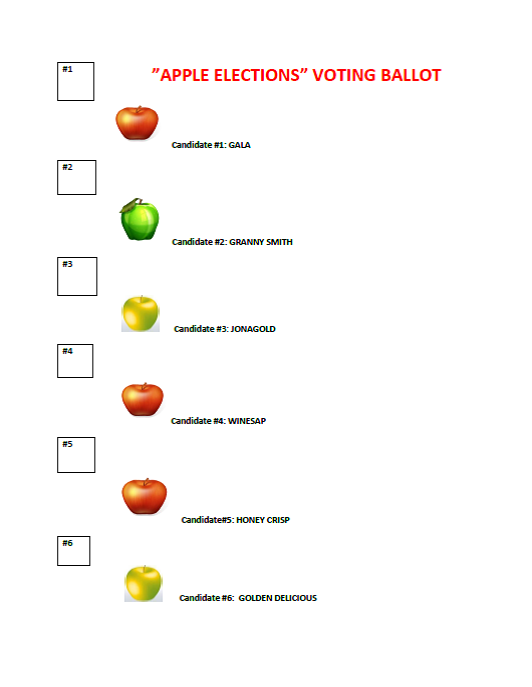 For this activity, the following comparisons/analogies can be made when discussing the election process and teaching  ELECTION VOCABULARY: 
apples

=CANDIDATES
students

=VOTERS
"apple elections" ballot

=VOTING BALLOT
blank ballot sheet

=WRITE-IN'S, NOMINATE
desk

=VOTING BOOTH
classroom

=POLLING PLACE
discussion about the different apples (taste, size, color)

=DEBATE
counting the most votes/least votes for apples

=TALLY, MAJORITY, MINORITY
winning apple

=PRESIDENT ELECT 
 ELECTION DAY APPLE PIE!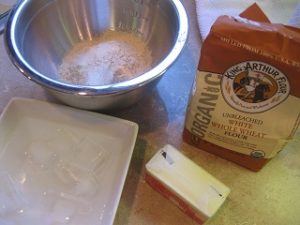 Combine 1 1/4 cups flour, 1 stick of COLD butter (8tblsp.), 1/4 tsp salt, 1/4 tsp sugar, 1-3 tbsp ice water.
Mix together flour, butter, salt and sugar with your hands, a fork or pastry blender. Mix until it starts to form small pea-size pieces. Add in ice water.
Lightly knead, handling the dough as little as possible until the dough forms a ball. Add a little more ice water if necessary. Wrap in plastic wrap or wax paper and refrigerate for one hour.
***GREAT SENSORY ACTIVITY FOR THE KIDDOS!!  ALSO GOOD FOR STRENGTHENING MOTOR SKILLS
To make apple filling, peel and slice 3-4 medium sized apples—granny smith are best, but other varieties can be added as well.
LANGUAGE BUILDING IDEAS:
DESCRIBE the apples using words like: round, shiny, green, red, crunchy, sweet, tart, hard.  Model the descriptive word+apple to help build sentences.
Have your child name as many fruits as they can to work on CATEGORIZATION, do the same with the concept of round and have them name as many round objects as they can think of.
Print and cut out the pictures used in this post and have your child put them in the correct order and try to RECALL as many STEP or DETAILS of the recipe as they can.
Have your older children identify the fractions used for measuring the ingredients in this recipe.  Let them use the measuring cup and spoon to practice this math skill.
After apples are peeled and sliced, squeeze the juice of a 1/2 lemon on the apples to add some mild tartness.  Don't throw out those apple peels!! They make a great snack—full of fiber and vitamins.  Be sure to use organic apples only , especially if you are eating the skins—avoid ingesting pesticides by doing so!
In addition, you can add roughly chopped walnuts, dried fruit such as cranberries, cherries, raisins, apricots, crystallized ginger.  To your apple mixture also add 1 tsp. cinnamon and 1/3 cup sugar.  Mix well.
Roll out your pie crust until 1/2 inch in thickness. Place crust on a buttered cookie sheet. Add apple filling to the center of the rolled out dough. Carefully fold up the sides of the dough toward the center, leaving a small opening at the center. Lightly brush the top of the pie crust with egg wash (one beaten egg with a tablespoon of added water). Sprinkle granulated sugar over the top.
THE KIDS CAN DO MOST OF THIS!  LET THEM ROLL THE DOUGH, FILL THE CENTER OF THE CRUST, FOLD THE CRUST AND BRUSH THE TOP.  FOCUS ON MODELING ALL THE GREAT ACTION WORDS USED HERE!!! 
Bake pie in the oven at 350 degrees for 30 minutes.
Remove pie from oven and place onto a plate to cool. Cut and serve while still warm. Serve with a dollop of vanilla ice cream. Enjoy!