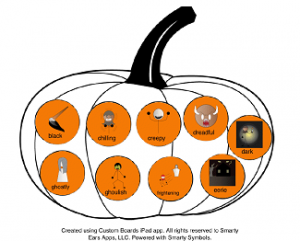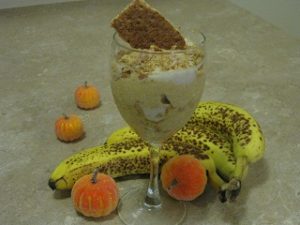 Fall is a great time to introduce new and nutrient-dense foods and flavors to your kiddos.  With such a great variety of beautiful squashes in season, this is a great opportunity to sneak some important vitamins and minerals into their diets —namely, beta carotene which is found in pumpkin.  In addition, pumpkin is extremely high in fiber and low in calories,  contains disease-fighting nutrients, including potassium, pantothenic acid, magnesium, and vitamins C and E.   Although I love using pumpkin in my baked goods, I recently discovered a great way to use pureed pumpkin without cooking it.  (I used canned organic, pure pumpkin—do not use pumpkin pie mix for this recipe.)  This parfait  doubles as a breakfast or dessert for anyone who is itching for a fall-inspired treat!   Check out the amazing combination of healthy ingredients used to create this lovely autumn concoction and I think you will have a hard time deciding whether to eat it first thing in the morning or as a delicious treat to end your day.
I've created a Halloween-themed versatile game using templates and symbols from  Custom Boards by Smarty Ears. 
Each of the four pumpkin templates consists of a different set of words:  SET 1—Halloween ADJECTIVES, SET 2–Halloween NOUNS, SET 3–Present tense VERBS, SET 4—more Halloween NOUNS. 
GAME OPTIONS:
OPTION 1: Use the templates to address SENTENCES FORMATION.  Write a number in each circle from 1-9–on each template.  Roll the dice.  Pick the word that corresponds with the number on each template.  ie:  Template 1 : DREADFUL, Template 2: GOBLIN,  Template 3:   CACKLE,  Template 4: FOG.  Create a sentence from these words:  "The dreadful goblin cackled in the fog."
OPTION 2:  AUDITORY MEMORY/SEQUENCING: Pick one word from each template and ask your students to repeat each word.  i.e. "ghoulish, bat, carve, demon"  You can add more words or use less depending on the ability level of the student.
OPTION 3: CATEGORIZATION:  Use each pumpkin template to BUILD VOCABULARY.  ie:  Name some more NOUNS that are Halloween words.  Name more DESCRIBING WORDS that are associated with Halloween.
OPTION 4: TARGET SPEECH SOUNDS:  Choose template picture symbols that contain speech sounds you may be addressing with students in therapy.
OPTION 5:  IDENTIFY PARTS OF SPEECH:  Randomly give your students  words from the templates and ask them to label the words with the correct part of speech: NOUN, ADJECTIVE, or VERB.
OPTION 6:  ELABORATE ON IDEAS/BUILD DESCRIBING SKILLS:  Use individual templates as "I Spy" game boards.  Ask your students to take turns describing and giving clues about the picture.  The rest of the group must guess which picture is being described. 
DO YOU HAVE ANOTHER WAY TO USE THE PUMPKINS TO ADDRESS SPEECH AND LANGUAGE GOALS???  I'D LOVE TO HEAR YOUR THOUGHTS!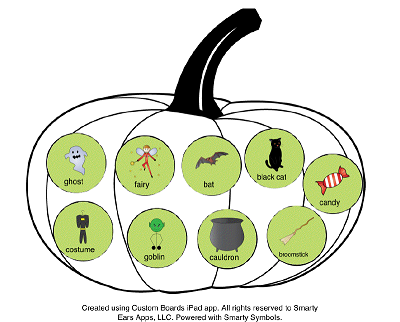 Overnight Pumpkin Parfait
Ingredients:
(these measurements yield ONE serving—increase accordingly!)

1/3 cup old-fashioned rolled oats

1/3 cup 0% plain Greek yogurt

1/3 cup unsweetened vanilla almond milk (or milk of choice)

3 Tbsp pure pumpkin puree

ground cinnamon, ginger, nutmeg, & cloves to taste

2 Tbsp honey or brown sugar

splash of pure vanilla extract

1 large banana, peeled & sliced

4 squares whole wheat graham crackers, (equivalent of 2 sheets)—I used cinnamon graham crackers for a little extra flavor 
Directions:
The night before you intend to eat the parfait, combine the oats, yogurt, milk, pumpkin, spices, and vanilla extract in a bowl. Cover with plastic wrap
and refrigerate overnight.
LET THE KIDDOS POUR AND MIX THE INGREDIENTS—-THEY WILL BE MORE LIKELY TO TRY NEW FOODS IF THEY CAN SEE, TASTE and, TOUCH WHAT YOU ARE MAKING—IT WILL TAKE SOME OF THE MYSTERY OUT OF ATTEMPTING NEW FOODS!!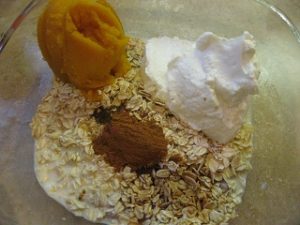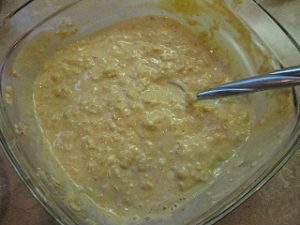 Also the night before, place the banana slices in a Ziploc bag and freeze overnight.
COMPARE THE FROZEN BANANAS TO THE FRESH BANANAS.  TALK TO YOUNG CHILDREN ABOUT THE DIFFERENCE AND HOW /WHY THE BANANAS BECAME FROZEN.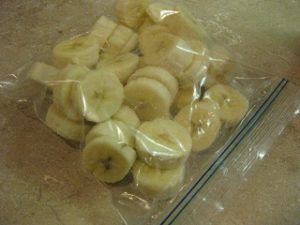 In the morning, place the frozen banana slices into a food processor (or
high-speed blender) and process/blend until smooth and creamy.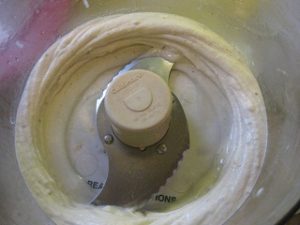 Place the graham crackers into a plastic bag and crush with a skillet or
other heavy item until they turn into coarse crumbs.
WHAT FUN FOR KIDDOS (AND ADULTS TOO!)  USE A ROLLING PIN TO BREAK UP THE GRAHAM CRACKERS INTO SMALL PIECES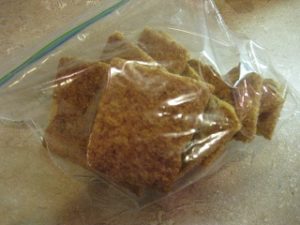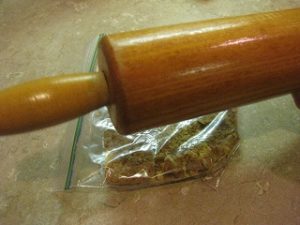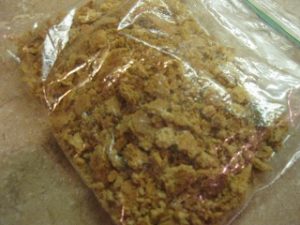 Layer the cold pumpkin spice oats with the banana soft serve and graham cracker crumbs.  Enjoy!
REVIEW ALL THE INGREDIENTS USED TO MAKE THIS HEALTHY AND DELICIOUS TREAT—SEE HOW MANY INGREDIENTS THE KIDS CAN RECALL AND WHICH SPICES THEY CAN IDENTIFY AS THEY EAT THEIR PARFAITS !!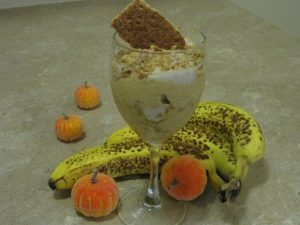 This recipe idea was based on a post found at Healthy Foods For Living.  It has been modified to suit this blog.