"….Not a creature was stirring, not even a (chocolate) mouse."
This week, I've taken a line from one of the most recognizable holiday poems of all time, and turned it into a "speechsnack!"  
We are all familiar with this famous holiday poem and now here is a way to use it to address language targets (including grammar, categorization, direction following/sequencing, tier-2 vocabulary development and sentence building) with your older students!
You will need a copy of the poem 'Twas the Night Before Christmas by Clement C. Moore for this activity.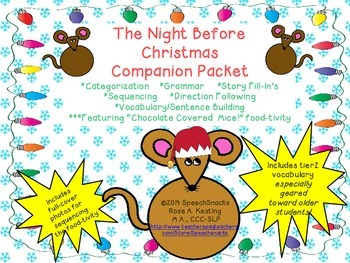 You can find this activity in my TpT Store:
This activity includes:
•One grammar review sheet with definitions/examples of nouns, verbs, adjectives and adverbs.
•12 categorization cards for brainstorming lists of nouns, verbs, adjectives and other categories. Help your students create a list of words for each category. Write answers in the spaces provided.
•2-page fill-in the blank 'Twas the Night Before Christmas worksheets. Insert words into the blanks from your categorization cards. Then, read the silly version of the famous poem aloud .
•Vocabulary building worksheets for 14 tier-2 words taken from the poem. Each word exercise contains the definition, multiple choice questions, and WH questions for applying knowledge of newly learned words.
•Sentence building worksheets that include context clues to help develop sentences.
•One full-color step-by-step photo page of Chocolate Covered Mice food-tivity . Blank boxes are provided to fill in the steps in the sequence. As an option, photo boxes can be cut apart and then reassembled together in the correct sequence.
•One written recipe page
•One comprehension page for recalling the recipe and answering other questions related to the food-tivity
•Answer key for multiple choice questions provided
 CHOCOLATE COVERED MICE
***all the pictures below can be printed out and used for sequencing the steps of this activity.  Simply right click and print!

Ingredients:
1 jar maraschino cherries with stems
1 bag Hershey's kisses
sliced almonds
white decorating icing for eyes
Directions:
Cover a cookie sheet with wax paper.
Rinse and drain cherries. Pat dry with paper towels. Check for pits and remove if found.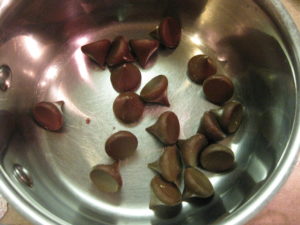 Let your kiddos unwrap 2 Hershey Kisses for every mouse  you plan to make. Place 1/2 in bowl, and reserve the other 1/2. This is a great FINE MOTOR activity for little fingers and  hands! 
Microwave for 45 seconds or melt the kisses in a double boiler.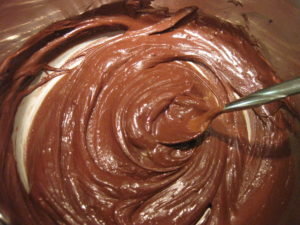 Holding the cherry by the stem, roll into chocolate, fully coating. This will become the body.  Look out….this could get FUN and MESSY !!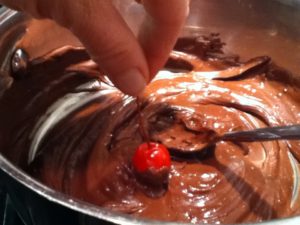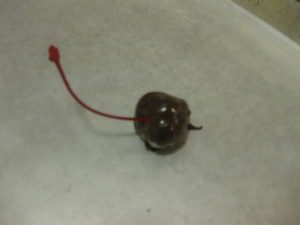 Let kiddos push a Hershey kiss from the reserve pile onto the front of the cherry to make the head.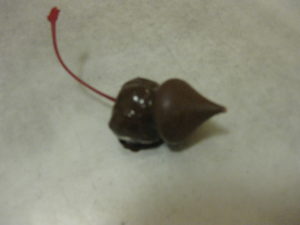 Place on cookie sheet. The melted chocolate should hold the kiss onto the body. Continue until all cherries are coated and have heads.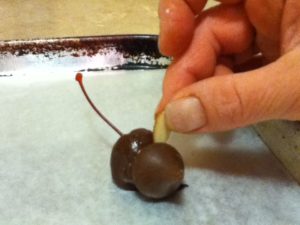 Place 2 almond slices onto the mouse between the Hershey kiss and the cherry to make the ears.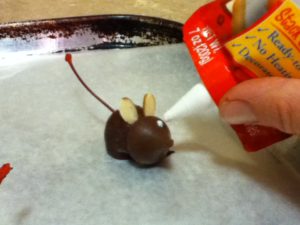 Make eyes with the icing.    Place in fridge until chocolate hardens.  Enjoy your sweet creation!