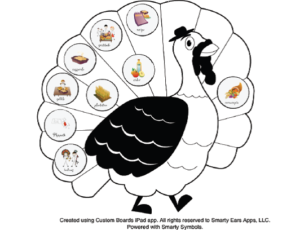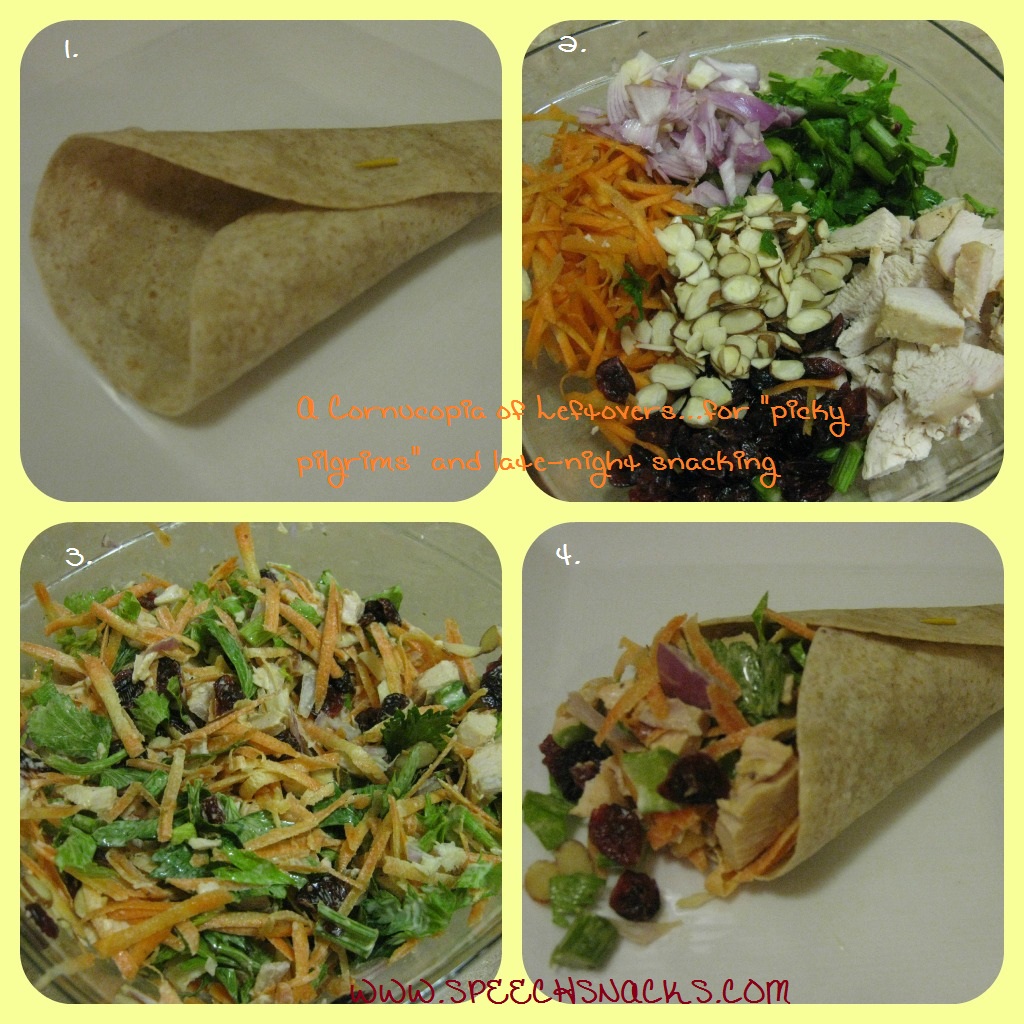 If you have picky pilgrims in your house, then this may be the solution to getting them to try some of those delicious trimming they have been avoiding during the holidays!   I've simply rolled a flour (or wheat) tortilla into a cone shape and inserted a toothpick to hold it together…with a little imagination, you can see how quickly it resembles a cornucopia or horn of plenty!!  Fill your cornucopia with all the wonderful edibles from your Turkey Day feast—I have included cubed turkey pieces, dried cranberries, shredded carrots, chopped celery, red onion and sliced almonds.  You can add whatever delectables you would like, but I thought this combination was a good representation of foods that we might eat for Thanksgiving.  Let your kids take an active role in deciding what new foods they will add and try. Give them the spoon and let them fill their horn of plenty on their own. EXPLAIN the MEANING of the word CORNUCOPIA to your kiddo.  TELL them how a horn of plenty is a symbol of all the good and wonderful foods that the farmer has harvested and all that we are thankful for!  After filling it, let your kiddo have fun exploring their creation and hopefully taking a taste of all the foods that are in it.  ****Remember to use caution with toothpicks and be present while little ones are eating their cornucopias!!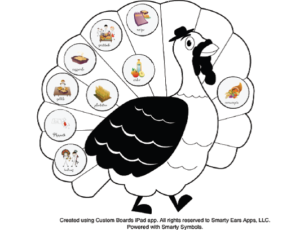 Looking for a fun way to teach new Thanksgiving Vocabulary?  I created a game called "BUTTERBALL BINGO"  .  Download this printable freebie of three bingo sheets.  Each sheet contains nine different vocabulary words for a total of 27 terms to learn.  Then download and print out the bingo answer key.  Cut cards apart, shuffle and place in a pile or put all cards in a basket.  Have students take turns picking a card.  After reading the definition to them, they must determine if they have the correct picture/word on their card that fits the definition.  The first to fill all nine of the spaces on their card is the winner!! (Use colored chips, pennies or other tokens to cover spaces).
**special thanks to Smarty Ears for their great app CUSTOM BOARDS.  "BUTTERALL BINGO" was created using the turkey template from this program.  Have you purchased Custom Boards yet??  If you are an SLP, teacher or parent who likes creating your own educational materials, this app is a "must have!"  Many new updates just released—voice over capabilities and new templates just added.  Check it out at the itunes store!
 "Turkey Leftovers" Cornucopia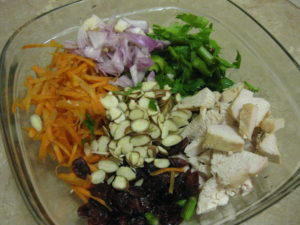 Combine left over turkey with shredded carrots, chopped celery, red onion, dried cranberries, and sliced almonds.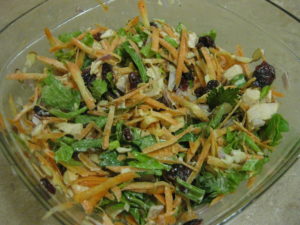 Let your kids have fun stirring and combining the ingredients in a bowl.  Add a tablespoon of mayo, a squeeze of fresh lemon and salt/ pepper.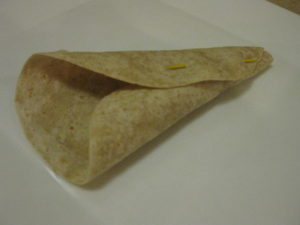 Roll a medium sized tortilla into a cone shape and insert (weave ) a toothpick into the pointed end of the tortilla.  Ask your kids to name other objects that are shaped like a cone to build vocabulary!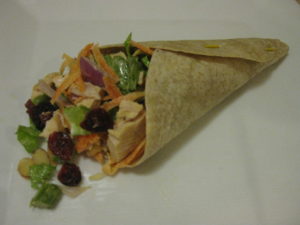 Let your kiddo spoon ingredients into cone as you hold it upright for them.  Then lay it down and finish spooning in the rest of the filling.  
Using a fork, your kids can enjoy exploring the delicious variety of healthy foods in their very own horn of plenty—-and don't forget to tell them to be thankful for the bountiful abundance they are fortunate enough to receive!  Happy  Thanksgiving (Leftovers) Day to All!