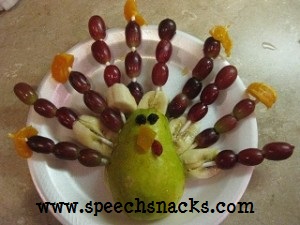 Welcome to the most stressful and most delicious time of year.  If you aren't ready for the holiday season yet, don't worry, you're not alone!  It sneaks up on many of us so unexpectedly and without warning—kind of the same way the farmer sneaks up on Mr. Turkey just before he meets his final fate!  The poor guy is so fattened up by the time November arrives, he doesn't stand a chance at escaping the reach of an agile, determined and hungry human!  Am I being a bit over dramatic? Or feeling too sorry for a bird that can drown if it looks up while it's raining? Perhaps, which is why this week's post is dedicated to the creature that Ben Franklin wanted to make the national bird (sorry Ben, we all know the Bald Eagle won that honor!)   I've paid homage to  Tom Turkey with an activity that is fun to make, healthy to eat, will teach sequencing and direction following and is sure to be the juiciest turkey you have ever eaten!!   NOTE:  NO TURKEYS WERE HARMED IN THE MAKING OF THIS WEEK'S POST!!     
I like to accompany this activity with the story "Twas the Night Before Thanksgiving by Dav Pilkey.  It's an adorable story with a humorous twist and ties in perfectly with the fowl-free sequencing food-tivity found in this freebie download!  The story is filled with many great tier-2 vocabulary words to address with your students.   
Each step contains ways to build language through DESCRIBING, COMPARING, CATEGORIZING, SEQUENCING, DEFINING, and DIRECTION FOLLOWING.  Incorporate the pictures into your language lesson.  If permitted, make this task truly MULTISENSORY by using the actual ingredients in the classroom.  If this is not possible, send home the printouts so parent can create the project at home with their child.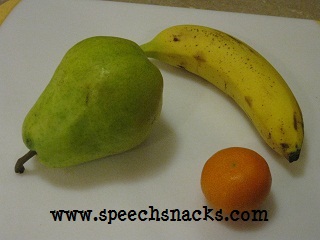 Check out the freebie download to find out how to turn this……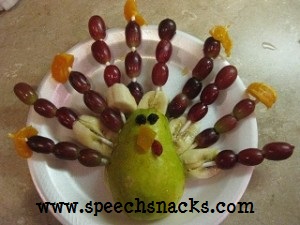 ….into  THIS!! The juiciest turkey you will ever taste!
Teach this easy to learn song to your students and sing it while making your turkey.  Add gestures and act out the song to help your kiddo remember the words, while addressing gross motor skills**** 
I'M A GREAT BIG TURKEY
Tune: "I'm A Little Teapot"
I'm a great big turkey
'Cause I'm well fed.
Watch me spread my feathers.
Watch me bob my head.
When I strut around
I waddle, waddle, waddle.
And when I talk
I "gobble, gobble, gobble".
I'm a great big turkey
And I'd love to stay.
But Thanksgiving's coming.
So it's time to run away!
                        Jean Warren