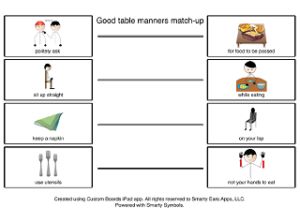 The holidays are a time for giving, receiving and being thankful.
This holiday season I am THANKFUL for this blog, which is my creative outlet and has helped me become a better speech therapist.  I am happy to RECEIVE  feedback, comments and (especially) facebook "likes" from my blog followers and I am excited to GIVE away an incredible, new app thanks to the generous people at Smarty Ears—Social Quest!!!   (see Rafflecopter Giveaway at the end of this post)
During this time of giving and receiving, it is important to be mindful of our own social skills and manners by remembering to use words like  "please" and "thank you" with sincerity and frequency!  As the author of a food-themed speech/language weblog, I found it fitting to address social skills related to eating (a.k.a  good table manners!)  I decided that a post on proper table etiquette while dining at a guests home would be a great way to review these important social skills with our children and our students. ( and not a bad idea for us grown ups to be reminded of as well!)  And if you want another great way to address other social situations that are related to the holidays, checkout the great post (and free downloads) from Speech2Me.  You will find 16 cards with problem solving tasks appropriate for kids of all ages.
I created a  freebie table manners matching game, using my Custom Boards app, as a way to discuss table manners in an interactive and fun way.   Make copies of this visual and have your kiddos hang it on their refrigerators at home–or cut apart, mix up and then match up the pictures and phrases that go together.
Why are Table Manner so Important?
Table manners teach some life lessons like being kind and considerate of others.  Remember that ACTIONS SPEAK LOUDER THAN WORDS and social skills can be expressed verbally as well as non-verbally through our mannerisms and gestures.  Here are a few rules to review with your children regarding table manners.  The following pointers coincide with the printable I have included.
 Good Table Manners TEMPLATE #1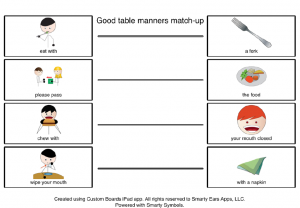 1. EAT WITH A FORK
Teach your child to eat with a fork unless the food is meant to be eaten with fingers….and eating with a fork is good to teach kids at a very young age because it helps them build dexterity in the hands and fingers.
2. "PLEASE" PASS THE FOOD
Teach your kids how to to ask for food rather than just blurting out what they want. The proper way to ask for food to be passed is "May I have some bread, please"?
3.CHEW WITH YOUR MOUTH CLOSED
I am sure you can will agree that no one likes to look over at someone and see that person chewing their food with their mouth open (aka. chewing like a cow!)  Remind kids to also not talk with their mouth full.  (I  can guarantee that plenty of adults breaking both of these table manners!)   If you are going to break this rule—make sure to cover your mouth so no one can see the food inside.
Teach your child to breath through their nose and chew with their mouth closed. And remind them to wait and speak only when their mouth is not full of food.
4.WIPE YOUR MOUTH WITH A NAPKIN
Remember to wipe your mouth only—-don't wipe your face or blow your nose with a napkin.  Excuse yourself from the table and go the restroom to do that!
Good Table Manners TEMPLATE #2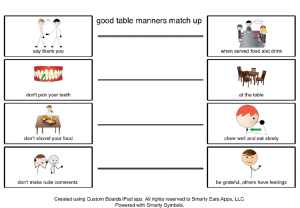 1.SAY "THANK YOU"
Always say thank you when served something—it shows appreciation.
When eating at someone's home or a guest of someone at a restaurant, always thank the host and tell them how much you enjoyed it.  Mention a specific item that was particularly tasty, (i.e. the dessert was great.)   Remember, someone took time, energy, and expense to prepare the food, so show your appreciation.
2.DON'T PICK YOUR TEETH
Do not pick anything out of your teeth— excuse yourself and go to the restroom to pick.
3.DON'T SHOVEL YOUR FOOD, CHEW WELL AND EAT SLOWLY
Someone took a long time to prepare the food so enjoy it slowly.  Wait several seconds after swallowing before getting another forkful.
Don't stuff your mouth full of food—not only does it look unappealing,  you could choke!!!
4.DON'T MAKE RUDE COMMENTS , BE GRATEFUL–OTHERS HAVE FEELINGS
Someone took time and financial expense to create a meal for you to share with them.  If you don't like the way it tastes, don't express your negative feelings in front of them.  You can politely say "no thank you" if they offer you something you don't like or, give it a try—you just may discover that you actually like it!
Good Table Manners TEMPLATE #3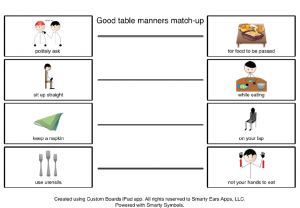 1.POLITELY ASK FOR FOOD TO BE PASSED
Don't reach over someone's plate for something.  Politely ask that the item to be passed to you.  Show consideration.
Ask to be excused when you are done eating instead of leaving the table without saying anything.   You can say: "I'm done eating.  Can I be excused?"
2. SIT UP STRAIGHT WHILE EATING
Sit up—don't  hunch over your plate.  Good posture is good for digestion!
3. KEEP A NAPKIN ON YOUR LAP
Teach your child to place the napkin on their lap right after being seated. The napkin should be used to wipe the mouth. Teach your child to wipe their mouth before drinking from a glass. No one want to see spaghetti sauce on the rim of their glass—my son is guilty of this one, I admit!!
Kids (mine included!) have a habit of wiping their hands on their pants. By keeping a napkin on the lap, they wipe the napkin instead of their pants—and it keeps any stains off their pants.
4.USE UTENSILS, NOT YOUR HANDS TO EAT
I have this one listed with different wording in template #1, but it can't hurt to repeat it again in a different way!   Use a fork and knife to cut and eat solid foods, and a spoon to sip soup—no slurping!!     When you are done eating at a guests house, offer to pick up your plate, utensils and glass and put them in the sink.
…and now for the giveaway!!!!
My gift to one of my lucky readers this holiday season is a copy of  Social Quest—-the recently release app by Smarty Ears (currently $19.99 in the itunes store).  Yet again they have found a way to address  communication skills in an exciting, effective way that will captivate your kiddos while enhancing their ability to practice good social language.   This app specifically targets the social skills of older student on your caseload (upper elementary,  middle and high school age).  In this app, students are taken to various real-life locations and asked to finish sentences or asked questions about what they would do or say in various social situations.  Social Quest is presented as a sci-fi meets medieval adventure…..so let's explore this awesome app!
SETTINGS—- Settings can be customized.  When wrong you can remove items, sound a buzzer, or simply keep going.  You can also have audio on or off for reading questions.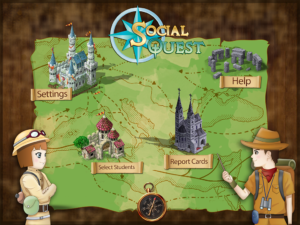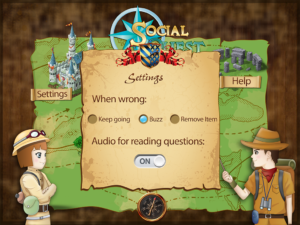 SELECT STUDENTS—-Select a photo, an avatar or a blank space (the kids love the knight/gladiator themed avatar!)  Then decide if you will address expressive or receptive language tasks.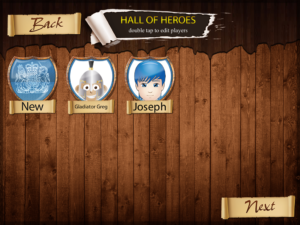 RECEPTIVE MODE—-In this setting, you can decide to have students pick one or two correct choices from the three choices given.  They will have to pick two correct choices to get credit, if you choose that mode.  I like that they give this option since we all know that there is never just one right answer when it comes to making choices and solving problems.  It also makes the student have to read through all the choices and not impulsively choose the first one they think is correct without reading on .
EXPRESSIVE MODE—This level is much more open ended.  Students must respond without any choices or cues other than the picture and scenario presented.  This level requires the therapist/user to be subjective in deciding whether the answer was on target.  The player is presented with three bowls and the therapist must drop a "coin" in the "missed"," almost" or "got it" bowl depending on the response given.  (page down to view a screen shot of this feature)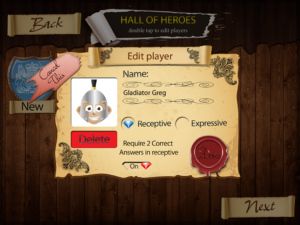 LOCATIONS—-This app addresses social situations that take place in the following locations:  home (kitchen, bedroom, living room, bathroom, garage/yard); School (classroom, auditorium/library, cafeteria, hallway/office, yard/gymnasium; Community (grocery store, mall, restaurant, neighborhood, movies, doctor/dentist office).  Drag your individual player or multiple players into as many locations as you would like.  Then slide the transporter machine lever to the right and let the fun begin!!!!!!!   The kiddos loved the cool sci-fi sound effects of their player being zapped into the next dimension….ok maybe not quite that extreme, but they were taken to a new location based on their choices.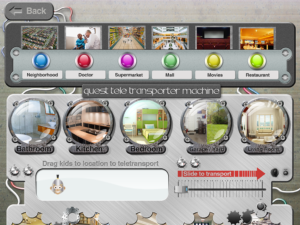 I  was so impressed by the real life situations and images used to make this app so visually appealing.  And the scenarios were so true to what many tweens and teens are likely to be confronted with on a daily basis!!   Keep in mind that the scenarios can also be used as a platform for eliciting/expanding  additional conversational exchanges.
SCREEN SHOTS OF RECEPTIVE MODE SAMPLE SCENARIO: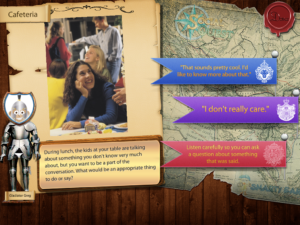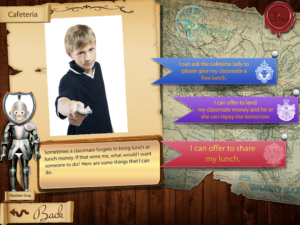 SCREEN SHOT OF EXPRESSIVE MODE SAMPLE SCENARIO: (take note of the bowls/coins used for judging appropriateness of responses)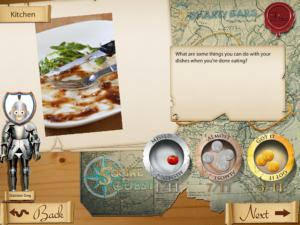 REWARDS—–This is my favorite feature of this app!!!  Students earn various rewards in each location.  (There are approximately 70 possible rewards that can be earned throughout the game)  The rewards are automatically collected in the "Hall of Rewards" for later viewing.  Each reward has an icon which symbolically represents a social strategy. (i.e.  the "gift" symbol represents "Will help you give to others in reciprocating conversation, interest and complements".   I love these strategies and the great messages they contain.  The Hall of Rewards could serve as a lesson in itself for reviewing coping strategies kids should use in different problem solving situations.  Many good lessons can be learned here—- and collecting rewards is very motivating for students!!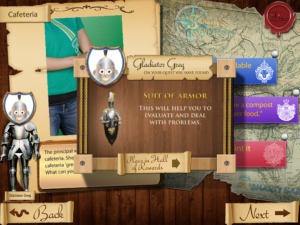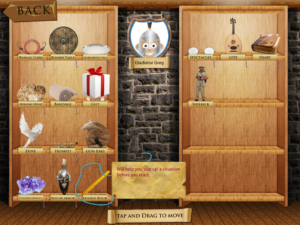 REPORT CARDS—In addition to the Hall of Rewards, you can view your students performance by tapping on the report card.  Since there is no specific end point to this app,  you can click "done" at any point that you choose.   You will then be directed to student profiles.  Here you can click to view "Hall of Rewards" or Report cards to access scores.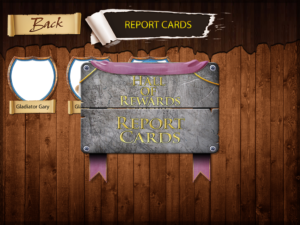 The report card displays the date, locations played, activity level (receptive/expressive), number of items completed and accuracy (percentage).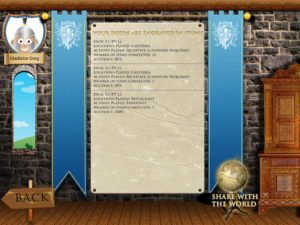 You can email results and  print them out.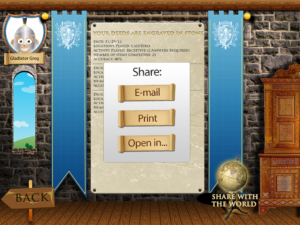 I was very pleased with the content and features of this app.  It contains a great representation of real-life situations and provides opportunities for students to practice strategies that will help them become better social communicators!!  I found it motivating, easy to use and navigate and had a great data collection page (reports).  The Hall of Rewards gave great strategies for improving social/pragmatic skills.
 If you haven't done so already, put this app on your wish list to Santa this holiday season!!