In celebration of 365 brand new days, I would like to share a dish that not only has symbolic value but is also a very healthful way to start off the New Year!  Every culture has their own foods that are eaten on New Year's Day as a symbol of good health, good luck and prosperity.  One such food is black-eyed peas, eaten in the Southern U.S. and symbolic of monetary luck (due to the roundness of their shape–like coins) I would also like to think they are  a symbol of good health due to their high protein and fiber content.  Not only is this a great side dish to serve at your New Year's feast, but it is great any time of year–and would be especially good at a summer barbecue.  What a simple and nutritious combination of flavors!  Good Health and Good Eating!!
And if you're looking for a way to incorporate vocabulary and expressive language development into the New Year….I created a game and game cards perfect for the occasion.   You can find it in my TpT store!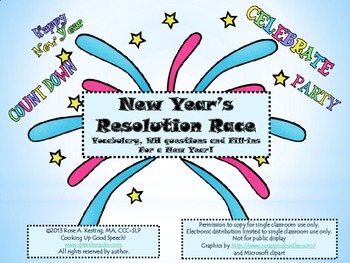 You will find a game board, 18 cards to address vocabulary, WH questions and fill-in-the-blanks, a graphic organizer for use with the vocabulary and a recipe card for Cowboy Caviar to print out.
Hole punch and add to a 3-ring binder to collect all the great "speechsnacks" on large recipe cards!!
COWBOY CAVIAR:
Cowboy Caviar—also known as Texas Caviar depending on who you talk to– is a simple dish with an interesting history. Some believe that consumption of black-eyed peas will bring luck and prosperity in the coming year. Cowboy, or Texas, caviar is an offshoot of that tradition. The dish was developed by Helen Corbitt, a Yankee, who did not like black-eyed peas. She was the head chef at Neiman Marcus and was asked to create an all-Texas menu that would include black-eyed peas. Athens, Texas is, after all, the black-eyed pea capital of the world. Hard pressed to find an existing recipe that met her high standards, she decided to pickle them, and created a dish that could be eaten with a fork or scooped up on a tortilla chip.  While researching this recipe, I found many different versions.  I have taken bits and pieces of the recipes I have reviewed to create my own take on this delicious side dish.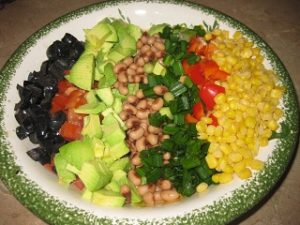 ************************************************************************
Mix dressing ingredients well and add to chopped ingredients.  Let sit overnight in refrigerator to allow dressing to infuse into all ingredients and enhance flavors.  Serve with tortilla chips or crackers.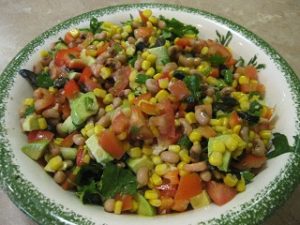 "SPEECH SNACKS " for the /k/ sound:
black olives, black-eyed peas, corn, garlic, cumin, tobasco, avocado, cowboy, caviar, good luck, crackers
There are so many beautiful colors used in this recipe—practice naming all the colors with your younger helpers:  ASK THEM:  "WHAT COLOR IS THE AVOCADO?"  HAVE THEM RESPOND: "AN AVOCADO IS GREEN

"     Name all the foods and their colors.  

Discuss the vegetable category and reinforce the fact that the ingredients used are vegetables.  Have your little ones try to name the vegetables used in this recipe without cuing first.  Provide the label for them if they do not know it.  Have them name other vegetables to build their knowledge base in this category.

 Let your children help mix the vegetables together after they have been cut up by an adult.  Allow them to help measure, mix and pour the dressing ingredients. 

Talk to your children about the traditions of other cultures in celebrating the New Year.  Use the reference list above to tell them how different foods symbolize good luck, health, fortune and prosperity.  Discuss the traditions and customs of your own family with your children.

Talk to your children about the word RESOLUTION.  Explain the meaning in simple, age-appropriate terms.  Have your children make resolutions for the New Year and share the resolutions together as a family. 
****************************************************************************
Here are some kid-specific New Year's resolutions, courtesy of the American Academy of Pediatrics, that can improve the lives of children while teaching them a lesson or two along the way.
Preschoolers
- I will clean up my toys  and put them where they belong.
- I will brush my teeth twice a day and wash my hands after going to the bathroom and before eating.
- I will be nice and loving toward pets and all animals. I will avoid being bitten by keeping my fingers and face away from their mouths.
Kids, ages 5 to 12
- I will drink milk and water three times each day and limit soda and fruit drinks to once each day.
- I will apply sunscreen before I go outdoors on bright sunny days. I will try to stay in the shade whenever possible and wear a hat and sunglasses, especially when I'm playing sports.
- I will try to find a sport (like basketball or soccer) or an activity that I like and do it at least three times a week.
- I will always wear a helmet when riding my bicycle.
- I will wear my seat belt every time I get in a car.
- I will be nice to other kids. I will be friendly to kids who need friends — like someone who is shy or is new to my school.
- I will never give out personal information, including my name, home address, school name, or telephone number on the Internet.
- I will never send a picture of myself to someone I chat with on the computer without my parents' permission.
Kids, ages 13 and older
- I will eat at least one fruit and one vegetable every day, and I will limit the amount of soda I drink, if any at all, to one glass daily.
- I will take care of my body through physical activity and nutrition.
- I will choose nonviolent television shows and video games, and I will spend no more than two hours each day on these activities.
- I will help out in my community by volunteering, working with community groups or joining a group that helps the less fortunate.
- I will take a break when I feel angry or stressed out and find constructive ways to deal with the stress, such as exercising, reading, writing in a journal or discussing my problem with a parent or friend.
- I will talk about my choices with an adult whom I can trust when faced with a difficult decision.
- I will talk with a trusted adult and attempt to find a way that I can help friends if I notice they are struggling or engaging in risky behaviors.
- I will be careful about whom I choose to date and always treat the other person with respect and without coercion or violence. I will expect the same good behavior in return.
- I will resist peer pressure to try drugs and alcohol.
- I will not use a cell phone or text message while driving, and I will always wear a seat belt.
**************************************************
BOOKS ABOUT THE NEW YEAR TO READ WITH YOUR CHILDREN:
Shante Keys and the New Year's Peas by Gail Piernas-Davenport
Squirrels New Year's Resolution by Pat Miller
The Night Before New Year's by Natasha Wing
********************************************************
Here's a list of some symbolic foods and the places where they're eaten for the New Year.
Round Food (Like Coins for Monetary Luck)
Italy, Brazil & Germany (Lentils) Germany (Pancakes) Philippines (Round Fruit) Southern US (Black-eyed Peas)
Green Leafy Vegetables (Like Paper Money for Monetary Luck)
Southern USA (Collard Greens & Turnips) Denmark (Kale) Germany (Sauerkraut)
Golden Food (Like Gold for Monetary Luck)
Southern USA (Corn Bread)
Pig (Symbol of Plentiful Food in the New Year)
Hungary (Roast suckling pig with a 4 leaf clover in its mouth) Italy (Cotechino con lenticchie – pork sausage with lentils) Germany (Kassler mit Sauerkraut – financial luck) Pennsylvania Dutch (USA – Pork with Sauerkraut) Austria China
Food on the Table or Plate at Midnight (Symbol of Plentiful Food in the New Year)
Germany Philippines
Sweets (Symbolic of a Sweet Year or Good Luck)
Hungary (Doughnuts) Greece (Round cake called Vasilopita – made with a coin baked inside – whoever gets the coin is lucky throughout the year) Israel (Jewish New Year – Apple dipped in honey & grapes) India Egypt (Candy for kids) Korea (Sweet Fruits) Norway (Rice Pudding with an almond inside – good luck to the one who gets the almond)
12 Grapes at Midnight (Symbolizing 12 Sweet Months)
Spain Portugal Mexico Cuba Ecuador Peru
Ring Shaped Food (Good Luck)
Mexico (Rosca de Reyes – Luck) Netherlands (Olie Bollen – Doughnut)
Fish (Symbol of Good Luck)
Germany (Herring & Carp) Poland (Pickled Herring) Denmark (Boiled Cod) Italy (Dried Salted Cod) Japan (Red Snapper – Pink is a lucky color) Vietnam (Carp) China Sweden (Seafood Salad)
A Happy, Lucky and Prosperous New Year to All of You!