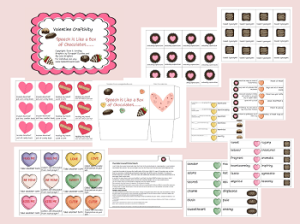 It's all about HEARTS in this week's post! In preparation for St. Valentine's Day, here's 1- a quick and creative sweet treat (chocolate heart pretzels), 2-a healthy fruit treat (strawberry hearts and arrows) and 3- a speech and language treat—–"Speech is like a box of chocolates…." because in this game, you never know what you're going to get! —with FIVE areas of language/listening skills addressed!  AND a fun craftivity for making your own box to keep all your "chocolates."
** this activity was created with your upper elementary/middle school and even high school students in mind!!  You can find it in my TeachersPayTeachers store here!!!!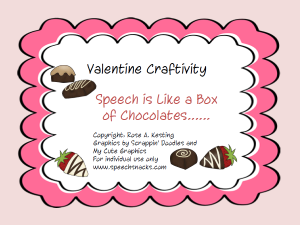 Pages 4-6: Chocolate box templates.  For better durability, print onto card stock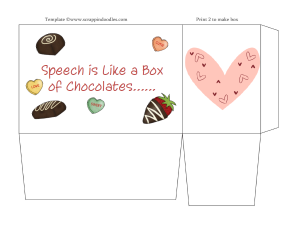 Pages 7-13:  84 Chocolate cards for addressing the following areas:  Synonyms,  antonyms,  expressions (idioms),  auditory memory, fill in the blanks with compound words.  All words used in this game have a love/valentine theme.
**Cut cards and laminate for durability
Pages 14-28:  84 total game cards for carrying out tasks in each area.  12 cards for each language skill addressed.  Answer key included for each.
Page 29: "create an acrostic poem" writing page—use one of the synonyms/antonyms from the game to create your own poem to give to someone special on Valentines Day!
Page 30: "speechsnacks" collectible recipe card for making chocolate covered pretzel hearts and "hearts and arrows." Hole punch and add to a 3-ring binder.
To play game:  add all chocolate cards to the assembled box. Be sure to mix up cards well.  Players take turns picking a card from the box and answering questions.  Special candy hearts, broken hearts and band-aid hearts will ask player to give up candies, earn extra candy, earn extra turn, lose all candy.
Customize game according to goals being addressed—use all sets of cards for addressing all areas or just a couple specific areas.
***********************************************************************************************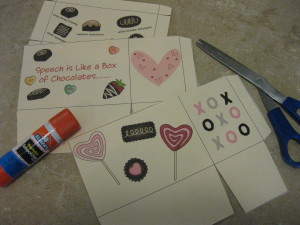 1. cut out the download from my TpT site—be sure to use card stock—computer paper will be too flimsy!

2.  Fold each of the large pieces on the solid lines, then fold into half-boxes.  A glue stick will do the job just fine.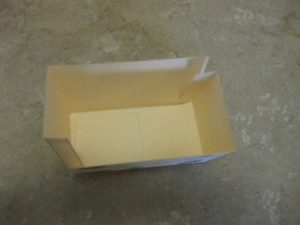 3.  Insert one half of the box into the other half and and glue the side flaps together.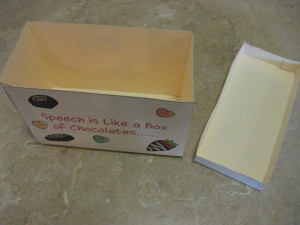 4. Make the lid by folding along the solid lines and gluing the sides together.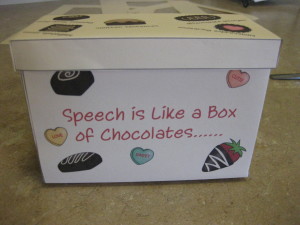 5.  Your finished box will look like this.  Let your students help you assemble this box as a great way to work on direction following and sequencing.  Enjoy!
**************************************************************
CHOCOLATE COVERED HEARTS (PRETZELS)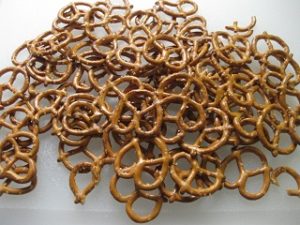 I can't think of an easier homemade treat that's fun for the whole family to make together. I used medium-sized salted thin pretzels. You can use larger ones too, but they tend to break easier while dipping them.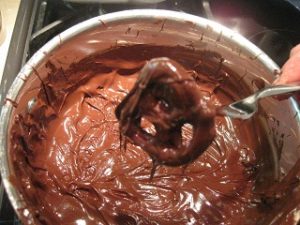 I used dark chocolate to increase the health-value of this treat. Melt 2-3 cups of chocolate over very low heat in a saucepan. Carefully dip each pretzel using a fork. Tap off the excess chocolate. To make your pretzels look more "heart-like" , fill in the holes with additional chocolate once you have placed them on a wax-paper lined cookie sheet.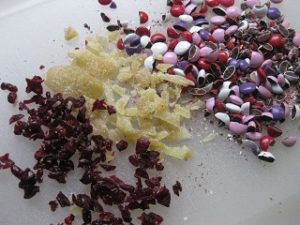 In an effort to keep these treats semi-healthy, I used dark chocolate M&M's broken into pieces, dried cranberries–coarsely chopped, dried coconut and crystallized ginger, also cut into smaller pieces.  Let your kiddos have fun sprinkling the toppings onto the dipped pretzels!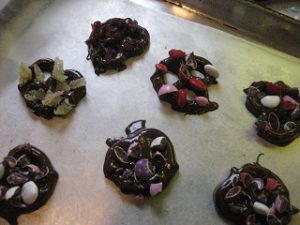 Place pretzels into the freezer for approx 10 minutes to harden.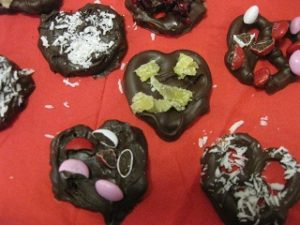 Enjoy your beautiful homemade sweet treats with your sweethearts! Ask your kids to repeat the sequence of steps used to make these hearts.  Print out and cut out the pictures to provide a visual cue when sequencing.
HEARTS WITH ARROWS: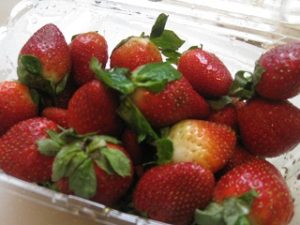 *******************************************************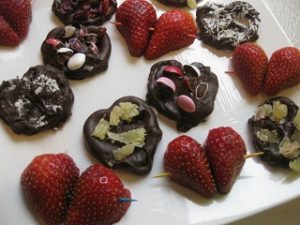 Use whole strawberries to make "hearts with arrows". Simply cut the green leaves off the top, slice the strawberry in half so that both halves are symmetrical. Insert a toothpick (arrow)through the side of the berry halves to hold them together. Be careful to remove toothpick when serving to young children!
Use this quick and simple treat to address the concepts of HALF and WHOLE with your kiddos….compare the whole-vs- cut strawberries.
Try cutting a strawberry in half  so that both halves are perfectly equal…then talk about EQUAL and NOT EQUAL or SAME and DIFFERENT!
Name other red foods/name other fruits to build categorization skills
Wow…didn't realize you could learn so much from a strawberry!!