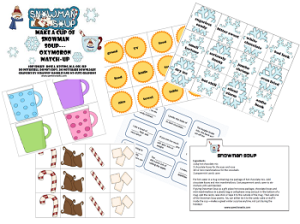 The holidays may be over, but you can enjoy a warm cup of  Snowman Soup all winter long!   This week's recipe post is a simple one, but a great way to address direction following and sequencing.   While you are sipping your soup, head over to my Teachers pay Teachers store—I just opened for business!!!  It includes a 22 page download for a fun figurative language game—-Oxymoron Match-Up!  And you can earn marshmallows, candy canes and chocolate kisses to add to your mug of Snowman Soup while you play!  Hope you have as much fun playing this game as I had creating it!
Snowman Soup:
Ingredients
1 pkg hot chocolate mix
3  chocolate kisses for the eyes and nose
10-12 mini marshmallows for the snowballs
1 peppermint candy cane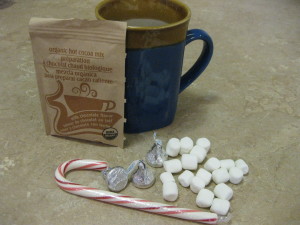 Kids: Pour cocoa package into cup
Adult: Add hot water
Kids:  Add  chocolate kisses and mini marshmallows.  Use peppermint candy cane to stir mixture until well blended.
***  Ask kiddo to repeat all the steps in the proper sequence.    Ask them to name as many chocolate foods as they can to address CATEGORIZING.  Name different things you drink that are HOT vs COLD.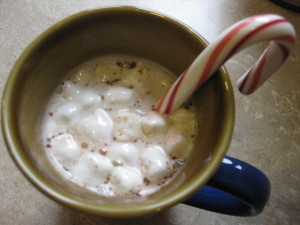 If giving Snowman Soup as a gift, place hot cocoa package, chocolate kisses and mini marshmallows in a plastic bag or cellophane wrap and put in the bottom of a mug. Add the candy cane stick or tape it to the outside of the mug. Then add one of the Snowman Soup poems (found in this download). You can either tie it to the candy cane or stuff it inside the cup —makes a great winter surprise anytime, not just during the holidays!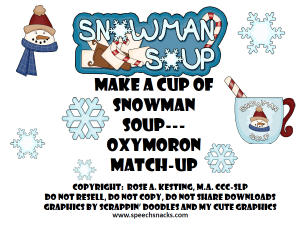 Oxymorons are a figure of speech that combines two contradictory words—kind of like SNOWMAN and SOUP!  Use the game cards below to learn more oxymorons.  EXPLAIN IT, DRAW IT……..
…and MATCH IT!  Pair together the snowflake with the sun that belong together to form oxymoron terms.
…OR use the Fill-in-the blank cards and complete the sentences with the proper oxymoron.
Each player chooses a mug, then answer a card (explain,match or draw the oxymoron), next pick from the pile of candy canes, marshmallows and chocolate kisses.  The first to collect one of each item is the winner!  (just don't pick the "put one back" or "pass one" card!)