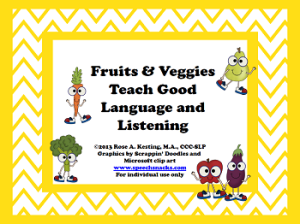 February is American Heart Month!   It is never too early to teach children about how their hearts benefit from a  good diet and lots of exercise.  By reinforcing an active lifestyle and proper eating habits, you can teach  children, by example, how to keep their hearts in good shape.
Fresh fruits and vegetables play a big role in keeping your heart healthy.  Today's simple hummus recipe is packed full of heart-healthy nutrients that will keep your heart pumping strong—try hummus as a dip with your favorite veggies—or get your kids eating more veggies by accompanying it with this dip !!
  American Heart Month also inspired me to create an activity that will get your kiddos moving (through direction following tasks)  and building knowledge about fruits and vegetables at the same time!  Introducing…..
This activity combines 24 naming/vocabulary building tasks related to fruits and vegetables along with good listening skills for direction following.    Playing cards contain  two or three steps.  Students must perform a naming task and then carry out a physical direction (action).
Read the card slowly, remind your student to 1-use whole body listening, 2-reauditorize and visualize the directions, and 3-repeat the directions aloud before carrying out the task.
I couldn't resist using these very cute and sporty fruit and veggie characters from Scrappin' Doodles to create these cards!
In addition, cards can be used to play "I'm going grocery shopping for…"  Place all cards face down on the shopping cart.  Players take turns picking cards and using the phrase "I'm going grocery shopping.."  Add on names of fruits/veggies in the correct sequence and continue game until someone forgets which item comes next.

Also included are grocery bags to sort fruits and  vegetables. Blank bags are included to create other categories for sorting by color, size, shape, etc.

Heart Healthy Hummus—-
Ingredients
2 cans (15 1/2 ounces each) chickpeas
1/3 cup freshly squeezed
lemon juice
1/4 cup tahini, well stirred
3-4 cloves garlic, chopped
1/4 teaspoon cayenne pepper
Coarse salt
Extra-virgin olive oil, for serving (optional)
Paprika, for serving (optional)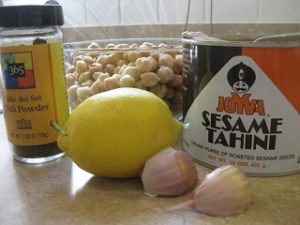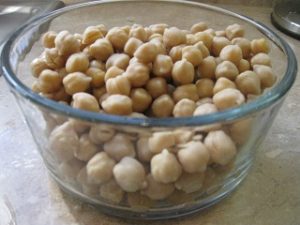 Directions
Reserving the liquid from one can of the beans, drain the second can of chickpeas in a colander. Rinse chickpeas well under cold water; shake off excess water
Process chickpeas and reserved liquid, lemon juice, tahini, garlic, cayenne, and 1 1/4 teaspoons salt in a food processor.
Transfer mixture to a serving dish. If desired, drizzle with oil, and sprinkle with paprika.
This can be refrigerated, covered, up to one week. Use it in sandwiches or as a dip for vegetables and toasted pita bread.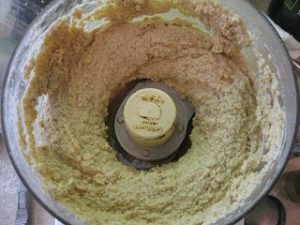 Talk to your kiddos about different types of beans—can you come up with a list? (black, white, kidney, navy, lima, cannellini, pinto, lentils.)  Compare the beans before being processed to the appearance and texture after.  Ask them to sequence the steps in this simple recipe or recall all the ingredients used.  Remember to get your kids involved in the cooking process if you want to  see them excited about trying new foods!  Hummus is very mild in flavor and many kids are willing to give it a try—and often LOVE it!!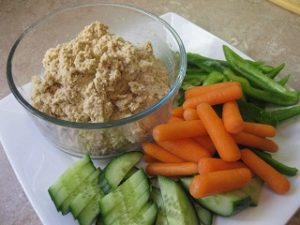 Heart Facts for Kids:
Your heart is about the same size as a pear. It sits behind your sternum (which is the bone between the two sides of your ribs) and your ribs on the left side of your body just next to your sternum.

It has four parts, the left ventricle (say ven-trik-ul) and the right ventricle which are both at the bottom of the heart, and the left atrium (say ay-tree-um) and the right atrium at the top. A wall of muscle called the septum separates them.

The heart is two pumps joined together.

 The walls of the heart are made of really strong muscles that squeeze and relax to pump blood around the body.

It does this about 90 times a minute if you're a child and 70 times a minute if you are an adult.

The main job of the heart is to pump blood to every part of the body. The blood carries oxygen and all the food, vitamins and minerals that your body needs to move, think, grow and repair itself. At the same time the blood picks up stuff that your body doesn't need and takes it to those parts of your body that get rid of waste (your lungs, kidneys and liver).

Your blood is pumped all around your body and gets back to your heart in about a minute.

If your heart is healthy it will be able to work for a very long time.

It is up to you to keep your heart healthy— exercise every day for 30 minutes!!

Eat a healthy diet.

Too much fatty food will block up the arteries with fat and your heart will have to work harder and harder just to do its regular job of pumping blood round your body.

Drink lots of water every day rather than fizzy drinks.