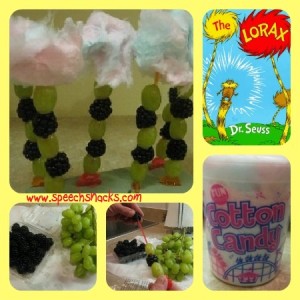 Dr. Seuss' birthday (and Read Across America Day)  is celebrated on March 2nd and Earth Day is April 22nd.  If you are permitted to use food in your therapy sessions, this fun food craftivity will be a big hit with students of all ages in your therapy sessions.   Use this activity to address sequencing, direction following, conversational turn taking, comprehension skills and articulation.  I've included some ideas throughout this post for addressing all of these goals including a set of questions that you can download to accompany "The Lorax," by Dr. Seuss which is where truffula trees originated!
Truffula Trees are super easy to make in the classroom or at home.  Get creative with the tree trunks and experiment with different fruits.   And please send me your feedback and pictures too!!!….I'd love to know how your trees turned  out!
TRUFFULA TREES!!!!
**always check for food allergies before making any hands-on projects  involving food (yes, even fruit!)

I am using blackberries and green grapes to construct the trunks of my trees. I think the textures of each and varied tastes of each fruit make the trees more interesting and fun to eat!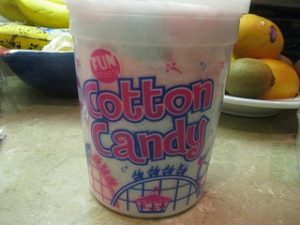 You can find cotton candy in many of your local dollar stores and supermarkets. It looks a lot like the wispy tufts of the Truffula trees. Use sparingly–remember this is pure sugar—and some artificial coloring!
Questions to help elicit conversation while creating your trees in the classroom—-
What else does cotton candy remind you of in nature? 
Describe how cotton candy feels. 
What happens when you put it in your mouth (how does it change?)
What events is cotton candy sold at?
FOR STORY COMPREHENSION: After reading the story with your students, check out these questions   (most appropriate for upper elementary/middle school)
Search the book for words that contain speech sounds that your students are working on.  Have them repeat the words, phrases and sentences containing their speech sounds.
i.e.: for /l/ sound practice I came up with these words:
LORAX— TRUFFULA— BARBALOOTS— ONCE-LER— GRICKLE GRASS— UNLESS!

I used long cocktail stirrers to thread on my fruit. You can also use wooden skewers but don't let your tree get too tall or it might not stand up for long!
Cocktail stirrers are rounded at the ends and safe for little hands to use!  Toothpicks are sharp so be careful if  you use them! 
No need to make them exactly as shown in the picture—Kids can determine how to pattern the "tree trunks." 
Take a vote prior to purchasing your materials–ask your students to help you brainstorm a list of possibilities—-the two most popular items can be the ones you purchase–this will keep things simple and cost-effective for you! 
Some "tree trunk" possibilities: red grapes, strawberry chunks, raspberries, marshmallows…use your imagination!!  

I used a thick piece of Styrofoam and inserted my sticks into it to display my forest of  Truffula Trees!  Enjoy this naturally sweet treat with your kiddos while you read and answer questions about the story—and (of course), save the speech sound practice for before or after you eat your tree treat!!!
Can you come up with a list of different types of trees with your students?  
Go online and search for images of various trees.  Print them out and label them. 
Put your print outs into a binder or staple together to make a book of trees.  If your school is located on property that has surrounding trees, take a nature walk with your students (weather and season permitting!)and see how many you can identify from your book of trees.
If you spot a Truffula tree, please be sure to take a picture and send it to me!!!