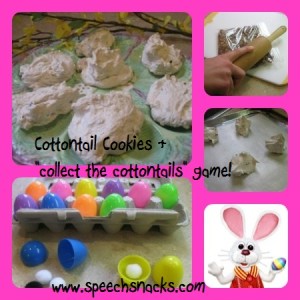 This week's recipe is the perfect sweet treat to make with your kiddos right before the Easter Bunny's arrival!  They are light and slightly chewy and when you whip up and bake these fluffy creations, they closely resemble a rabbit's cottontail!  These cookies are a tradition in my family—We have made them year after year during the week right before Easter.  In our household, this recipe also carries symbolic religious meaning (I have included that version at the bottom of this week's post so be sure to read on if you would prefer the Catholic interpretation).  Also check out the very fun and easy game "Collect the Cottontails" that I created and use with my articulation and language kiddos during the week leading up to Easter.    
Ingredients:
1 cup whole pecans
1 cup sugar
1 teaspoon vinegar
zipper baggie
3 egg whites
wooden spoon (or rolling pin)
Pinch salt
(Preheat oven to 350 degrees and line ungreased cookie sheets with wax paper or parchment paper)
Lots of great verbs to discuss and demonstrate with the help of your kiddos—-measure, chop, crush, fold, drop, separate, whip.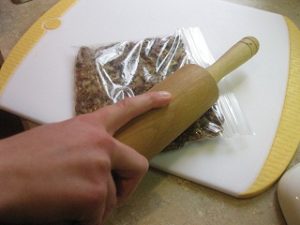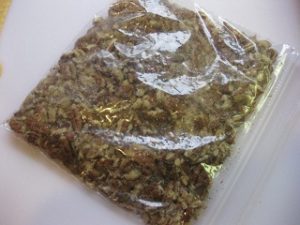 Save this part for the adults!  It could get a little tricky!  
Have your kids observe the changes that occur in egg whites—discuss how they look BEFORE they are whipped–use describing words like clear, yellowish, liquid.  How do they feel and smell? ……..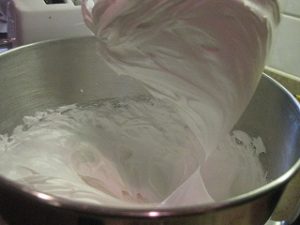 Wow!  They egg whites have drastically changed after whipping in the mixer!  Describe how they look now! "white, stiff, fluffy"
Discuss the word "fold" with your kids as you fold in the pecans.  FOLD has more than one meaning—-folding in pecans is different than folding a napkin!  Show them the difference!  
****************************************************************************
COLLECT THE COTTONTAILS 
For this game you will need:
one empty egg carton

12 plastic eggs

small pom-poms (white, pink and black)—these represent the "cottontails"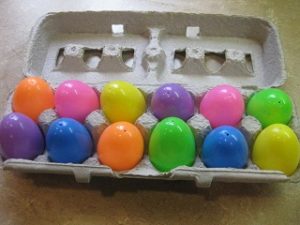 I filled every egg with either one, two or three white pom-poms.  Then  I randomly chose four eggs and added a pink pom-pom.  I chose three others and added one black pom-pom.
This game can be used with any speech/language area that you are targeting in your lessons.  I recently used it with my kiddos who were working on the /r/ and /s/ at the word level. 
You can also use the word list from this FREEBIE at my TeachersPayTeachers Store!  Use it to target specific speech sounds or as a Spring vocabulary list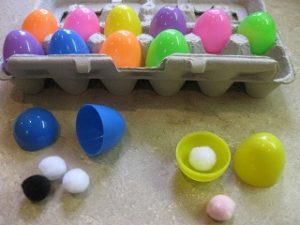 After saying a word on their list (i.e. Spring words with their sound) five times, allow the student to pick one egg  and open it. 
If they pick an egg with all white cottontails, they keep them.  If they pick one that contains white and one pink cottontail, they get to take another turn.  If they pick one that contains white and black cottontails, the need to give up those cottontails to the player next to them!  
The winner is the student who has collected the most cottontails at the end of the game.
The kids loved this suspenseful and simple game.  The game goes pretty quickly so you may have time to play another round.  Simply refill the eggs (mix up the order in the carton so they can't remember where the same cottontails are).    

Here is the religious version of the same recipe as above.  Each ingredients is very religiously symbolic and is accompanied by reading from the bible.  The only difference with this recipe is that the cookies are suppose to remain in the oven overnight (another symbolic religious reference).  By doing so, the centers will dry out and become hollow.   In the first version of the recipe, the cookies remain in the oven for only 15 minutes and the centers will somewhat chewy.
Empty Easter Tomb Cookies 
These empty Easter Tomb cookies are to be made the evening before Easter.
You will need:
1 Bible
1 cup whole pecans
1 cup sugar
1 teaspoon vinegar
zipper baggie
3 egg whites
wooden spoon
Pinch salt
tape
Preheat oven to 300 F.
Place pecans in zipper baggie and beat them with the wooden spoon to break into small pieces. After Jesus was arrested He was beaten by the Roman soldiers.  Read John 19:1-3.
Smell the vinegar.
Put 1 teaspoon vinegar into mixing bowl. When Jesus was thirsty on the cross, He was given vinegar to drink. Read John 19:28-30.
Add egg whites to vinegar. Eggs represent life. Jesus gave His life to give us life. Read John 10:10-11.
Sprinkle a little salt into your hand. Taste it and brush the rest into the bowl. This represents the salty tears shed by Jesus' followers, and the bitterness of our own sin. Read Luke 23:27.
So far the ingredients are not very appetizing.
Add 1 cup of sugar. The sweetest part of the story is that Jesus died because He loves us. He wants us to know and belong to Him. Read Psalm 34:8 and John 3:16.
Beat with a mixer on high speed for 12 to 15 minutes until stiff peaks are formed. The color white represents the purity in God's eyes, of those whose sins have been cleansed by Jesus. Read Isaiah 1:18, & John 3:1-3.
Fold in broken nuts. Drop by teaspoon onto wax paper covered cookie sheet. Each mound represents the rocky tomb where Jesus' body was laid. Read Matthew 27:57-60.
Put the cookie sheet in the oven, close the door and turn the oven OFF. With a piece of tape seal the oven door. Jesus' tomb was sealed. Read Matthew 28:65-66.
GO TO BED! You may feel safe to leave the cookies in the oven overnight.  Jesus' followers were in despair when the tomb was sealed. Read John 16:20 and 22.
On Easter morning, open the oven and take a cookie. Notice the cracked surface and take a bite. The cookies are hollow!
On the first Easter Jesus' followers were amazed to find the tomb open and empty. Read Matthew 28:1-9.