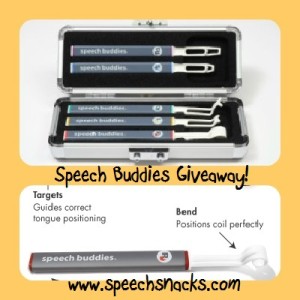 And the winner is….
With over 2100 entries, the winner of the Speech Buddies giveaway, via Rafflecopter's random selection, is Natalie B. from Houston, Texas!!!!!
Thank you so much to everyone who participated in this giveaway!  Natalie has been an SLP since 2008 and  currently works in the public schools with elementary and middle school students, ages 3-15 years. Her caseload consists of a mix of language and articulation students.   Natalie also happens to be the author of the blog and face book page, Just Wright Speech, which she started in January 2013. If you want to visit her blog and say "congrats" you can visit her at : www.justwrightspeech.blogspot.com
So many of your stories tugged at my heart strings as you expressed how and why you could use Speech Buddies.  Many of you were parents and even more of you were speech-language pathologists.   Some of you said school budgets (or your own wallets) wouldn't permit the purchase of these tools and others were just plain frustrated with slow progress, no progress or in search of another method of addressing speech sound placement.  Believe me, if I could, I would send a set of Speech Buddies to each and every one of you.  I thank you all for participating in this great giveaway!  I will be planning other giveaways and freebies in the future so please keep checking your face book page for updates!  Until next time, "Speak Well and Eat Well!"
**************************************************************************
A few months ago, I had the opportunity to review Speech Buddies while working with one of my private therapy clients.  Today, thanks to the generosity of Articulate Technologies Inc., I have the pleasure to share with you a chance to receive your very own FULL SET of Speech Buddies tools (valued at $299!!)  Please be sure to follow the link to the review I  wrote (including a video demonstration from one of my therapy sessions.)
After reading the review, I hope you too will find this product to be a valuable addition to your bag of therapy tricks!
You can enter the rafflecopter  giveaway from Tuesday, March 12th through Tuesday, March 19th.
One winner will be notified and announced on my facebook page, website and via email.
Entrants must live in the United States—this includes Hawaii, Alaska, APO/AE, and Territories—- and be willing to share their mailing address.
I found it fitting to run this giveaway around St. Patty's Day in hopes of giving everyone the "Luck of the Irish" —–GOOD LUCK!!