I dare you to pretend like you're feeding sunflower seeds to a flying dinosaur!   Sound like a strange request?   No, I'm not delirious from all those IEP's and paperwork, I just finished reviewing a brand new app!
When Erik Raj (fellow SLP, fellow blogger and just plain awesome fellow) contacted me to share the news about his new app, I couldn't wait to see what he had dreamed up this time!  I figured it would probably be fun, entertaining, humorous and motivating—-and turns out, I was right!  Your kiddos are going to have so much fun playing I Dare You Articulation, they might just convince you to keep them in the speech room a few minutes longer!
And Erik released this app just in the nick of time!  I don't know about you, but it can be pretty hard to keep the attention of a kiddo who wants summer vacation to be here yesterday!  This app will be a sure fire way of keeping them focused and motivated for a few more weeks (in my case, 27 more days to be exact!)
Let 's explore this very entertaining app and how it could benefit many students on your caseload.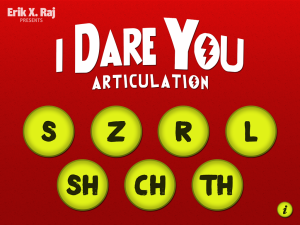 I Dare You Articulation addresses the following speech sounds:  /S/, /Z/, /R/, /L/and /S/, /R/ and /L/ Blends, SH, CH, and TH.   But this app doesn't use the sounds in just any old word, phrase or sentence, instead it presents the sounds in sentence that are written as DARES!  Each sentence begins with "I dare you to pretend like…."  and is then followed by a dare that incorporates words containing the sound that the student is addressing.
The app addresses the above mentioned sounds in initial, medial and final positions of words, however only one position at a time can be utilized.
There is also a button in the lower left hand corner that gives the option to hear the dare spoken aloud for you.   The voice recording is clear and very animated and provides a good model for the student to imitate. And, I believe the voice is that of the app's author!  The SLP/student can read it aloud without this feature as well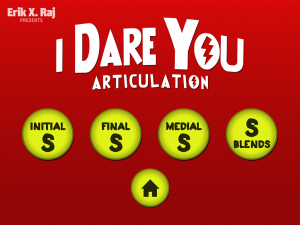 I'm not sure how he did it , but leave it up to Mr. Raj when it comes to being inventive!  He came up with 600 child-friendly dares for this app so I highly doubt you will find it repetitive or monotonous!
"What makes presenting speech sounds as dares so special?" you might ask—–Well,  for starters,  it creates an opportunity for kids to get out of their chairs and MOVE!   Whether it involves pretending you're a bird in search of food,  a singer in a rock band or a superhero showing off your super powers,  your students are going to find themselves drawn in to the energy and enthusiasm that this app exudes!
I love how it gives high energy kids an opportunity to get silly and have some fun, yet also provides your shy students with an outlet to express themselves in the safety of a small group setting.    And no matter whether your student is an introvert or extrovert, there is nothing like tapping into the imagination and creativity that lies inside each and every child!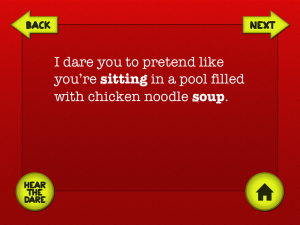 After your student repeats the dare presented on the screen, using their best articulation, they should be encouraged to act it out.   Acting out the dare can also lead to further opportunities to use good articulation as they describe, discuss and explain the actions they are partaking in.
As another possibility, I thought it might be fun to let only one child see the dare on the screen and act it out.  The other students would have to guess what that student was doing and try to figure out the dare!   This might be quite a challenge, but it would be a fun way of getting a lot of conversational speech flowing.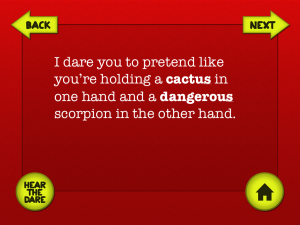 And this app is useful in ways beyond just articulation.  Do you have students with auditory processing  weaknesses, or needing help with direction following and sequencing ?    This app can help those students as well.   Have the student repeat the dare back to you in the correct order, repeat back all the details, and remember the sentence verbatim.   Once they have attempted the expressive task, they can then incorporate the gross motor skills necessary to act it out.  I think this app could also benefit students working on social skills who need to work on peer interactions and expression of appropriate body language (facial expressions, non-verbal gesturing).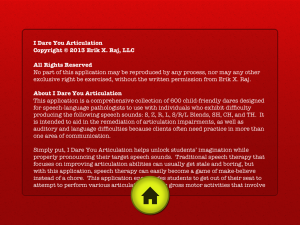 The app has an "i" button located in the lower right hand corner for viewing all the specifics of the app.  I really liked how comprehensive the information was in this section.  Erik thoroughly explains how to use this app, gives great examples of an exchange between an SLP and child, spells out the rules involved in using the app,  and also adds a disclaimer about the importance of reminding your kiddos that this is just for fun and that you should never really try to re-enact any of these dares at home!
What would I change about this app???  Not much!  Although, it might be nice to be able to mix up initial, medial and final position sounds at the same time.   I would also love to be able to keep track of data for correct/incorrect productions.
I Dare You Articulation is available in the app store for $4.99, but  I'd like to offer you an opportunity to own this wonderfully entertaining and motivating app for yourselves!  Erik has generously provided me with a code to give away to one lucky follower!  I Dare you to enter the rafflecopter giveaway below!!
The opinions expressed in this review are solely mine.  I received no further compensation for this review other than a copy of the app as well as a copy to give away on my site!