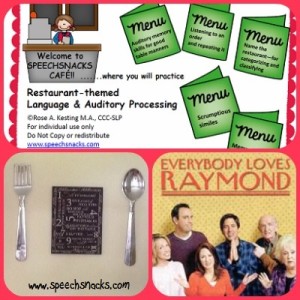 I had several sources of inspiration for this week's post.
I have these decorative wall  hangings displayed in my kitchen at home: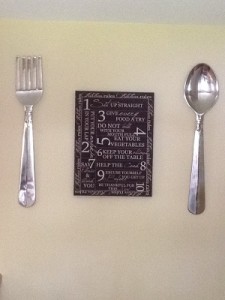 The photo may be deceiving, but the fork and spoon are on a large blank wall and each utensil is about 3 1/2 feet long!   Not only do they match the stainless steel appliances in my kitchen, I think they look pretty chic and trendy.   And if you happen to be a 12 foot tall giant with a huge appetite, my house is the place to be!
A friend who was visiting recently thought my wall hangings were hysterical (I was not amused!) and made reference to an old episode of Everybody Loves Raymond.  If you are familiar with this sitcom, then you must know Marie Barone (Raymond's mother).  She also has a "big (wooden) fork and spoon" hanging in her kitchen , my friend reminded me.   I did not purposely attempt to imitate Ray's mother, but what can I say, it must be an "Italian thing."
Here is a video clip from the episode in which Marie tells Ray's wife Deborah how "the big fork and spoon" came into their lives.  If you have a moment, check it out.  It makes me laugh out loud now when I look at my own "big fork and spoon" wall hangings.  (forward video clip to about 1:23 )

Centered between my "big fork and spoon," is a canvas word art wall hanging.  This was part of my inspiration for this week's post.  I love all of the social etiquette reminders that are listed on this canvas.  It  brings a positive message to my household and is a nice conversation piece in the kitchen.  And believe me, I make reference to many of the rules on this list (especially #7 and #8 and #10)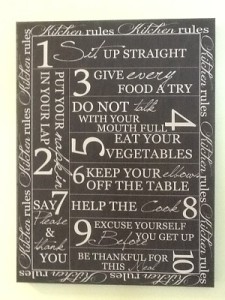 I wanted to create a new product for my TeachersPayTeachers store that would be appropriate for use all year long, yet also hold meaning as we approached the end of the school year.  With the summer months arriving,  and so many of us going on vacations, out to dinner and visiting friends and family, I thought this would be the perfect time to bring awareness to the importance of using good social skills in public, namely in restaurants.
I searched and searched various clip art sites, but couldn't find graphics that  fit the theme of my product.  So finally, I  decided to contact a clip art creator that I really liked and put in a request.  I emailed Graphics From the Pond (a wonderful clip art creator from Australia) and asked if she could come up with some specific images—I  described what I was envisioning when I sent her my requests.   I figured it couldn't hurt to ask!  A few days later, Mel, owner of the site,  contacted me with some wonderful news.  She loved my restaurant themed clip art idea and created an amazing set of images—they were perfect!    So a very special "thank you" to Mel for helping make this TpT item a reality!  You can visit her blog here and TpT store here!
And now for the Restaurant-themed Language and Auditory Processing Packet that was inspired by the all this excitement!   Although my idea originally centered around good table manners/social skills, the packet evolved into other areas of language and auditory processing as well.   I hope you find it a helpful and meaningful resource as you approach the end of your school year. I think it provides some practical activities and information for our students to carry with them as they head off into their summer breaks—and all the rest of the year too!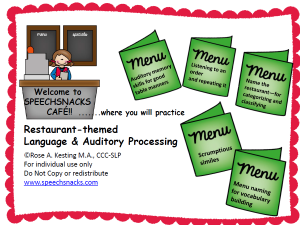 It includes: *18 cards of social scenarios related to restaurant situations/table manners
*24 cards of restaurant descriptions in which the student must name the type of restaurant the listed foods can be found in. (matching answer cards included)
*1 "SpeechSnacks Café" game board and 24 cards to accompany it indicating the number of spaces to advance or go back. Game board can be used with any/all of the game cards created.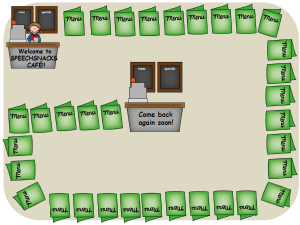 *18 menu card and 6 "specials" consisting of food orders that increase in length and complexity that the student must remember and repeat back (leveled activity)
*18 table manner cards that consist of correct and incorrect information. The student must use good listening and decide which information would best fit into the sentence and repeat it back correctly. A great working memory exercise!
*24 MENU cards that require the student to name 3 foods that fit into the described category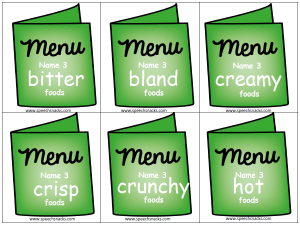 *18 "Scrumptious simile" cards that require the student to complete the simile with a food item.
* 3 pages of good table manner rules that can be used by SLP's or teachers to discuss the importance of good table manners with your students and/or children at home. Discuss them with your kids especially before going out to dinner, when having company for dinner, before going on vacation or anytime you feel they may benefit from understanding social skills related to using good manners while eating.