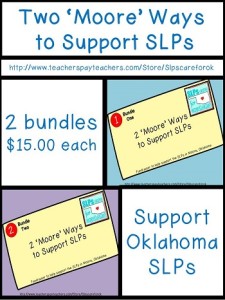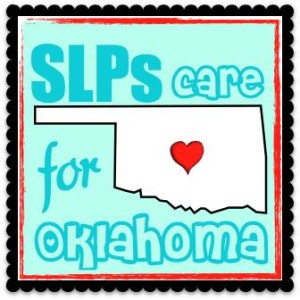 On May 20th, an EF5 tornado left behind total devastation and destruction in the town of Moore, Oklahoma.   It also destroyed two elementary schools and severely damaged a junior high school in the Moore Public School District. Many businesses and homes were also destroyed or sustained damaged.
Fortunately, the human spirit is strong and resilient.  The human spirit is also generous, giving and ready to assist when others are in need.   That spirit is definitely alive and well in the hearts of many speech-language pathologists!  When fellow blogger Amy Minor, a speech therapist in the Moore Public Schools told her  "speech friends" that four SLP's lost all of their precious speech materials, we answered loud and clear!  You can view Amy's speech blog (Major Speech Pathology Fun by a Minor Girl) and her post on the tornado relief effort here.
SLP's across the country have donated materials from their TpT stores to raise money to replace speech materials.   The campaign,  "Two 'Moore' Ways to Support SLPs" contains  two "bundles" of  amazing therapy materials available for purchase.  Each bundle is priced at $15 (however the actual value of each bundle is over $100).  ALL proceeds will go into an account to help replace materials and classroom items for those speech pathologists affected. Please consider purchasing one of these fantastic bundles of materials—you will be getting a great head start on the new school year and helping other educators in need!  (I donated two items from my TpT store to this relief effort, found in "Bundle #2).   This fundraiser starts June 1st and will run until the end of the month.
The SLPsCare group has also set up a FB page that you can find HERE.
Additionally, many SLP's are sending "care packages" containing their  TpT products to the SLP's in Moore.  I was more than happy to participate in this effort.  I also thought it would be a great teachable moment for my students—-a lesson in giving and helping those in need.
My students are no strangers to community service projects and helping others.  When our beloved New Jersey shoreline was devastated by Hurricane Sandy last October, our school came to the rescue of another school that received serious damage.  You can check out the blog post I wrote about that experience here!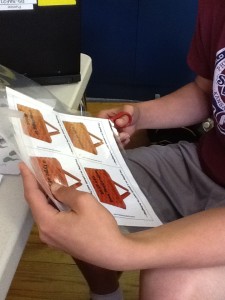 My middle school and high school students helped me laminate, cut and package four copies of an item in my TpT store.  (My school principal even donated several math curriculum manuals developed by our staff!!)  I chose to send them a product I named "Ladybug Picnic."   Ladybugs, in case you didn't know, are a symbol of good luck!  I couldn't think of a more appropriate message to send to our friends in Oklahoma!   "JERSEY STRONG!"  has become a popular motto in the Great Garden State (NJ) in the aftermath of Hurricane Sandy. We have rebuilt our shoreline and bounced back despite the forces of Mother Nature.  May the Oklahoma Sooners become "SOONER STRONG!"  and be filled with the hope that they too will have brighter days ahead!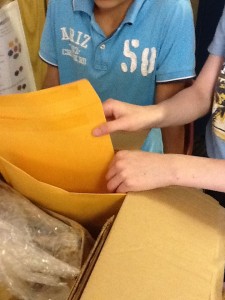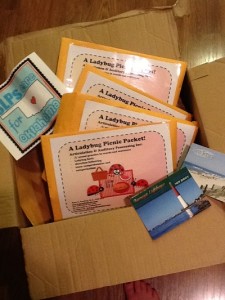 I also incorporate vocabulary and factual information about tornadoes into our speech/language therapy sessions this past week.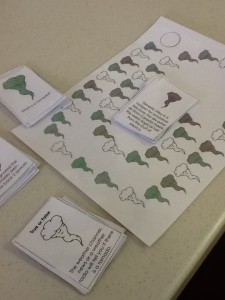 First, we used a fact-filled game created by Mallory Mahon called "Tornado Alley."   The game comes with some suggestions for use, however I tailored it to the goals of my students. I used the fact cards to target auditory memory and listening skills —we addressed strategies for good listening (rehearsal, reauditorization, visualization) for the sentence fact  cards.  For other cards, I asked the student to paraphrase/summarize the information in their own words.  We used the game board and a dice cube to move around the board and get to the tornado shelter.    This game is absolutely FREE in her store, so go and get your copy!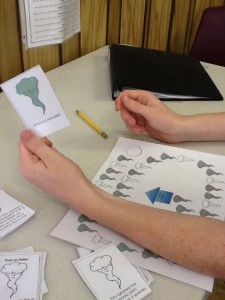 I also used one of my favorite "go-to" sites for finding leveled reading passages.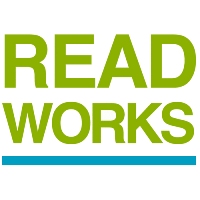 Readworks.com offers a FREE membership and access to tons of reading passages for many grade levels and various topics of interest. The passages also include story comprehension questions and answer keys!  What a great resource!
I found several passages on tornadoes.  We read one entitled "Twister Touchdown" and another shorter passage entitled "Earth Science-Tornadoes."   We used Mallory's tornado game board while answering questions from these stories.
If you are an SLP or teacher, did you address this past's weeks newsworthy and weather-related story in your lessons?   Please consider donating to this wonderful cause.  It will make the difference to so many!