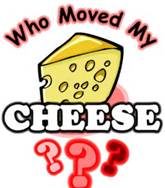 I love cheese—all types!  From Cheddar to Swiss and Brie to Pecorino-Romano!  I'm a foodie so I experiment with a variety of cheeses  in my cooking and  I'm an Italian-American so I can't resist the urge to add mozzarella and Parmesan to many of my dishes!  And although I am a speech therapist, whose blog incorporates food with therapy ideas, today I'm not really writing about cheese, per se. Instead I am going to share a book about "cheese"— Who Moved My Cheese? –that is.  A simple, short and metaphorical story written by author Spencer Johnson, M.D.  Have you read this book?  If not, I would highly recommend that you add it to your summer reading list.  I read it last year and found that the message was inspirational and life-changing in regards to my career path.  And with the school year coming to a close,  you may find yourself reassessing where you will be working in September, unsure of where you will be placed or maybe just unhappy with your current placement and in search of change—this is where I found myself last year, until I "moved my cheese!"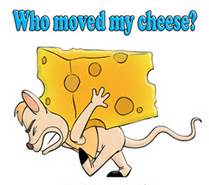 Who Moved My Cheese? is a parable about four "beings" that live in a maze.  Two are mice named Sniff and Scurry and two are little people who are the size of mice named Hem and Haw.  "Cheese" is a metaphor for what you want to have in life—whether it is a good job, money, health, relationship or peace of mind.   The "Maze" is where you look for what you want–whether it be at your place of work, in your family or community.  In the story the characters are faced with unexpected change.  One of them deals with it successfully and writes what he has learned on the maze walls.  The "writing on the wall"  teaches you to deal with change and enjoy less stress and more success in your life. The point of the story is that we have to be alert to changes in the "cheese," and be prepared to go running off in search of new sources of cheese when the cheese we have runs out.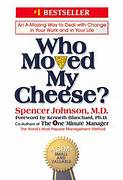 I have worked part time for the past several years in a clinic setting with preschoolers (a decision I made so that I could spend time raising a family and being actively involved in my son's school). But I found myself at a crossroads a year ago.  I had finished my tenure as PTA President, my "baby" was getting ready to turn 10 years old, and I was ready to work more hours. I also wanted a manageable caseload, manageable paperwork and a job close to home that would allow me to still drop off and pick up my son before and after school.  Sound a bit selective and maybe impossible to find??  Well, guess again…
Prior to having my son, I worked as a full time SLP in a public school setting for many years.  I worked with middle and high school students and traveled to several school within the course of the week.  My highest caseload consisted of almost 120 students!!  (No, I am not exaggerating!!)  Most students were classified with language impairments.  Many had to be placed into groups of 3, 4 and 5 in order to fit them all into my schedule.  The paperwork was beyond suffocating. In one school, I worked in a supply closet—it had no ventilation, no windows and was isolated from any other part of the building. In another school I was given a room to work in that was truly unfit for conducting therapy.  It was a small room off the kitchen. The heat of the kitchen poured into my small space.  The clanging of pots and pans constantly echoed into my "room."  The cafeteria was connected to this space.  I had to work with students during various lunch times—the noise was unbearable.  I was seven months pregnant at the time.  My hormones were out of whack and most days I just wanted to cry and run away from the chaotic space where I struggled to provide effective therapy.
Fast forward several years later.  I was ready to find something new.  I didn't want to be back in the hot "sweat box" room!   I reminded myself that this scenario could not be repeated!!   So instead of settling for the first thing that came along, this time, I was selective—I decided it was time to "move my cheese."  Although I think a little luck and good timing were definitely on my side, I found my cheese!  It's a small private school.  The case load is extremely manageable.  I am delivering quality services to my students.  I am truly making a difference—not just providing a band aid!  The hours are conducive to drop off and pick up times for my own child and the location is a short distance from my home.  And the staff and students are the best, they have been a blessing to work with and I enjoy getting to know them!  And while I still work with the preschoolers at the clinic on a limited basis, my new position has been the highlight of this past year.
After reading this book I realized that sometimes there is no compromise for a quality work environment and the peace of mind that you are doing the job you were trained to do.   If you are considering a change but afraid to take that initial step, unhappy with your current work conditions, questioning whether you are able to deliver the best possible services to the children you are seeing, then it may be time for you to "move your cheese" too!   Be true to yourself and you won't regret it!   Oh, and you might just wind up with a room that has windows as an added bonus!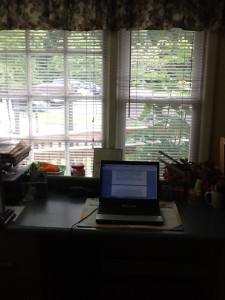 Disclaimer:  This post is not intended to speak negatively about the public school setting!  Public schools are a great place to learn and work—my son attends public school and my husband is the principal of one!  I am sharing a specific experience and a personal opinion.  I also realize that the job market is sometimes a difficult one and when offered a job, we must think about the needs of our families and financial necessity.   "Moving your cheese" means different things to different people–this is just my interpretation and personal experience.