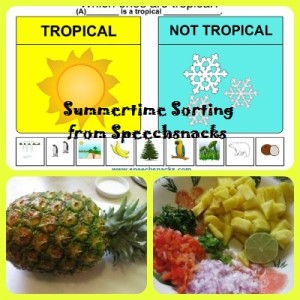 Happy Summer!!!  This week, I'm revisiting a popular summer recipe that I posted last year—-but this time, I've added a great sorting/vocabulary building FREEBIE–"Summertime Sorting with Tropical  Vocabulary."   You can download the activity by visiting my TpT store here.      This warm-weather recipe is a fun way to get the kiddos to work on following directions, sequencing steps and learning about a variety of green herbs and all things tropical.     I've  posted a video of me and the cutest five-year-old ever making the salsa together!  Watch the video for ways you can incorporate "teachable moments" while preparing this summer snack at home with your own children!!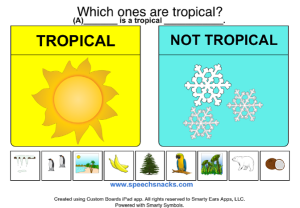 I used my Custom Boards app (by Smarty Ears) to create this activity.  Cut out and laminate all pieces for durability.
Using the sorting template provided by this app, I customized two "mats" with the labels TROPICAL and NOT TROPICAL.   Beneath the mats are several pictures of objects which fall into one of the two categories.  .  Students must label the object and then place it on the correct space.    Then, use the sample sentence at the top of the page to have the student put the word into a good sentence.   There are two pages of this type included.  Page one includes the question: "Which ones are tropical?" along with the sentence: "A ______ is a tropical _______." Page two uses the question: "Which ones are NOT tropical?" as well as an accompanying sentence: "A _____ is a cold-climate _______."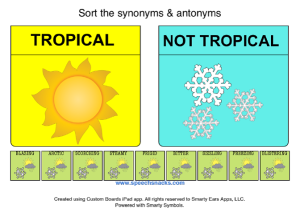 Pages three and four are higher-leveled sorting tasks which use words (adjectives) instead of pictures.  The student must sort the synonyms and antonyms for "tropical" and "not tropical."  Additionally, ask your students to use the adjectives to form complete sentences. 

 

Tropical Pineapple-Cilantro Salsa

 
Prepare the following ingredients:
1/2 chopped sweet red pepper,
1/2 minced/chopped red onion,
1/2 freshly squeezed lime,
1 handful of fresh, chopped cilantro,
1 half pineapple, cored and chopped in bite-size pieces,
1/2 jalapeno pepper (optional),
one dash of salt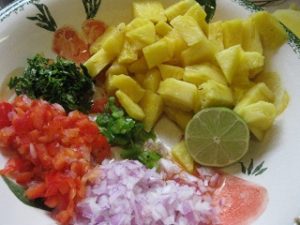 Combine all ingredients. Mix well. Serve chilled with tortilla chips.
Don't forget to check out the video for ways to teach language skills while preparing the salsa with your kiddos:
What does "tropical" mean?
Can you name some tropical countries? tropical fruits?
What are herbs? Can you name some herbs? (The summertime is a great opportunity to grow an herb garden with your children—if you are short on space, you can grow a small indoor herb garden and keep near a window)
Name some citrus fruits.
Have your children recall the sequence of steps and ingredients used for this recipe once you have  finished making it.  Remember to use key words to help them organize their thoughts: FIRST ,NEXT, THEN ,LAST