Who doesn't love a good party!  If you're an SLP on TpT then you are invited to the celebration.  Thanks to Nicole Allison from Speech Peeps for sending out the invites, SLP's with TpT stores can say thank you to customers for leaving thoughtful comments about our products.  She will be hosting these parties once a month (every third Monday).
Here's how it works: leave a comment when you make a purchase at my store and you may be picked to receive a free product of your choosing—that's right, just for leaving a few kind words of  feedback, you will be rewarded!  Click on the image below to get all the details about the linky feedback party!!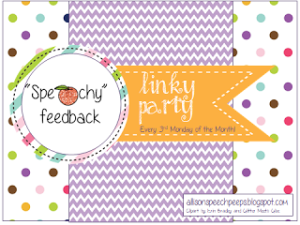 Feedback means the world to me. After putting so much time and effort into creating materials, it's nice to be given a "high five!"   It inspires me to create more materials. It provides instant satisfaction and a feeling of approval.  And who doesn't like receiving acknowledgement and recognition once in a while?
So, today it's my turn to say thank you.  After reading through my feedback/comments, one particular customer has consistently provided heartfelt comments for several of my items. (Including Oh My Green-ness!, Speech is Like a Box of Chocolates, Wintertime Wellness, and Put a Candle on the Cake)  
So,
"
wellmama,"

if you are out there reading this, please contact me at rokesting@verizon.net.  I have a product to give you for FREE from my TpT store!