Okay, so I admit, sometimes I have a student or two who is not thrilled about attending my speech/language sessions.  It's fine though, I'm use to it—I teach the big kids–and sometimes these things happen!   I realize that my middle and high school students have other things on their minds, other places they would rather be or things they would rather be doing.  And that makes me even more motivated to find ways to make them interested and willing to participate in my sessions.  It is what helps make me a better SLP–and since I am pretty creative and good at "thinking outside the box," it is a fun challenge for me!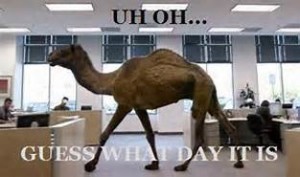 Today I was determined to get a smile out of one particular student who is less than enthused about speech class…..so I pulled up this 30 second commercial clip on you tube and we had an instant language lesson—and I think I accomplished my goal.  He actively participated, gave more than 2-word responses and smiled more than once.   I think "hump day" is my new favorite day of the week!
So take a look at this very funny and popular commercial clip and how we used it in therapy.  Whoever created this ad for Geico is just brilliant—thanks for helping make my therapy session a blast today!
I am addressing several therapy goals with the student who viewed this with me today:  1–Expanding and elaborating on thoughts (increasing length of verbalizations)  2–Improving comprehension skills/answering WH questions  3–Improving eye contact during conversational speech.
So here are the thought-provoking, conversation building questions I created to go with this ad.   Some of the questions I asked were more concrete and focused on the visual details within the commercial, others were inferential in nature.   Before watching the clip together, I asked my student to pay close attention to the details.   We watched it twice before I initiated conversation or asked questions.
1–Where do you think this commercial is taking place? (name three things you see that helped you know what the setting is)
2–How many people are in the office?  What are they doing? Do you remember their names?
3–What animal is used and why do you think this animal was chosen?
4–Describe the "personality" of the camel?
5–Do you think this was the first time the camel made an appearance in their office?  Do you think the workers are shocked to see the camel?
6–How do the people appear to react to the camel? Why?
7–Why is Wednesday called "Hump Day?"
8–What is this really a commercial for?
9–What two things is the commercial comparing?   Listen for the key word "than" in the comparison.
10–Do you think the commercial effectively got it's point across?  Why?
So there you have it—-who knew an insurance commercial could be so effective in addressing language goals with a middle school student!  Check it out with your students (especially the tough ones that need a little motivation) and you too will be "Happier than a Camel on Wednesday!!"