I love the Olympics and all the excitement surrounding the event! From the impressive and entertaining opening ceremonies to the edge of your seat performances and split second finishes that separate gold from bronze by a fraction of a point or hundredth of a second.  The spirit of competition and incredible background stories about athletes from around the world is truly inspiring!   The symbol of the games, the Olympic Rings, is an image we are all familiar with, no matter what country you hail from.
Check out the simple food activity for making your own Olympic ring snack, then take a look at  the accompanying Olympic ring facts and WH questions.  Use it as a follow up activity for recalling details as you enjoy your treat fit for an Olympian!  (Always check with your school's policies and student allergy restrictions before presenting any food-related activity!)
This activity can be utilized to address the following goals:  SEQUENCING (FIRST, NEXT, THEN, LAST), VOCABULARY BUILDING and CATEGORIZATION for SHAPES (other things shaped like a ring), FRUITS , COLOR Naming Tasks (can you think of other red, green, yellow things?)
OLYMPIC BAGELS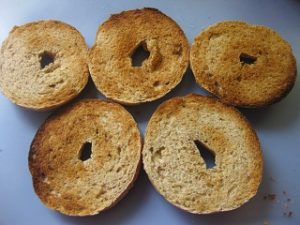 First, toast the bagels.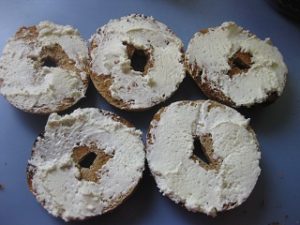 Then, spread on cream cheese.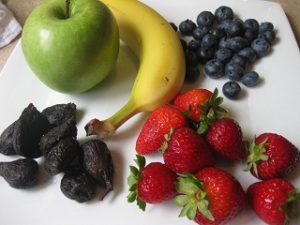 Next, cut up the fruits.   red=strawberries, blue=blueberries, green=green apples, yellow-bananas, black=black mission figs
WHAT OTHER FRUITS COULD YOU SUBSTITUTE ? (Can you think of other fruits or toppings that can be substituted for the ones used?? )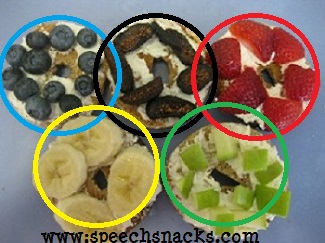 Last, add sliced up fruit toppings to each bagel in the correct color pattern as the Olympic Rings.
Read the following facts to your students and ask them to recall the details by answering "WH" questions:
The  symbol of the Olympic Games is composed of five interlocking rings, colored  blue, yellow, black, green, and red on a white field.
The colors of the rings  represent the flags of the countries that participate in the Olympics.
Every  flag of a country participating in the Olympics includes one of those colors.
The Olympic symbols are round rings to represent the shape of the Earth.
The five interlocking rings represent the five continents brought together by  the Olympic Movement: Africa, the Americas, Asia, Europe and Oceania (Australia and surrounding Islands).
As it says in the Olympic  Charter, the five-ringed symbol "represents the union of the five continents and  the meeting of athletes from throughout the world at the Olympic Games."
How many rings make up the Olympic symbol?
What are the colors of the rings?
How do the rings relate to the flags of different nations?
What do the 5 rings represent?
Name the 5 continents.
Why are the rings round?
Name some Winter Olympic events.
Where are the Olympics being held?
Which events have you watched? Which one(s) are your favorites? Why?
I hope you are enjoying the Winter Games as much as I am!  Figure skating is my favorite!  Which events have you been following?