Need some "green-spiration" to guide you through the month of March?    I've compiled some of my St. Patty's TpT products and therapy ideas.  It's your pot of gold at the end of the rainbow so look no further if you are searching for ideas to bring to your therapy table this month!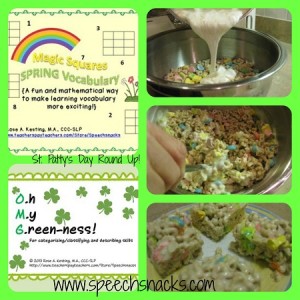 First, for the "big kids,"   Magic Squares Spring Vocabulary.  Magic Squares is a mathematical game that began in China several thousands of years ago.  Squares are assigned numbers which, when added across, down or diagonally always equal the same sum.  I've taken this game and incorporated vocabulary words into the squares—making a fun, challenging and interactive way to work on learning new vocabulary.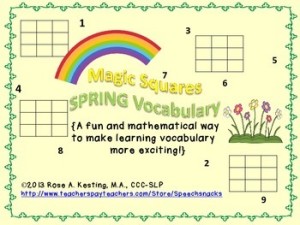 And now for the "SpeechSnack".   I used Lucky Charms cereal to create Magic Squares. If you are permitted to use food in your therapy session and have a hot plate, then you are in business!  Makes a great sequencing activity.  Check out the entire step by step post here!!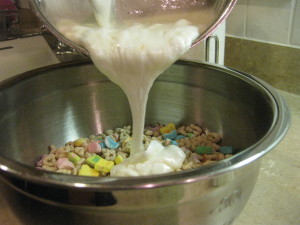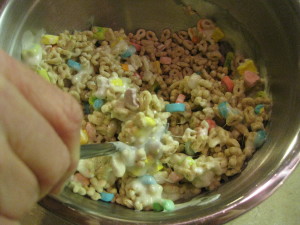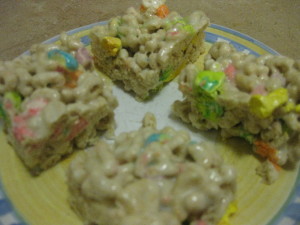 Next, I created Earn Some Green—a figurative language packet for older students….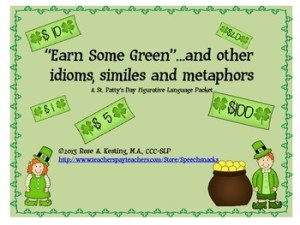 And once again, you can tie in one of my famous "SpeechSnacks" if permitted.    Turn your therapy room into  Gaelic-Garlic-Pesto heaven with my shamrock bread!!  Check out the entire post here!!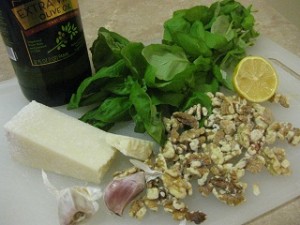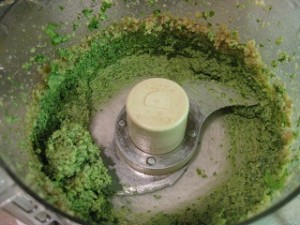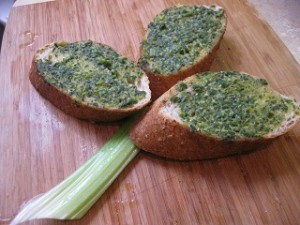 (And don't forget, I include a recipe cards in my products so that you have all the details for making these delicious creations with some helpful ways to incorporate speech and language into the process!!!)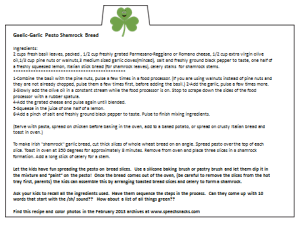 And finally, take your kiddos on a trip through the Emerald Isle!!!  Well, maybe you can all use your imaginations and pretend you are actually going, once you start using this travel-themed packet.  You will learn about various cities in Ireland while addressing language skills! What a great way to expose your students to a different land and culture that they may never have the opportunity to see in person! Or perhaps it will inspire them to one day visit as a result your language lesson!!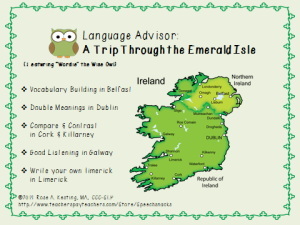 You can find this product in my TpT store here!!
Lastly, for the younger students, I created O.M.G!!  That's right, "Oh My Green-ness!! " Not sure if this is actually a real expression, but I will take credit for it if it ever catches on!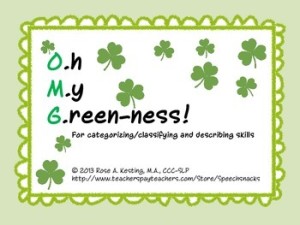 You will work on describing skills, categorization and auditory processing—so many great target areas and a fun way to accomplish language goals!
And while we're at it, I'll show you how to make a healthy green snack!  Check out the entire step by step post here!  Bring in some kale chips to share with your students while you use this green-themed product.  They may never look at another potato chip again!!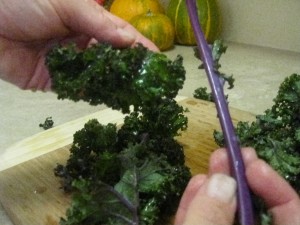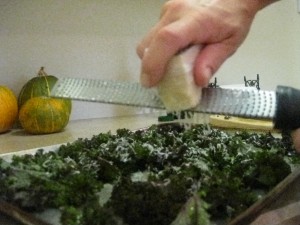 I hope you find something fun and useful in my round-up and may the Luck of the Irish be with you on St. Patrick's Day and every day of the year!