It's time for another edition of  Friday FreeBEES and I'm linking up!

BIRD'S NEST CRAFT/RECYCLING PROJECT
I've got Easter, Spring and Earth Day all covered with this craftivity and freebie!!!
Download the FREEBIE Spring word list and Egg Color Chart to accompany this game here!!!!
Keep the chart in front of you as you play.   Cut out each of the  Spring words and place them randomly into the eggs.  Put all eggs in a bag so players can't see which one they are choosing.
Each student can collect their eggs in their  own "nest" .
The winner will be the student who has tallied up the most points at the end of the game.
Students will earn eggs by reaching into a bag that contains the following colored eggs:
BLUE=How many syllables are in your word?
PURPLE=Think of a word that rhymes with your word
YELLOW= Use your word in a sentence
ORANGE=What category does your word fit into? Name two other words in that category
GREEN=Guess  my word–give three clues about the word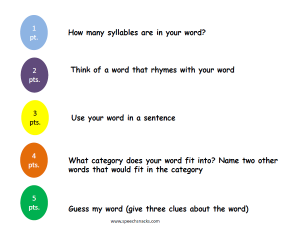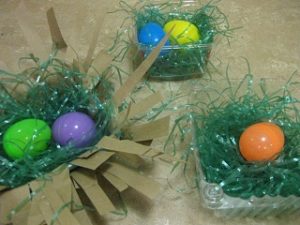 To make your birds nest, you will need some materials that were previously used for other purposes.  A great way to demonstrate creative recycling to your students!!
Gather the following items:
Square containers like the ones I used here (a Styrofoam mushroom container and a clear plastic container from a guacamole kit).  You will find these in the produce section of your supermarket.
 plastic eggs
 Easter grass
 a brown paper bag cut into long strips
 glue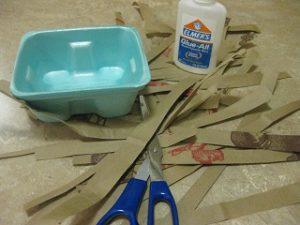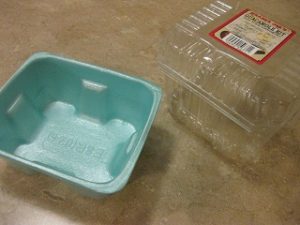 Cut your strips of brown paper bag and start gluing them to the bottom of the container.  Lay them in different directions, covering the entire bottom and sides of container.  Use a rubber band to hold the pieces in place while they dry.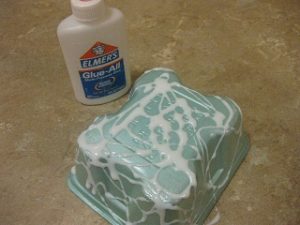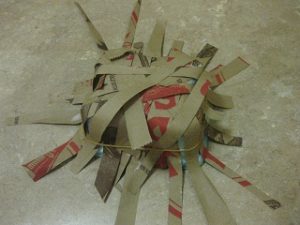 Flip the container over. Glue and add the strips to the inside of the container.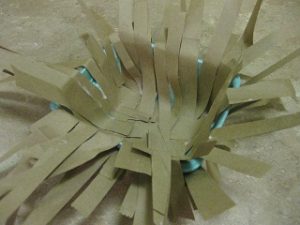 Your container should start to resemble a bird's nest.  You can add green Easter grass to the inside of the container if you wish.  Also, if pressed for time in the classroom, use the containers as is, and fill them with the grass.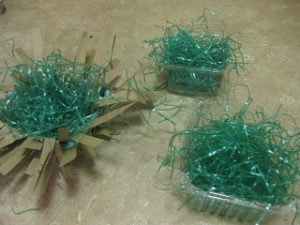 And as always, "SpeechSnacks" has included a recipe!  This one could easily be performed with a life skills class if you have access to a kitchen….or why not give it a try at home and bring it to school to share with your speechie friends at school the next day if permitted.
BIRD'S NEST COOKIES
Heat oven to 350 degrees and line two cookie sheets with parchment paper. 
In a mixing bowl, combine: 1 cup all-natural peanut butter ,  1 cup ricemellow creme, 2 tablespoons honey, 1 teaspoon vanilla, 3 cups oats, 1/2 cup sliced almonds, 1/2 cup unsweetened dried coconut
Let the kids have fun measuring and pouring all the ingredients into the bowl and mixing with their hands!
I LOVE this product I recently started using…it contains no fat, no refined sugar, no corn sweeteners, no cane sugar, no preservatives! It's derived from brown rice syrup (it's  the healthy version of marshmallow fluff)….so use it to make rice crispy treats, on a sandwich with peanut butter or to top your hot chocolate!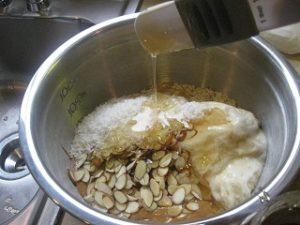 Shape heaping tablespoons of the mixture into balls with your hands. Wet your hands slightly so that the mixture won't get too sticky. Then press into the center to hollow out the middle and form a nest.
This step is also all about the kids!  Rolling the dough is a great fine motor, kid-centered task!
Add your favorite preserves to the center of each cookie before baking for 10-12 minutes. You can also add other centers such as dried sweetened cranberries, dried apricots, raisins or all-natural jelly beans(just be sure to add them AFTER the cookies have baked or they will burn or melt!)
Let the kids  help decide what to add to the centers—give them some new, healthy options to explore—make them part of the process and they might just surprise you with their willingness to taste something new!!
Don't forget to check out all the egg-cellent and FREE ideas that others are adding to this week's link up!!