Last month I was contacted by Amy Kunstle, the creator of 3DSLP (www.3dslp.com).   Don't you just LOVE the clever name!?  3D stands for DE-light, DE- stress and DE-liver and boy does this company accomplish all three!  Amy is a registered dietician and speech-language pathologist (what an amazing combination of professions!)  in private practice in Southern Colorado. She is also the CEO and owner of 3DSLP.   Amy has been a pleasure to collaborate and correspond with over the past few weeks and has put her heart and soul  into launching this exciting new product and website. Today I am so ecstatic to tell you about her fun, high-quality, thoughtfully assembled, literacy-based "product box."    You will be smiling  from ear to ear when you're finished reading all about it—not to mention, it will make your busy SLP life a whole lot easier!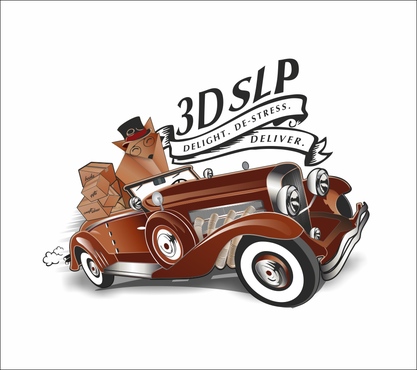 I was greeted by this package on my front door after returning home from a long day of work and was giddy with excitement to get in the house and open it up!!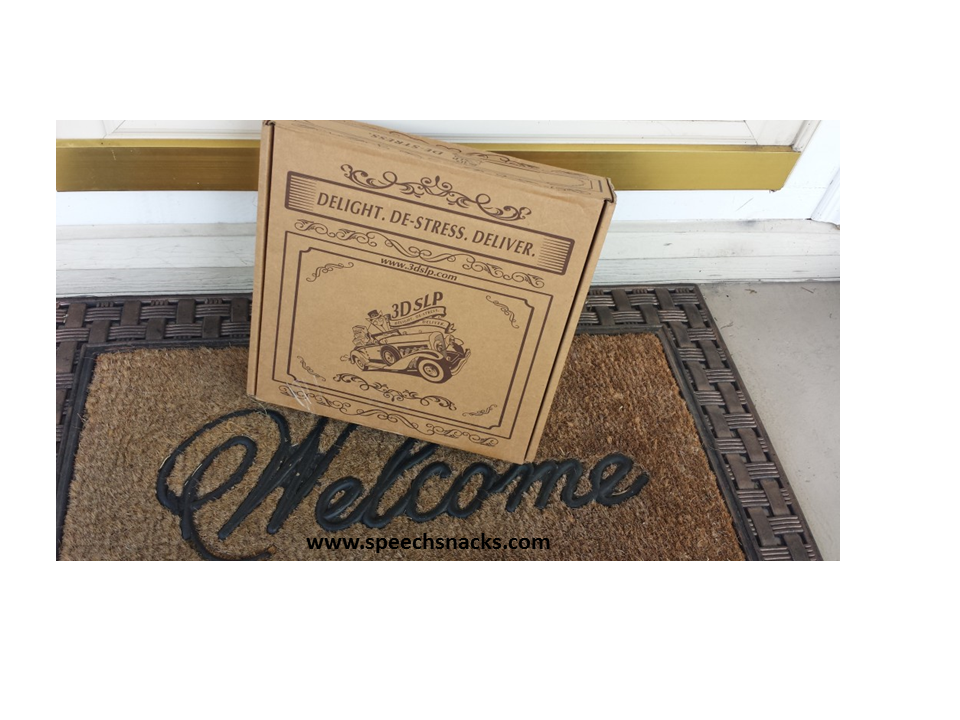 The contents inside had me cheering out loud at my dining room table!   After an exhausting day,  I realized just how valuable and appreciated these materials would be in the upcoming weeks and months.   And please don't get me wrong, I LOVE purchasing and creating  TpT materials and will continue to do so—but this product took all the downloading, copying, laminating and cutting out of the picture for me.  Plus I won't need to stop by the dollar store, library or supermarket to pick up a few extra items to supplement my lesson—it's all included in the package!  This product definitely got the "de-stress" part right!
3D SLP's mission is simple.  On their website they state:  "We want to delight you, de-stress you and deliver to you educational resources that will make your job more fun and your life easier. Our literacy-based box and website of rich resources are designed just for you."
I couldn't agree more!   Their dynamic subscription box contains a carefully chosen book, suggested target goals, complementary apps, manipulatives, coordinated craft projects, custom worksheets and extension-learning ideas as well as a very thoughtful thank you gift.
Wondering who could benefit from this product?
The box is designed for professionals engaging with school-aged children in the realms of speech-language pathology, education, special education, Culturally and Linguistically Diverse Education (CLDE), Gifted and Talented Education (GATE) and home-school environments. It is also appropriate for families interested in promoting literacy-based activities with their children. These materials can be used individually or with a group and provide multiple learning opportunities across a range of literacy, language and social-interaction goals.
So here is exactly what I found inside my box of goodies: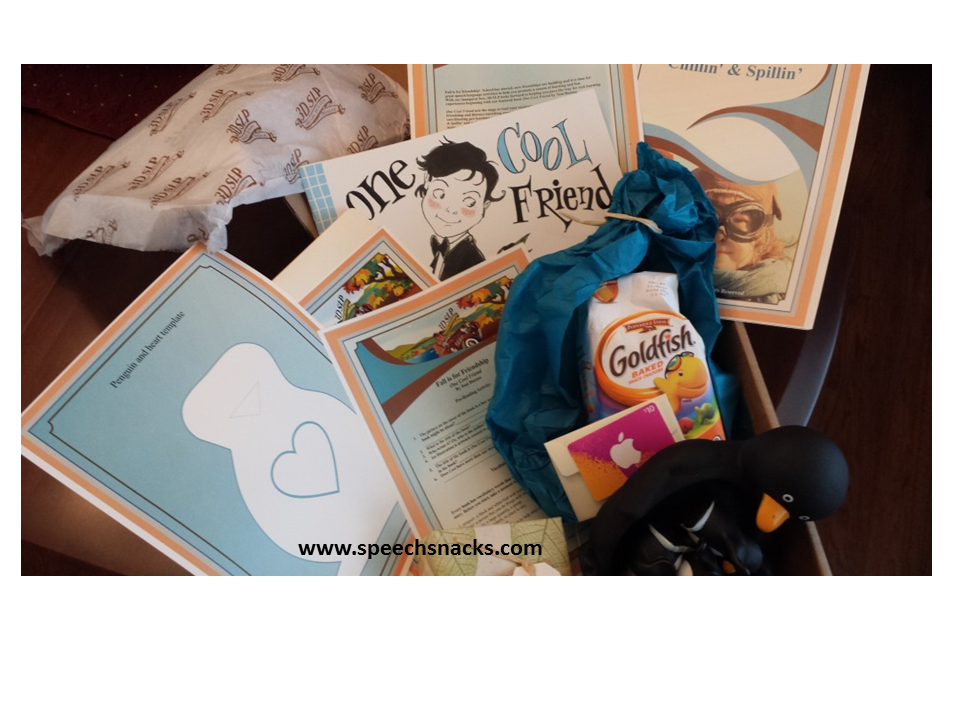 Upon opening this professionally curated box, I was greeted by items wrapped with "3dslp" logo tissue paper and glossy finished colored pamphlets, folders and activities!   I felt like a kid at Christmas time as I reached into the sturdy, beautifully designed  box to view my treasures.  Inside I found a Scholastic book: "One Cool Friend" by Toni Buzzeo and several other materials that address the theme "Fall is for Friendship."  I love this message for the back to school months.   This is when so many kids initialize new friendships and re-connect with old friends.   The penguin theme is another plus!  I can pull out these materials again when the cold winter months hit here in the Northeast as well.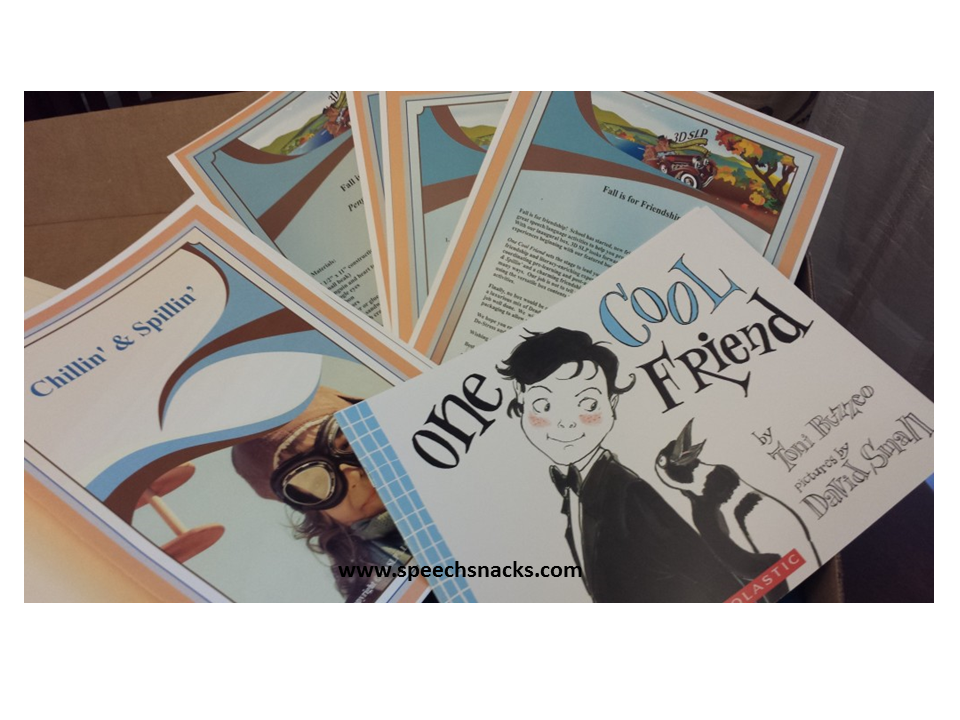 Along with the book, I received:
a pre-reading activity page with questions and vocabulary to address prior to reading the story
a full-color glossy print, penguin-themed "Chillin' and Spillin' " game board printed on sturdy paper , for use with the book,
a penguin craftivity template with a materials list and directions for using the craftivity conjunction with the book
a six-page pamphlet to accompany the materials that includes game rules for the game board, leveled vocabulary lists (easy, medium, hard), leveled reading comprehension questions (i.e.:  How does the problem in the story get resolved? Who had a secret in the house? What is the setting of the story?) , ideas related to articulation goals and "thinking outside the box," and leveled questions geared toward social/emotional goals (i.e.: Have you ever made a friend feel happy? sad? What did you do to make that friendship better?)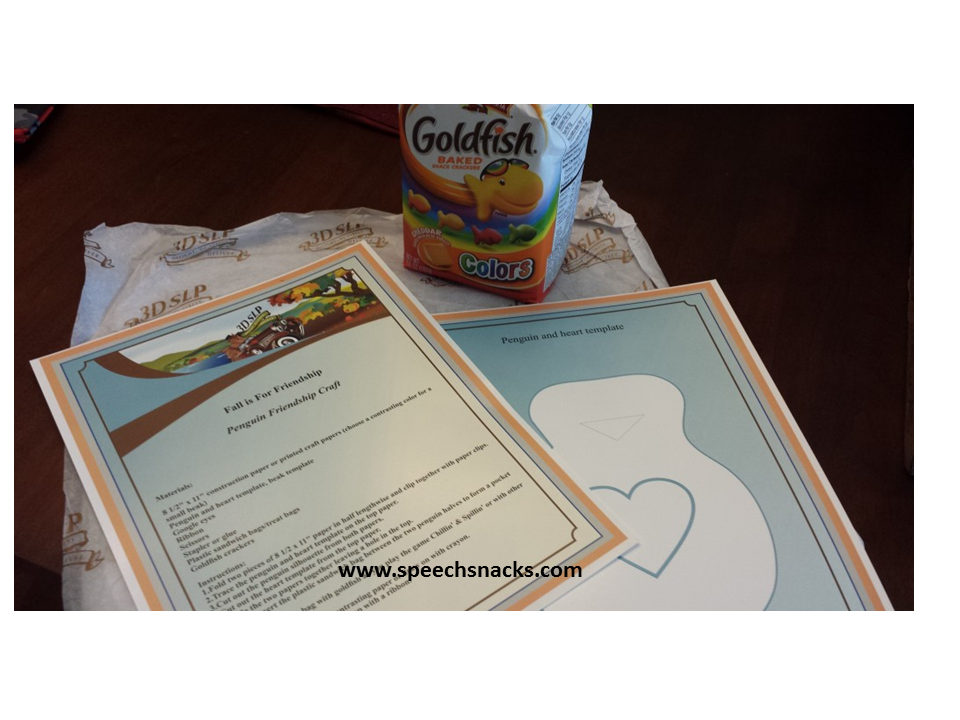 Also contained in the box:
A package of Pepperidge Farm Gold Fish crackers.   I was famished and almost ripped into them before realizing they were needed for the craftivity game!!
A set of adorable plastic penguin manipulatives (momma and three baby penguins included) to be used with the game board provided.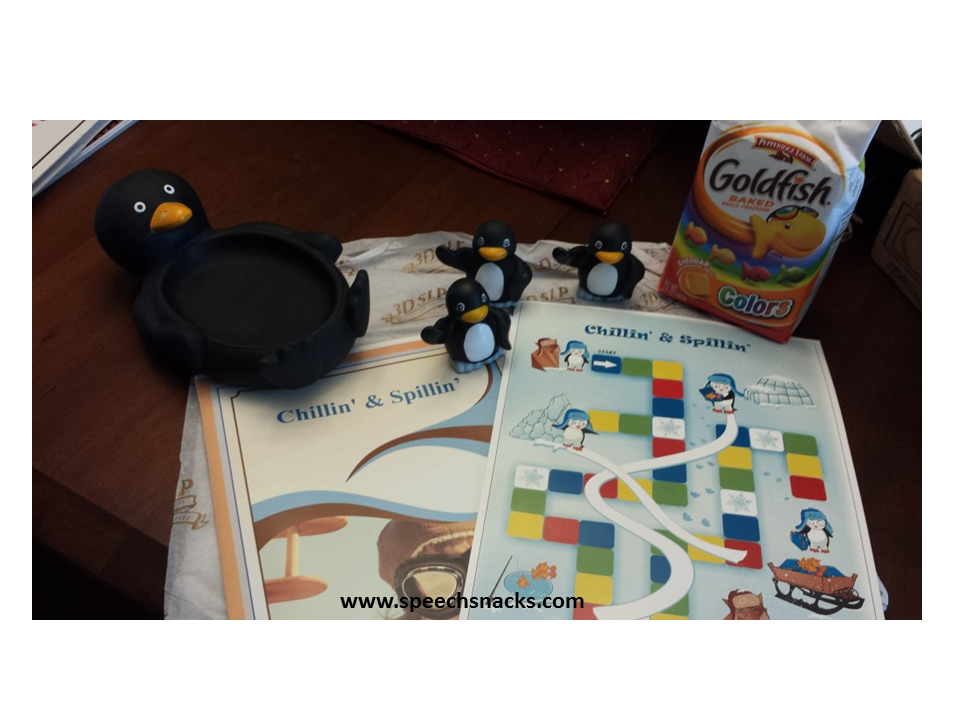 The box seemed bottomless as I pulled out  more surprises…..
A $10 iTunes gift card for use with the suggested animal-themed apps (a set of questions is included as an activity to use along with the recommended apps)
And finally a special gift just for you!  I opened my lovely wildflower seed paper (which can also be recycled by planting in soil) to be greeted by the perfumed fragrance of Dead Sea Salt and Pacific Sea Salt blend.   The beads can added to your bath or placed in your dresser drawer to leave it smelling like a field of flowers! Such a thoughtful little addition to this box of therapy treasures  and so relevant to the "de-stress" portion of the company's motto!!!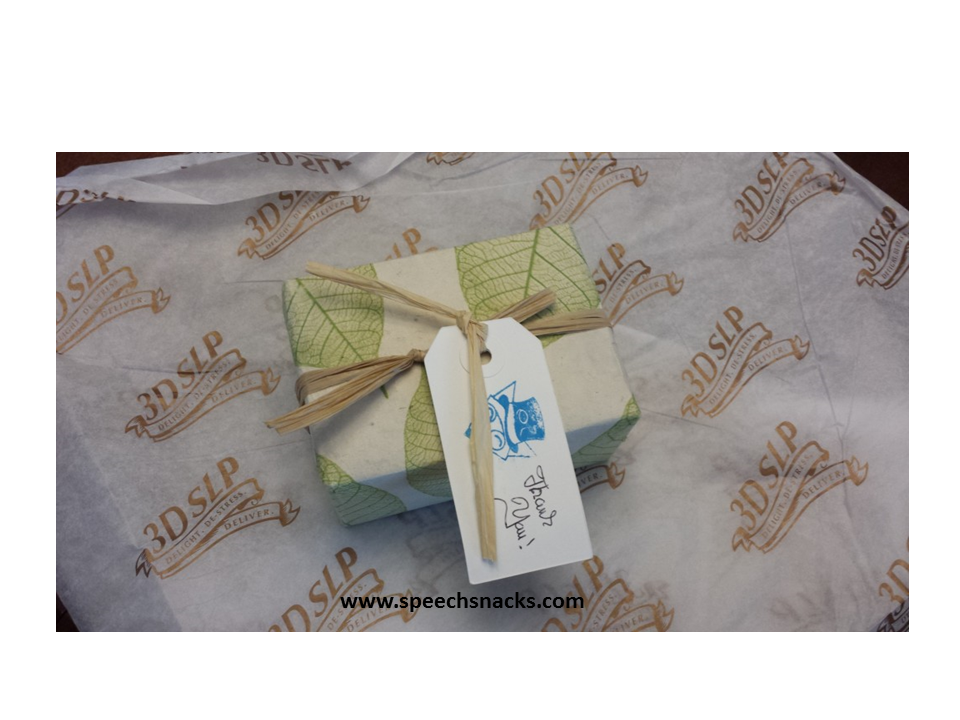 So by now your face must be hurting from smiling so wide!   Are you loving this wonderful service and interested in how to obtain your own box of therapy materials that will Delight, Destress and  Deliver?
Here's how it works:
When you sign up for a subscription,  you will be mailed a themed literacy-based box (appropriate for children ages 5-11.)  These materials can be used individually or with a group and provide multiple learning opportunities across a range of literacy, language and social interaction goals.   Each box is $45.00 (including shipping).   The box is shipped on the 20th of the month with 3-5 days expected shipping time .  You will received a new shipment every month (auto-renewal) unless you decide to cancel your subscription.  You can find all the ordering-related details on the company's website.
Additionally, your monthly subscription will include access to their website (officially launching in October 2014),  detailed information on use of the box including Common Core information, and three feature articles. There is also a community-based members forum where you can engage with other members about various practice topics.
Their resources gallery is another feature of the website and showcases apps, blogs, books, products and course announcements.  This is sure to be a valuable source of information, with   so much to see and make reference to all in one central location!
November's theme will be  "A Recipe for Adventure" with the book "How to Make and Apple Pie and See the World."  I will be a guest blogger as part of their "Delight" column in November with some fun ways to use apples in the home or therapy setting while addressing speech and language development.
Interested in checking out  the product for yourself?
Amy was extremely generous and is offering this product box as a giveaway on my blog!  There will be one lucky winner!!  The giveaway is open to anyone living within the Continental United States.  Contest ends at midnight on Sunday September 28th!
If you would like to receive a high quality, professional and thoughtful product to use in your speech and language sessions,  then enter the Rafflecopter giveaway below.  You are in for a special speechie treat that is sure to  Delight, De-stress and Deliver!
(Click below to enter!)
a Rafflecopter giveaway

Disclosure Statement: The opinions expressed in this review are solely my own.  3D SLP provided me with a product box to review.