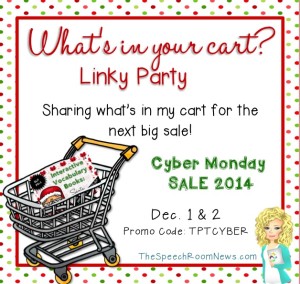 It's time for the TpT site wide cyber sale and I'm getting ready to do some serious shopping and saving on Cyber Monday!   Jenna at Speech Room News is hosting another linky party so that you can easily browse and shop for new therapy products by visiting all the SLP's that have linked up with their recommendations.  Check out my list below.  It includes some great suggestions from my own store as well as some gems that other talented SLP's have created.  I can't wait to add new materials to my therapy lessons.  It's always so rewarding to find just the right product to help motivate my older students!
From my store, here's the latest: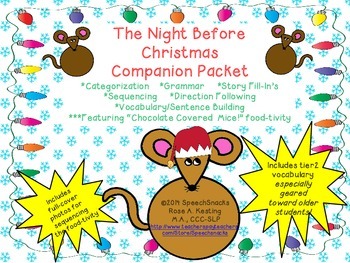 The Night Before Christmas Companion Packet:  I can't wait to start using this  poem companion with my older students. There are so many great tier-2 vocabulary words in this classic poem.  I know my students will have a whole new appreciation for it once we take a good look at word meanings.  And I have a super-fun food-tivity to share as well.   If you are permitted to use food in therapy, you'll love this project included in the packet!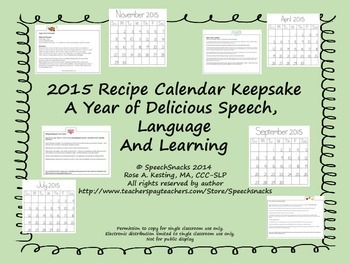 Newly updated for 2015:  My Recipe Keepsake Calendar would make a very special gift, a fun craftivity, a cookbook and a great way to address temporal concepts all rolled up into one!    If you would like a project that your students can give a family member in time for the holidays, look no further.  Oh, and it makes a great calendar to hang in your speech room as well.  Use the recipe pages as inspiration for food-tivities to use in your speech and language sessions all year long.
I've also added two bundles to my store.
A holiday-themed language bundle……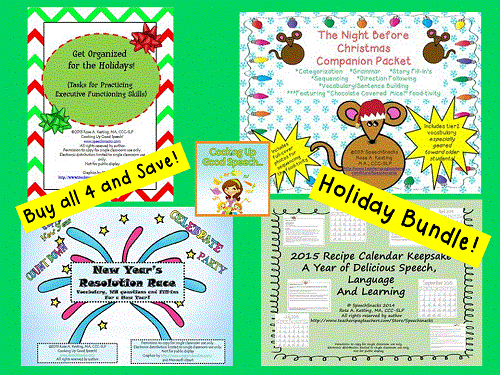 …as well as a winter-themed language bundle.   Check these out for some great savings during the sale!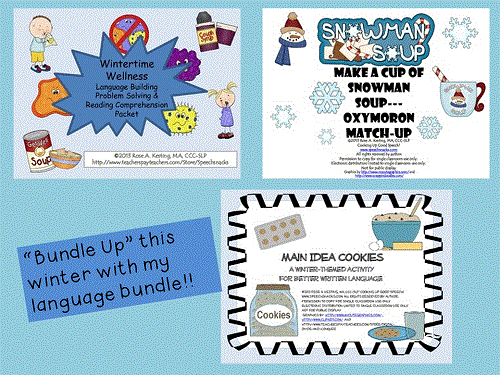 And now for some great products that I will be adding to my cart during the sale…..
Safebook–Perspective Taking   by Slprunner.  This product is so relevant for today's kids.   I like that I will be able to use it as an opportunity to discuss internet safety and keep them interested in a current trend.  I can never have enough social skills/perspective taking materials.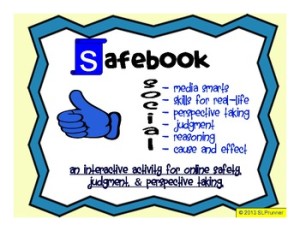 Selfies and Social Skills  (by Mia McDaniel) Selfies?! Say no more—I think my middle school social skills kiddos are going to give this two thumbs up!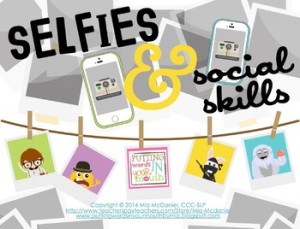 8th Grade Vocabulary Activities by Big Hair Speech Therapy.   This product appears to have lots of great tier-2 words appropriate for my high school students.   I'm always looking for ways to address vocabulary development and it's not easy to find products for older students so I am looking forward to checking out what this product has to offer.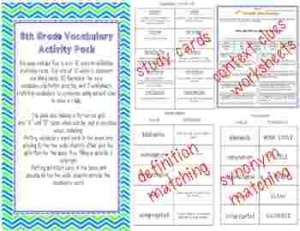 Social Problem Solving by Speechasaurus presents social problem solving using real-life scenarios.   I love products with practical application so I think this will be a meaningful product for many of the students I teach.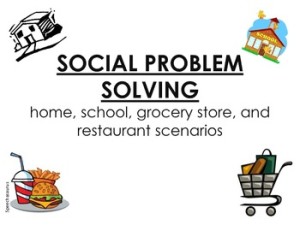 I'm looking forward to kicking off the month of December and the holiday season by taking advantage of these great finds.   Check out all the amazing product ideas at the link up!   Happy shopping!!