This month The Frenzied SLPs are also Lucky SLPs!  March seemed like the perfect opportunity to share some reasons why we feel lucky to do what we do for a living!
When I'm asked by family members or friends how my day was, I often find myself saying things like, "We played games," "We made crafts," sometimes "We made something yummy to eat!" and "I got a high-five,  a smile  or a hug from a child."  It sounds so much more fun and interesting than, "I attended a very intense IEP meeting,"   "I finally finished evaluating a new student,"  "I started working on a mountain of paperwork."  And while all of the latter responses are definitely essential parts of my job, I feel so lucky to be able to balance it out with the creative and light hearted aspects!  It's what helps motivate me to get up and out the door in the morning!  So yes, I feel lucky to be an SLP for some of the above mentioned reasons, and so many more.  In fact, I was inspired to create a wall art poster that reflects a few more reasons why I feel lucky to do what I do everyday.   You can grab it for FREE in my TpT store. Here's a sneak peak….
Proudly display this "Lucky to be an SLP!" wall art poster on the door of your therapy room, on a March-themed bulletin board or on your desk.
I've also created four-leaf clover "Lucky to be an SLP" badges. Laminate for durability and attach to your clothing with a pin or double sided tape. Proudly wear your badge on St. Patty's day or any day you want to display your pride in your profession!
And I included something for your students as well.  Hand out the "Lucky to be Me!" badges for your students to wear when you wear yours! Then, use the character building chart included and have your students reflect on positive messages about themselves. Students can write or draw examples in each of the circles. Share and discuss responses within your group. This is a particularly fun and engaging activity for students working on social skills related to perspective taking, emotions and self-esteem!
And of course I needed to include a food-tivity in this post!
Magically Delicious Magic Squares:
(This portion was originally posted in March 2013. )
Please check for food allergies before conducting any food related projects with your students!
This month  I will be using Lucky Charms cereal to create Magic Squares!!   In fact, I loved this fun food-tivity so much, it inspired me to name one of my vocabulary products after it.  You can find it here!

Lucky Charms cereal has been around a long time (51 years to be exact)! The cereal has evolved over the years and the contents have changed with the times. The first boxes of Lucky Charms cereal contained marshmallows in the shapes of pink hearts, yellow moons, orange stars, and green clovers. Today you will find that several of the original marshmallow shapes no longer exist and have been replaced with new marshmallow charms such as hats, rainbows, balloons, pots of gold and horseshoes. The marshmallows are meant to represent Lucky's (the leprechaun character on the cover of the box) magical charms, each of which having their own special meaning or "powers."
Hearts – power to bring things to life
Shooting Stars – power to fly
Horseshoes – power to speed things up
Clovers – luck, but you will never know what kind of luck you'll get
Blue Moons – power of invisibility
Rainbows – instantaneous travel from place to place
Balloons – power to make things float
Hourglass – power to control time
Here's how I'm using the marshmallow charms in my therapy sessions with my older students:
After telling the students what the various shapes represent, they will get to pick a shape from a bowl and tell me how they would use that power. For example, if they pick a heart, (the power to bring things to life), I will ask them what they would bring to life if they had the power. This is a great way to work on higher level thinking tasks, problem solving, WH questions and story building!
Magic Squares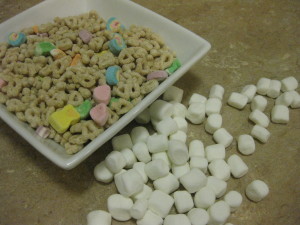 You will need:  5 cups Lucky Charms cereal, 3 1/2 cups marshmallows, 3 tablespoons butter
***Have a hotplate????  This activity is easy enough to make in the classroom/therapy room.  Please check for food allergies before completing a food-related activity at school!!!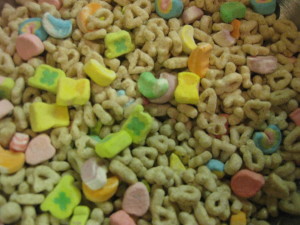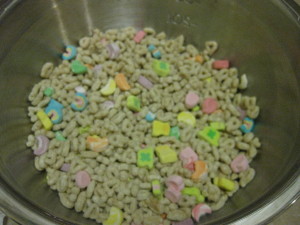 This activity is a great way to work on sequencing, measuring and reinforcing action words like POUR, MIX, MEASURE, STIR, MELT, PRESS, CUT.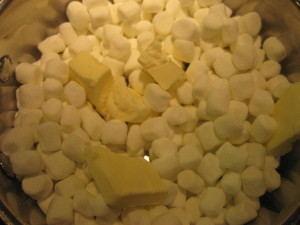 Add marshmallows and butter to a large pan.  Melt over low heat—stirring constantly until smooth and fully melted.
Observe the appearance of the marshmallows and butter BEFORE they melt……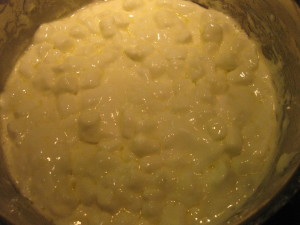 ………compare it to the mixture AFTER it has melted and discuss what happened and how it's appearance has changed.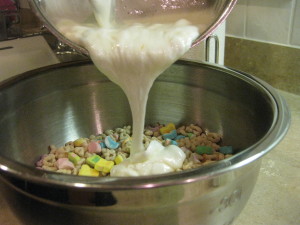 Pour marshmallow mixture over the cereal.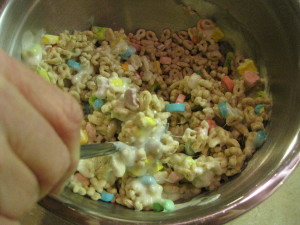 Mix well until all of the marshmallow mixture is evenly coating the cereal.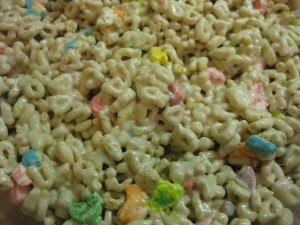 Press mixture into a well-greased 8X8 inch pan.  Butter your fingertips to help keep the cereal from sticking to your hands.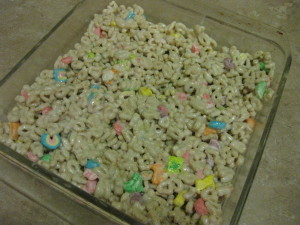 Let pan set until cool—place in refrigerator for a few minutes to help it set.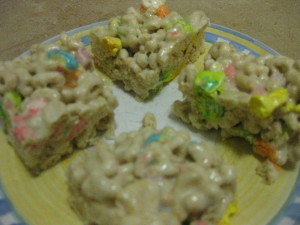 Cut into squares and enjoy your creation!!  I think I will go home and tell my family how lucky I was to make these Magic Squares in my therapy sessions this month!
…and I couldn't resist taking a walk down memory lane–here's a  Lucky Charms commercial circa 1980!!  

Want to share the reasons why YOU are #lucky2BEanSLP?