Although I still have the entire month of August to look forward to before returning to school, I know many parts of the country are quickly gearing up for their return in the next week or two.   Honestly, I'm still trying to get my bearings on my summer routine.  I worked in my school's summer program from the end of June (when the regular school year finished) until the end of July!  The program was four days per week and our day started very early (8 a.m.) and finish early (1 p.m.).  I took off my "speech therapist" hat (although we really never do take that hat off, do we?) and put on my "writing teacher" hat!  That's right, this speechie functioned as a full-fledged writing teacher this summer!   I saw small groups of students back to back, for 80 minute sessions.  At the end of many days I was tired, exhausted,   energized (actually all of the above).  The students rotated to three different sessions during their day—writing, reading, and science/recess.  Once these sessions were finished, many of the students went home, while others stayed for an hour of tutoring in math.   Although this program may sound pretty intense, it is exactly what so many children could benefit from during their summer break in order to avoid the "summer slide" and help them achieve a "summer climb!"
Research shows that while students make similar progress during the school year, regardless of economic status, the better-off kids held steady or continued to make progress during the summer–but disadvantaged students fell back. By the end of grammar school, low-income students fall nearly three grade levels behind, and summer was the biggest culprit.  Summer vacation is among the most damaging (and least acknowledged) causes of achievement gaps in America's schools. While many economically advantaged children have experiences that keep their minds and bodies actively learning (camps, vacations, museums, libraries and enrichment classes),  children without resources find themselves bored, getting into compromising situations, sitting in front of glowing screens. By the time the new school year begins, the poorer kids have fallen weeks, if not months, behind. Even well-off American students may be falling behind their peers around the world after a summer away from the classroom.
This summer, one of the books on my own personal reading list was Outliers by Malcolm Gladwell.  I'm not sure what took me so long to check  this book off my list, but I'm glad I finally found some time to read it.  Chapter nine,  entitled  Marita's Bargain, is an example of what happens when the "summer slide" is avoided.  The chapter  discusses an experimental school that was started in 1994, in the South Bronx (one of the poorest neighborhoods in New York City) called the KIPP Academy (KIPP stands for Knowledge Is Power Program).    Students have a school day that begins at 7:45 a.m. and ends at 5 p.m.  Saturday's they come to school from 9-1 pm and in the summer, they attend three extra weeks of school and their day goes from 8-2 pm.  They receive 90 minutes of English, 90 minutes of math, one hour each of science and social students, an hour of music twice per week and 75 minutes of orchestra in addition.  80% of these students have gone on to attend college!  There are now over 50 KIPP programs throughout the country making a difference in the lives and futures of many children!  This is a brief summary of the chapter, but I think you get the gist of it.
Last month, I was contacted by a local ad agency that asked if I would share the info graphic below on my blog and/or Facebook page.  Each month they discuss areas that would  appeal to their  client base when deciding what type of graphic to create. They agreed that summer education would be a worthwhile topic.  The ad agency works for a car dealership in my area, where many families shop for new cars in the summer.   What a great way to build greater awareness and conversation about the "summer slide"—posting visuals such as the one below serves as a reminder to parents and children regarding the importance of reading and continuing the learning process even when school is not in session.    Notice the statistics regarding summer learning vs. summer loss.  On the summer learning side of the graphic, it appears that parents and teachers are in agreement when it comes to the need to continue the learning process over the summer.  On the summer loss side of the graphic, the percentages reflect an overwhelming number of teachers spending a significant amount of time  re-teaching and reviewing  previously learned skills.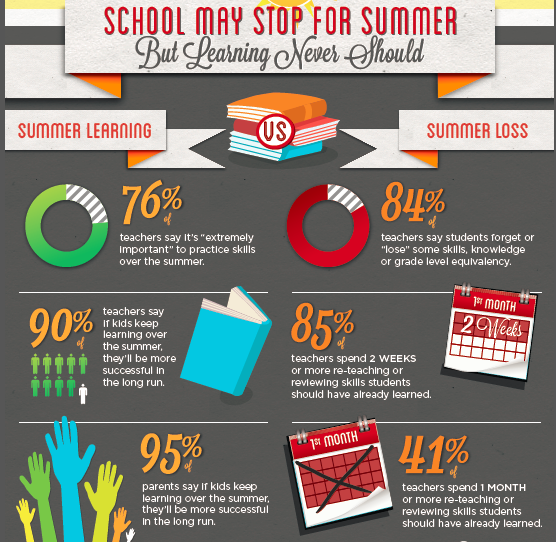 Back to my personal summer reading assignment, Outliers.  Chapter 9  also highlights the length of the school year in other countries in comparison to the United States.  In the U.S., the average school  year is 180 days. The South Korean school year is 220 days long and the Japanese school year is 243 days long.  So how does the  longer school year translate into greater academic success?   Answer: You have time to learn everything that needs to be learned, and less time to unlearn it!   When Japanese 12th graders were given a math test, they reported that they had learned 92% of the information previously in their classroom.  American 12th graders took the same test and reported learning only 54% of the information in school.   So the question posed is, Does America have a school problem or do we have a summer vacation problem?     
For our most challenged learners—the disadvantaged and the learning disabled,  imagine how much further behind they are than the average student!   As an SLP who has worked in a summer program, I hope I helped make a small difference to a few students.  Hopefully the organizational strategies,  writing prompt assignments and  grammar review exercises all helped maintain and/or advance their skill level.  Hopefully,  for some,  the "summer slide" was replaced by the" summer climb!"
Looking for ideas to help avoid the summer slide?  These suggestions span all ages/ability levels: 
Read EVERY day!  Read non-fiction, fiction, ebooks, poetry, newspapers and read out loud! For most children, twenty minutes is an appropriate amount of time to read for a child who is an independent reader. Most libraries have a wonderful summer reading program with incentives and rewards for books read over the summer.
Cook with your children.  This is one of the best ways to integrate math, reading and following directions.  Let your child design the menu too!  Help your child put together their favorite recipes in a cookbook.
Plant a garden.  Your child will gain responsibility and pride as they watch their plants grow and thrive.
Take a field trip to a museum, zoo or local park with walking trails.  Keep a journal about your travels.
Learn a new word each week!  Hang it on the fridge and see who can use it the most times throughout the week.
Enroll in a quality summer program that will provide your child with opportunities to build their critical thinking skills.
Play quick games with flashcards like Math War or Concentration to keep math skills sharp.
Listen to Audio Books during your road trip.
Take pictures and make a summer scrapbook.
Did I mention READ?!  If your child does nothing else this summer make sure he/she is reading!  (source:  https://littlescholarsllc.wordpress.com/10-ways-to-prevent-summer-slide/)
So what are your thoughts on this topic?    Should the American public school system revamp the school day?  Should the school day become longer?  The school year extended?  Weekends added?  Should we instead include several short breaks distributed over the course of twelve months? How would it impact our daily routines (parents work schedules/students extracurricular /sports schedules?)  How would it benefit our speech/language caseloads?  Could we, as SLPs, become more effective therapists by having more time to address speech and language goals?  Could we dismiss students sooner?   Would an extended day/year create overload and burnout among teachers, parents and students?  I'd love to hear your comments!