Teachers Pay Teachers is having a Best Year Ever Bonus Sale on Monday, August 22.  By using the code OneDay at checkout, you can save 28% off of everything in my store, SpeechSnacks.
The Frenzied SLPs are hosting a linky party to share some great materials and tips for starting the year out right. So here's my tip–GET ORGANIZED!  That means YOU as well as your students—and I have something that fits the bill for both!
 The adjustment back to the old school routine requires me to reorganize my thoughts, my daily pace, my overall mindset. I always put myself in the shoes of my students when the new school year begins. If I  find it a little tricky to readjust, I can only image how challenging it must be for many of my students! So many of them need to strengthen those all important EXECUTIVE FUNCTIONING skills—and back to school transitions definitely present a true challenge!
Applying executive function skills like organizing materials and setting up a time management system will contribute to a positive attitude toward school.   Sometimes a little helpful guidance is needed in getting this accomplished!  This is where the speech-language pathologist can help make a difference.  As SLPs, we are aware of various tips and strategies that will help students improve time management, organization of space and materials, planning and setting goals.
To play: SLP reads the 36 Executive Functioning strategy cards to the students as they take turns answering questions/listening to tips related to preparation, time management, organization and good listening strategies.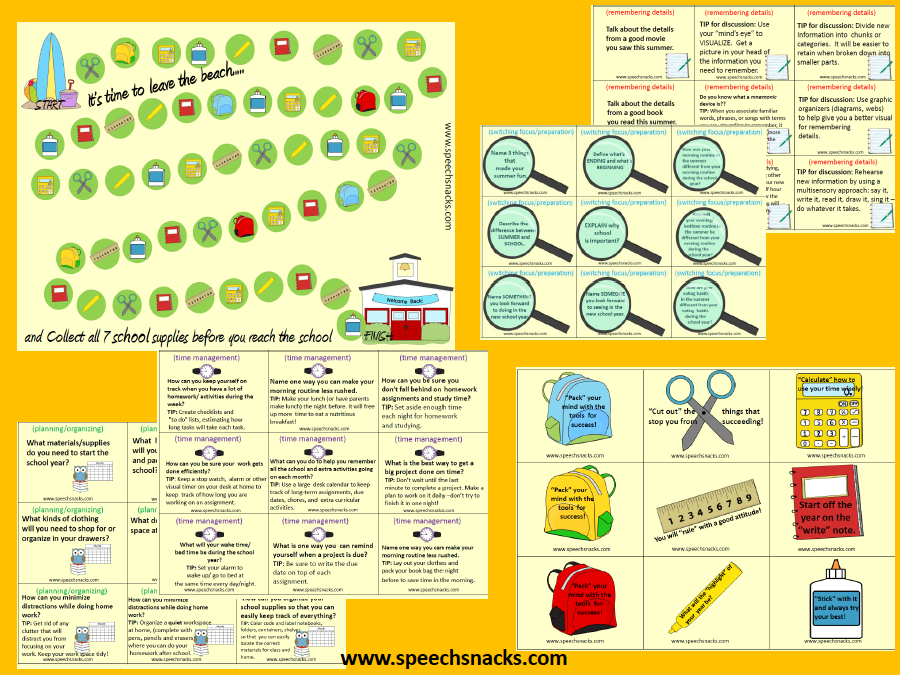 To accompany the game, I created an  organizational tool meant for home use and as a communication tool between student, parent and educator.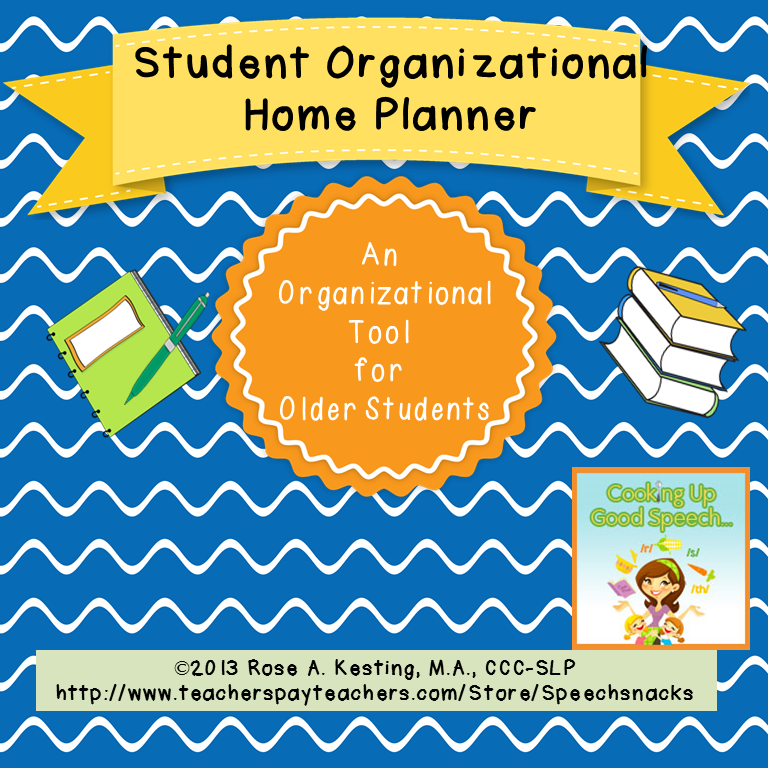 Unlike the school homework planner that many students receive from their school district, this planner breaks down and organizes a student's after school routine by the hour, day, week and month. A cover page, project planner, homework chart , reward coupons, daily reminder checklist and subject labels are included.
Included in this packet:
Letter to the parents (explains the purpose of the planner and how to use it at home with their child.
Three different versions of a cover page were created so students can decide which theme best suites their personality.
Monday –Friday home organization pages to keep track of homework/activities and the time needed for each. These pages address time management to help students become more aware of how much time they realistically need to complete tasks. Spaces are provided for estimated vs actual times needed for tasks.
Fill in this chart with tasks that need to occur in your morning routine. You can fill it in the NIGHT BEFORE to get an idea of what your morning should LOOK LIKE in advance! Did you lay out your clothes? Make your lunch? Check your book bag? Consider doing THESE things BEFORE bed!
What does my WEEK look like? Fill in the Key graphics: Fill in the tests, projects and other tasks that need to get done during the week.
What does my MONTH look like? Fill in at the beginning of each month. Color code each task Fill in at the beginning of each month or on a weekly basis as you gather more information about your month. Color code each task using the key provided.
Sample calendar provided as a visual example of how you might set up your calendar.
Project organizer—Although students generally receive a rubric when assigned a class project, this organizer addresses some practical areas that a class rubric may not include (estimated time needed to complete, steps required to start and complete project)
Homework completion chart .Color in one star for every homework assignment completed each day. Decide how many stars will earn a reward at the end of the week.
Homework coupons for home use. Two pages of original reward ideas and one page of blank coupons to fill in with reward ideas created by student. Students can cut out and submit coupons (after working out a reward system agreed upon by their parents.
Home organization reminders. This graphic is a check list that students should review after school and before bed time to help prepare for the next day.
6 Subject black/white labels (math, spelling, writing, social studies, science, reading) that can be color-coded according to student's needs and used for organizing home folders, dividers, containers or for use on school notebooks, folders, book covers.
Blank labels also included.
I've bundled this product, so if you're interested in buying them together for an even greater value, you can find it here!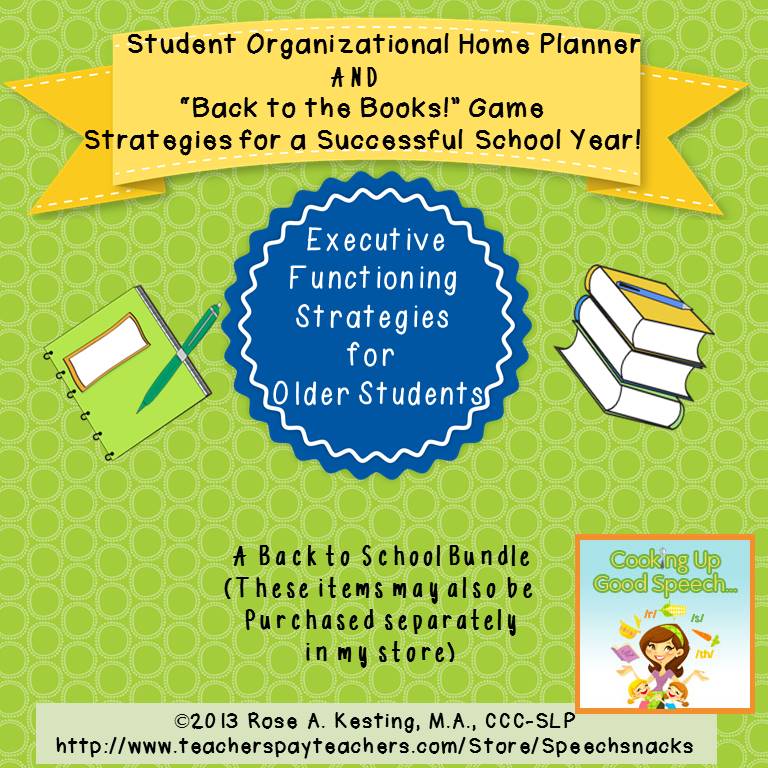 So now for YOUR organizational/ executive functioning "foodie" tip.    I have a tip to help us busy SLPs keep our morning routines a little less stressful and lot healthier!  I absolutely LOVE using mason jars for so many purposes.  I found this idea floating around Pinterest quite a bit this summer, so it may look familiar—prepare your breakfasts and lunches in advance and have them ready to go in the morning!  Give this idea a try and you will be an executive functioning queen!!!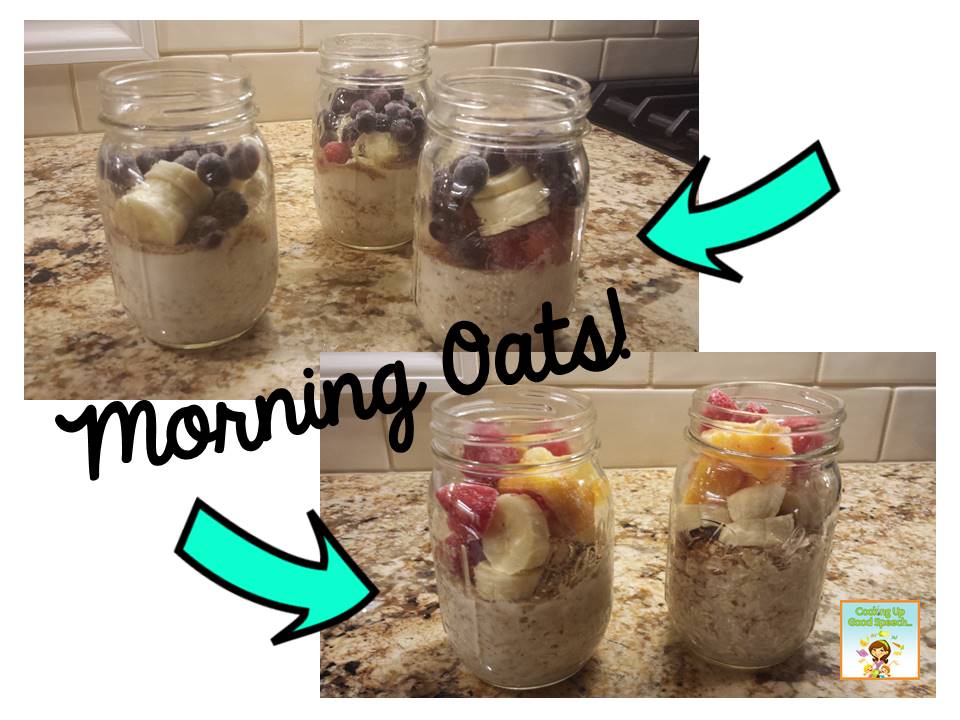 Oats aren't just meant to be eaten hot!  Cold oats have been all the rage lately!  I enjoyed consuming these creations all summer long.  They are a great warm-weather food and can certainly be eaten any time of year!    Not only are they delicious, good for you and filling, they are quick and easy to make and the instant grab and go breakfast!  Make these the night before and you'll have creamy oats and fruit for breakfast in the morning.   There are so many combinations you can create.  The ones above include layers of bananas, strawberries, peaches and blueberries.
To make overnight oats:
Pour one cup of old fashion oats (not quick oats or steel-cut) into a clean pint size mason jar.
Add an equal amount of liquid (skim milk, whole milk, almond, coconut or any other form of milk that you prefer.
Sprinkle a dash of cinnamon and a splash of pure vanilla extract on top and stir.
Layer the remaining jar with sliced fruit of your choice.
Top with a drizzle of honey (optional.)
Secure lid and let sit overnight in the fridge.
Enjoy in the morning!!!!
For more mason jar overnight oats ideas, check out some ideas here and here!!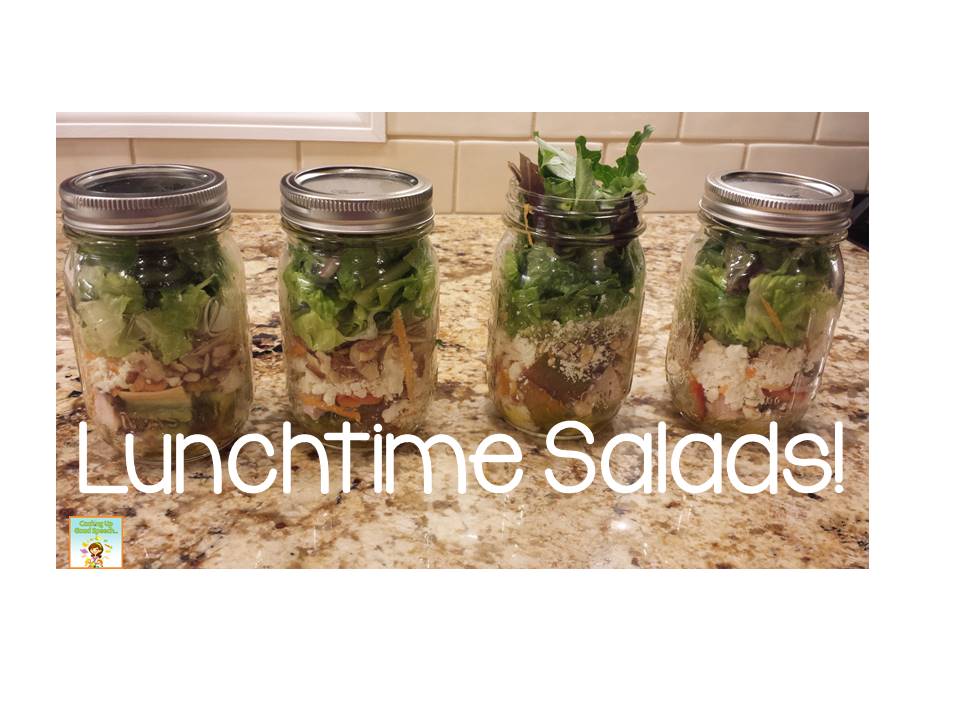 I carried the mason jar theme into lunch time and prepare salads for several days in advance!  The key to a fresh salad is to pour your dressing on the bottom first!  I keep it simple and make a dressing from freshly squeezed lemon, olive oil and salt/pepper.   Thinner dressings will mix more easily than a thicker dressing such as Ranch or Blue Cheese.   I add my protein source next (usually cubed chicken or cheese).  Next add in your firm veggies (shredded carrots, pepper slices, tomatoes).   For some crunch, I like to add slivered almonds or walnut pieces.  I also love to add a little sweetness, so dried fruit like cranberries and cherries are a favorite of mine. Finally, add your lettuce greens (romaine, arugula, spinach, etc.)   Seal the lid and you have a healthy, great tasting lunch to look forward to.   When ready to eat, turn your jar upside down to allow the dressing to evenly distribute and mix throughout the jar.  When I have a great lunch to look forward to, it helps get me through the second half of my day!    Looking for more mason jar salad ideas?  Check these out!
Check out some more great products and quick tips in The Frenzied SLP Blogger Linky below!!!
Blogger link for linky: