Time, time time, see what's become of me,
While I looked around for my possibilities….
What has become of me?  Time has certainly escaped me, I admit. But finally, the inspiration to write!  I am ashamed to say how long it has been since I've blogged or created a new product for my TpT store.   As I sat down to map out a plan for writing something new, the lyrics to A Hazy Shade of Winter came to mind.  (Music often provides me with inspiration for many tasks!)   The song was originally recorded by Simon and Garfunkel in 1966 (Are you youngsters out there familiar?) and in 1987 The Bangles performed their version.  Personally I love The Bangles version (I secretly always wanted to be just like the lead vocalist/guitarist Susanna Hoffs).   The lyrics seemed fitting for my re-entry into the land of blogging.  The words can be interpreted in many different ways but, for me, conjures a sense of regret and frustration over allowing time to slip away only to realize how much time has passed and how quickly things can change.  How many times have we commented about events, holidays, vacations  flying by faster than a speeding bullet each year, especially the older we get.   Time certainly very quickly slipped away from me in regards to my little blog.  Many times I have sat down to start writing a thought or share an idea, only to be tugged away by other responsibilities and  distractions.  So as we begin a new year, I won't make any specific resolutions for this blog , however I do resolve to move forward…try better…focus better…(fail better)…try again!   But first, here are links to A Hazy Shades of Winter by Simon and Garfunkel and The Bangles for your enjoyment.
Let me briefly reacquaint you with my blog.  I write about speech and language therapy ideas and find ways to incorporate the themes of food and cooking.   I've been sharing my thoughts on this blog since 2011 .   If you are an SLP or teacher who addresses speech and language, life skills, executive functioning, teaches home economics, or home-schools then this site is for you.  You'll find some of the recipes to be simplistic, however the majority are not your quick and cute "edible, scented play-doh" or "dirt in a cup" activities, although  I find these simple activities a great way to introduce sequencing while teaching hands-on learning.  The recipes posted on this blog are meant for real life and will hopefully inspire an interest in healthy eating habits and greater life-skill independence .  They will help with sequencing, direction following, executive functioning/organization skills.  While many of the recipes are health-conscience, they are not meant to take the place of a dietitian's advice and guidance.  I have prepared all of these recipes for and with my own family.  In fact, the kitchen is where you can find me spending a great deal of my time.  When I'm not wearing my SLP hat (or mom hat, cab driver hat, cleaning lady hat, etc, etc.)  you'll find me wearing my chef's hat!  I spent quite a bit of time in the kitchen during the holidays, cooking for all the company that came over for Christmas dinner and throughout the holiday week…….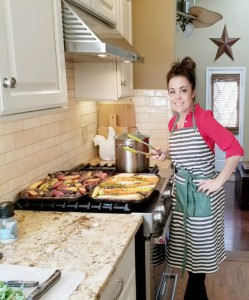 That's me trying to look calm, when I'm really freaking out about getting everything done before guests arrive.  Timing is everything when you're preparing a lot of food for a lot of people!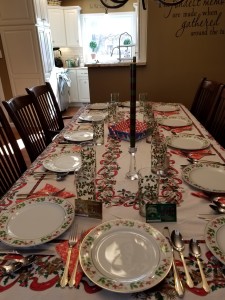 The table is set, compliments of my son.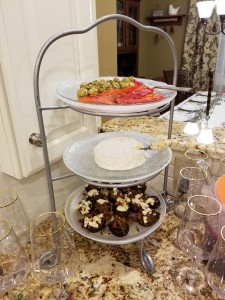 I think the brie, stuffed mushrooms, roasted peppers and olives were a good starter, while I continued to finish preparing the rest……(Yes, I take pictures of my food. Doesn't everyone?)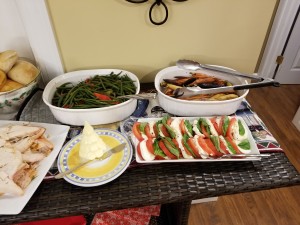 Check out that butter tree…almost too cute to slice into!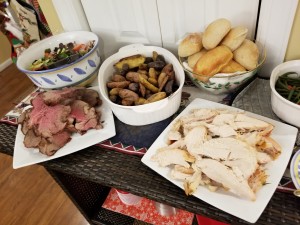 The menu included beef tenderloin, brined turkey, rosemary roasted potatoes, multi-colored petite carrots, caprese (tomato, mozzarella and basil)…..this isn't everything….my famous Christmas pasta and meat sauce is not pictured as well as homemade sangria!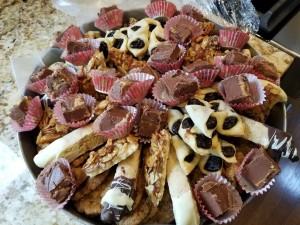 I make several types of cookies.  The baking begins about a week before Christmas.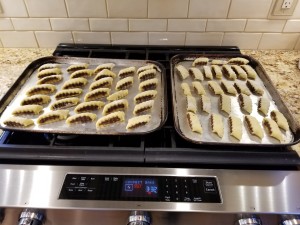 Some of the behind the scenes "before" pictures!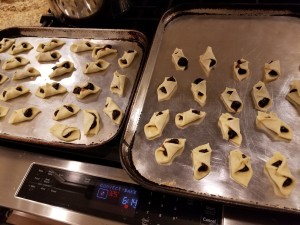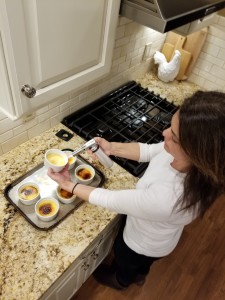 Don't forget the crème brûlée!  Such a beautifully simplistic dessert.  I love my culinary torch!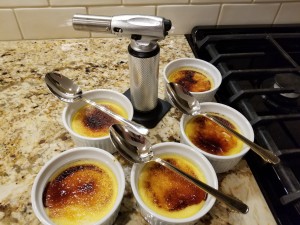 I think the photos do a pretty good job explaining what I've been doing with some of my free time, instead of blogging!  It's my creative outlet; it's in my DNA.  Intertwining my career with my passion seemed fitting when I started this blog and it continues to be my motivation and inspiration for blogging.  In the weeks and months ahead,  I hope to start sharing more ideas from my kitchen and speech room.   I'm working on a really big project for my tpt store (actually it has been in the works for quite a long time but unfortunately , well, "time, time, time see what's become of me!" Here's a hint about my upcoming project—it's a book, it involves cooking and it will be packed with ideas from my many years of experience and knowledge as a home cook and SLP. Please stay tuned…..

Moving on to the business of speech and language…I work with the older crowd so keeping them interested and motivated can be a major challenge, as many of you may have experienced.  I am always on the look-out for pictures/photos, videos, current events, social media that will catch their eye and make them want to have a discussion.  Here is one successful way I have been effectively addressing several language goals while keeping their interest and attention: How-To videos!  My students love watching these 3-5 minute segments, especially when it is food related.  These clips can be used to teach a multitude of concepts:
1-Sequencing 
Pause the video, when necessary, at various points in the video and have them verbally or in writing, explain what is happening in each step of the how-to process.  Use the starters first, next, then, last when writing or verbalizing the steps.  Allow your students to draw pictures in addition to, or in place of the words.
2- WH questions
Pause the video and ask your student WH questions.  For example, Who is making the candy?  Where are they?  What types of machines are they using?  How do you think they made so many, so quickly? When did it start looking more like the actual product? Why do they use machines instead of making this by hand?  (Theses are just a few examples, you can tailor more specific questions to each video as you view them.)
3- Cause and Effect
Pause the video and discuss what caused an event to occur/identify the effect of an action. What would happen next if…? Why did that happen?  Cause/effect teaches students to make a connection between two events.
4-Retelling
After watching the entire video, ask students to retell the highlights of the video.  This will help you assess their recall, comprehension and organization skills.
5-Predictions
Pause the video and make predictions about what will happen next or at the end of the video.
6-Written Language
Have your students write a how-to paragraph.  You can use these FREE organizers from my TpT store to help guide your students through the writing process!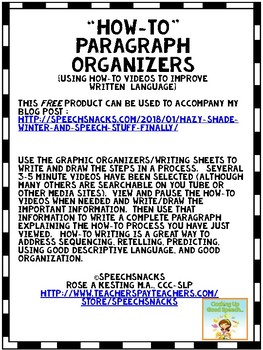 Here are the links to a few food-themed How-To videos that my students enjoy viewing.   Some are slightly longer than others, so use judgement. You know which students can maintain focus and handle lengthier vs shorter chunks of information.   There is enough information contained in each video to keep your students engaged for an entire therapy session (and then some.)  Many of my students come back the following session and request more How-To's!  (A sure sign that you have found materials of interest for those hard to please teenagers!) One word of caution: you may want to show these videos after you and your students have eaten lunch—they may cause an increase in appetite and a need to break out some snack foods!!!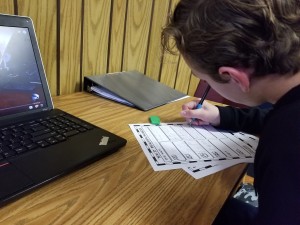 Here's one of my middle-schoolers filling in the How-To organizer I created.  We were learning how ice cream sandwiches are made.  We paused  and replayed portions of the video frequently in order to write and draw the how-do steps.  He was fascinated by the process, and so was I!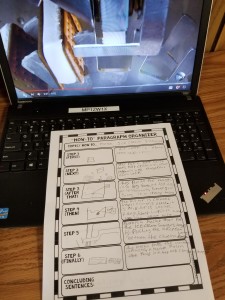 How to make candy canes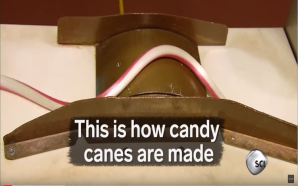 How to make bubble gum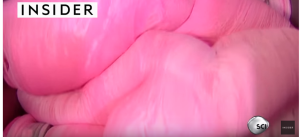 How to make rainbow sprinkles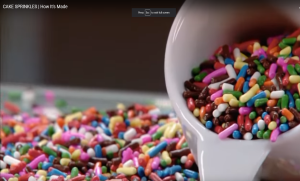 How to make donuts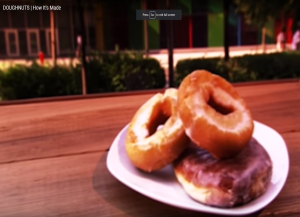 How to make ice cream sandwiches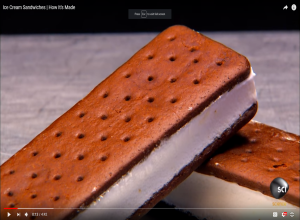 How to make pretzels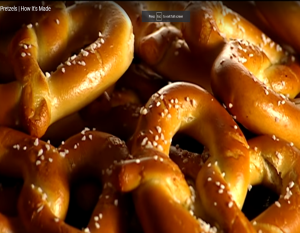 How to make frozen pizza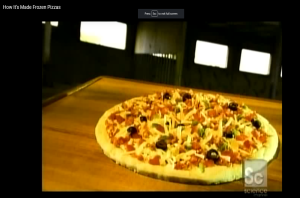 How to make tortilla chips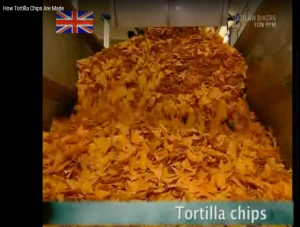 How to make honey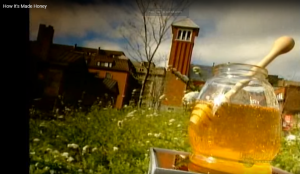 How to make pasta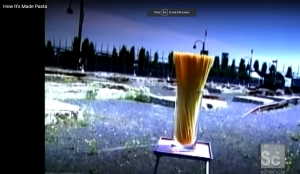 How to make croissants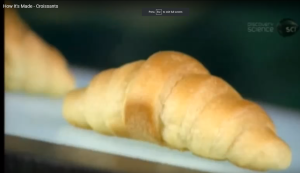 How to make oreo cookies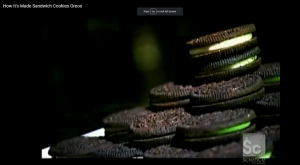 How to make gummy worms and licorice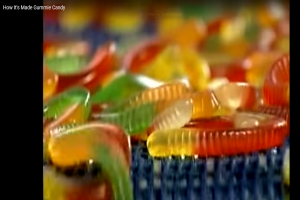 I hope you and your students enjoy these How-To videos.  Search YouTube and you will certainly find more (both food and non-food How-To's) .  I'd love to hear about your experiences using this activity in your therapy rooms so feel free to leave a comment…and now back to cooking up something new—in the kitchen and in my therapy plans!