About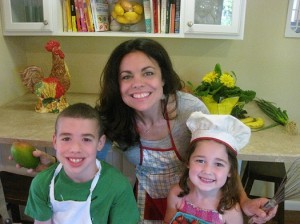 Welcome to my blog Cooking Up Good Speech….with SpeechSnacks ,  where you will find  fun and functional  therapy ideas and materials for  educational professionals and families to assist children with speech, language and communication skills through creative, hands-on and food-themed  learning experiences!   Ben Franklin said, "Tell me and I forget, Teach me and I remember, Involve me and I learn."   Multi-sensory learning and learning through experience provides children with skills that can grow and develop over the course of a lifetime!
I'm Rose Ann Kesting.  I'm an ASHA certified speech-language pathologist currently working in the school setting. I'm also a super busy mom living in New Jersey–The Garden State,  with my family and crazy rescue dog.    I have a passion for creating speech-language materials, blogging, fitness and FOOD!
I combined my interest in nutrition and healthy cooking with my professional knowledge as a speech-language pathologist and thus, www.speechsnacks.com was born!  I have been blogging since 2011. You can check out my very first blog post, published in September 2011 here!  This site is designed to provide speech-language pathologists, other educators and families with a guide to preparing simple and healthy foods with the participation of their children while promoting good speech and language development.  (Always check for allergy restrictions or other guidelines set forth by your school before preparing any food-related activity in the classroom setting.)
Here are some other fun facts about me:
 As you may have guess from the theme of my blog, I love food!  Making it, writing about it, using it in therapy (when appropriate), and of course eating it!  In my next life I think I would come back as a pastry chef and own a small patisserie in Paris!  For now I will settle for sharing my passion with my family, friends and students!   You can browse my site for lots of food-inspired activities and TpT products with a food theme!
 I learned to play the guitar at a young age.  I was taught  by a nun (no, not Maria Von Trapp! lol!)  I played at all the folk masses in my church and as a teenager studied classical/acoustic guitar with an amazing British guitar teacher.   When I became a parent,  I loved writing fun and silly songs for my baby boy.   Maybe one day I will get up the nerve to play for my older students—but I better learn something really cool so I can impress them!  I am a big advocate of using music in your speech/language lessons with all ages.  It's such a great motivator!!
 Practically my whole family is in the education business!   My husband is a school principal.  He used to teach middle school Spanish and started his career as an elementary school teacher.  My three sisters are middle and high school English and science teachers.  My brothers-in-law are music and physical education teachers.   We always joke about opening our own school someday.  I think we have all our bases covered!
I played sports throughout my childhood and at the high school and college level.  Sports can teach so many life lessons—hard work, persistence, dedication, success and failure.   I became a fitness instructor as an adult and spent many hours working on my kickboxing, strength training and step aerobic routines.  It's a good thing I love exercising to balance out my love for food!!
 What are SPEECH SNACKS?
1-information on sound production and/or language building,
2-printable FREEBIES and TeachersPayTeachers products that accompany my kid-friendly recipe posts
3-apps suggestions  that are fun and educational,
4- recommended children's stories that contain a particular sound or theme addressed in my posts.
I have taken step-by-step pictures of each recipe, so feel free to print them out and use them to work on sequencing, direction following, sentence building, etc. as a preview before you make the recipe or as a review after you have completed it.
Childhood is fleeting.  Spend time with your children and students cultivating their speech and language skills while educating  them about making good food choices—lead by example! They will remember that simple snack or meal you made with them. It will become a fond childhood memory that will remain with you and them for a long time! Have fun "Cooking Up Good Speech" together!!
Speak Well and Eat Well,
Rose A. Kesting, M.A., CCC-SLP
Did you realize that every time you decide to cook or bake with your child you are addressing specific areas of speech and language development??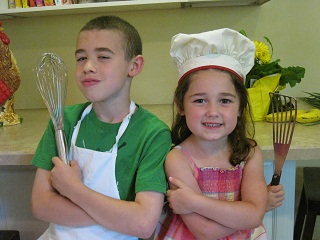 What skills are you enhancing???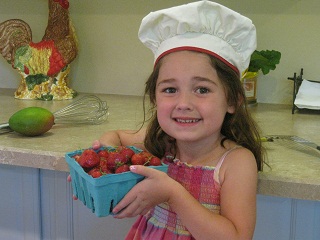 DIRECTION FOLLOWING
SEQUENCING
"WH" QUESTION DEVELOPMENT
PROBLEM SOLVING & REASONING
SENTENCE BUILDING
CONVERSATION SKILLS LIKE TURN-TAKING AND TOPIC MAINTENANCE. 
You are also developing ARTICULATION SKILLS for development of SPEECH SOUNDS.  
And let's not forget MATH SKILLS for learning FRACTIONS and MEASUREMENTS.  
ABOVE ALL—YOU WILL BE DEVELOPING LIFE SKILLS WHICH WILL BE WITH YOU FOR A LIFETIME!
I can't think of a better way to teach these crucial communication skills than through cooking!!  And at the same time you will be teaching GOOD NUTRITION, making HEALTHY FOOD CHOICES and experimenting with tastes and textures of a variety of new foods!   
******************************************************************
Back in January 2013, I participated in a "Chain Letter Link Up" with several other speech pathologists.   If you want to learn more about me and my blog you can check out the interview questions and answers:
1. Your name, email, and TpT store if you have one. If not, feel free to leave me your blog link.
Rose Ann Kesting
rokesting@verizon.net
http://www.speechsnacks.com
http://www.teacherspayteachers.com/Store/Speechsnacks
2. When and why did you start blogging?
I started my blog in Sept 2011.  I had been following a couple of speech-language blogs and felt inspired to create one of my own. My passions are my profession and cooking (In my next life I will come back as a chef or dietitian).  I wanted a place to be creative and collect my ideas. I have always been a "think outside the box" kind of person, and I think the uniqueness of my blog reflects that.  I love new challenges and considered starting a blog a true challenge, especially since I had absolutely no experience with creating a website. I pretty much figured out how to set it up without assistance, which was very frustrating and time consuming at times!  That being said, I am proud of what I have accomplished and learn new things about blogging every day.
3. What is your favorite population to work with?
Our profession allows us to work with every age group– from pediatric to geriatric.  I have appreciated working with different populations at different times in my life.  When I entered the field 18 years ago I was an SLP in two middle schools and a high school. I worked mainly with self-contained students in the public school system. I worked with this population for almost 10 years.  When I had my son, I decided to stay home to raise a family for a few years, while seeing clients privately from home.  When I returned to work on a part time basis, I decided to switch gears and work with preschoolers.   Most of my caseload consisted of articulation and mild language delays. I am now back to almost full time and am fortunate enough to work at two great jobs—with the preschoolers in a clinic and at a private school with 10-18 year olds with language-based learning disabilities—a very unique and rewarding work environment!  I enjoy being in different settings with different age groups—-it keeps me on my toes—my job never gets monotonous!
4. How much time per week do you spend blogging and/or creating materials?
It all depends on how busy life is at the moment!  My blog is very unique in that I have incorporated my passion for healthy cooking with ways to reinforce speech and language development.  I usually base my
posts on the foods I prepare for my own family or themed to holidays and seasons.  My blog started off geared primarily toward parents/families with the  goal of informing them of ways to enjoy spending time cooking nutritious foods while reinforcing  speech sound production, learning how to sequence steps in a recipe, building vocabulary by categorizing and classifying foods and other kitchen related words, etc.  It became a bit more elaborate as time went on and I now include printable activities that tie in with the theme of the post so that SLP's can also make use of my activities in the school setting.   I hope that parents, therapists and children can all take away something useful, fun and informative from my information.
5. What's your favorite topic to create materials for?
FOOD, of course!  I center each of my posts around a nutritious (and sometimes fun but not so healthy) recipe idea to make at home and, when possible, in the therapy setting.  I include detailed, colored photos of each step in the recipes so if it cannot be made at school, the photos can be printed and then used for sequencing and direction following.  My hope is that SLP's will share these recipe ideas with their "speech parents "so that there will be follow-up in the home environment. My blog is versatile for  many age groups—not only can you address various speech sounds with younger students, but older students who need to develop life skills  and executive functioning skills can utilize the recipes for this purpose.  I can't think of a better way to strengthen communication skills than through cooking with your kids.  And it's a wonderful opportunity to spend some quality time connecting with them!
6. What's the best thing about blogging?
It's a great feeling to have an idea in your head and then see it materialize in writing and pictures.  My 10 year old son things I am a pretty cool mom for having a website and he often helps me with my recipes and some of the instructional videos I have posted on my site.  His cousins and friends have also gotten in on the act! (You can check out my "Cooking Up Good Speech" video series on my site to see them in action!)  It's rewarding to know that I have made a positive impact on their young lives and maybe inspired them in some way!   I hope I have helped my followers see cooking and healthy eating habits in a whole new light—a way to take what we do every day and turn it into a teachable moment!
7. Do you have any blogging tips?
1–If you don't have a strong background in web development or setting up a blog, get some help–it will save you a lot of headaches and time in the long run!  2—Blog about what inspires you!  You will be motivated to continue blogging if you are passionate about what you write about!  3–Keep a pen and paper near your night table….I have had many ideas come to me as I settled down for the night (I guess my mind is always racing or maybe I'm just always hungry!)  You just might "dream up" some of your best ideas in the middle of the night.
8.  Have you attended any good workshops lately?
Yes! This October I attended a workshop presented by the amazing Sarah Ward on Executive Functioning Skills.  She shared many practical strategies that I have been able to utilize with my older students. It has helped me gain a better understanding of some of the weaknesses they experience in their daily life.  She addressed time management skills, thinking in an organized way, organization related to homework, classroom management and basic living skills.  She had so much great information to share and was such a dynamic speaker!  Her workshop also helped me realize that my blog is a direct way of working on so many of the areas she discussed.  Cooking in the kitchen is a great way to address executive functioning skills—by practicing direction following in an organized, efficient fashion!  One more great reason to follow me at www.speechsnacks.com
**********************************************************
DISCLAIMER
The content of this site is for informational purposes only. The information is not intended to be a substitute for speech therapy, medical advice, or diagnosis. You should seek the advice of your health care provider regarding any questions you have.  Speech Snacks disclaims any liability for the decisions you make based on information from this website.  The opinions expressed here are those of the creator of the site, and not those of her employer.