Remembering a Special Child—Fight SMA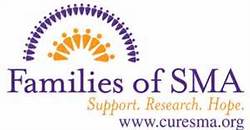 March 9, 2013
REMEMBERING A SPECIAL CHILD AND HIS FAMILY
This March is the second anniversary of the passing of a very special student.  I asked his parents for permission to write about their son on my blog.  I will always remember this amazing boy and his incredible family.  I hope to increase awareness of the genetic disease Spinal Muscle Atrophy by sharing his story.
My Wednesday morning wake-up call
As a speech therapist, I have had the opportunity to work in several settings—public schools, preschool clinics and private practices.  However my most memorable experience has been my time working with a Community Resource Team which is part of the Special Services school district I work for.  As part of the team, therapists and teachers provide home-based services to children who are unable to receive instruction in a classroom setting. Primarily, this is due to physical limitations which would make it too difficult to transport them to and from school.  These children often require medical equipment and medical personnel to attend to their needs regularly.
Four years ago, my supervisor asked me if I was interested in a case that would require me to visit a child's home on a weekly basis to address the speech/language goals in his IEP. While I enjoy new challenges, I was also hesitant.  I had worked with medically fragile cases in the past, one particularly challenging child was a young boy with C.H.A.R.G.E.syndrome.  I found the experience to be sometimes rewarding but also emotional and frustrating. I wasn't sure if I would be interested in going down that path again.
My supervisor handed me the paperwork and asked me to read it and think about it. I opened the file to review his IEP, medical history and other pertinent information regarding his disability.    After having a good cry (the diagnosis and prognosis were overwhelming and I had never heard of this disorder before), I realized I had two choices—say " no"
to this case and just tell my supervisor that I didn't feel comfortable accepting it or say "yes" and meet the challenge of working with a child with Type I SMA (Spinal Muscle Atrophy).   I decided to go with the second option.
The rest of this story is a lesson in humility.  For three years, every Wednesday morning was my "wake up call."  No matter what my circumstances were that day,  Pranav was facing far greater challenges than me.   And he did so with a positive attitude, great sense of humor and brave outlook.  By the way, Pranav was only 5 years old when I met him.
Pranav's parents were born in India.  They later met when they came to the United States.  They are warm, genuine and highly intelligent people–and amazingly supportive and involved
parents.   Pranav appeared perfectly "normal" at birth. His parents had no idea that their son had this devastating genetic disorder—and that they were BOTH carriers.  He was diagnosed after his parents began to observe signs of weakness in his ability to support himself and achieve developmental milestones. His parents and the doctors assumed he was
just slow, but then at seven months they were asked to check with a neurologist just to be safe.  He was diagnosed when he was only eight months old.   Blood work confirmed the diagnosis—– Type I SMA—the most severe type. Doctors told his parents not to expect him to see his second birthday.
FACTS ABOUT SMA
SMA is not well understood or known because children don't survive beyond age 2 in most instances. It is the number one genetic killer in children under the age of 2.
SMA (Spinal Muscle Atrophy) is a motor neuron disease. The motor neurons affect the voluntary muscles that are used for activities such as crawling, walking, head
and neck control, and swallowing. It is a relatively common "rare disorder": approximately 1 in 6000 babies born are affected, and about 1 in 40 people are genetic
carriers.  Intellectual activity is normal and it is often observed that patients with SMA are unusually bright and sociable.
In order for a child to be affected by SMA, both parents must be carriers of the abnormal gene and both must pass this gene on to their
child. Although both parents are carriers, the likelihood of a child inheriting the disorder is 25%, or 1 in 4.
There are four types of SMA, SMA Type I, II,III, IV. The determination of the type of SMA is based upon the physical milestones achieved.
Usually a child with Type I is never able to lift his/her head or accomplish the normal motor skills expected early on in infancy. They generally have poor head control, and may not kick their legs as vigorously as they should, or bear weight on their legs. They do not achieve the ability to sit up unsupported. Swallowing and feeding may be difficult and are usually affected at some point, and the child may show some difficulties
managing their own secretions. The tongue may show atrophy, and rippling movements or fine tremors, also called fasciculations. There is weakness of the intercostal muscles (the muscles between the ribs) that help expand the chest, and the chest is often smaller than usual. The strongest breathing muscle in an SMA patient is the diaphragm.
As a result, the patient appears to breath with their stomach muscles. The chest may appear concave (sunken in) due to the diaphragmatic (tummy)breathing. Also due to this type of breathing, the lungs may not fully develop, the cough is very weak, and it may be difficult to take deep enough breaths while sleeping to maintain normal oxygen and carbon dioxide levels.
*************************************************************
I found that Pranav's initial IEP goals were not attainable—-they may have been addressed at one time, however the disorder progresses quickly and the goals were no longer appropriate.  We were not able to work on breathe support or increasing vocal volume.  Pranav usually lay on the floor on a thick mat.  I sat on the floor next to him during our lessons.  We worked in the front room of his large, open house.  It was a nice space for him, with brightly painted orange walls (his favorite color) and a big window that let in natural light. The room was at first used as a home office by his mother who is an accountant, but it later became Pranav's "classroom."  He was moved to a special adjustable chair for short periods, however it usually became too taxing on his body to remain upright for long periods. He found breathing easier when laying in the supine position. Pranav had limited use of his arms and hands and no use of his legs.  He was not able to hold his head up without support. The physical therapist and occupational therapist worked on strengthening and range of motion exercises for his hands and arms. Pranav could color with light pressure and draw and cut with some help.  What he really loved was his dad's laptop.  He used an adapted mouse with a ball at the top that rolled and rotated 360 degrees.  It was easy for Pranav to surf the web using this tool.  He was quite skilled and comfortable using the computer. He thoroughly enjoyed playing many fun and educational computer games. He always had a pile of his special toys next to him that he would hold in his hand or place on his chest.  These were usually small figurines of characters from "Finding Nemo", his favorite movie ever!  His mom told me that Nemo represented Pranav's life to some extent. Nemo was a fish with a broken fin who wanted to go out and explore the world regardless of his disability.  And Nemo loved his dad more than anyone else in the world—- so did Nemo's greatest fan.  Pranav also loved the comic book series "Tin Tin." He waited up for his dad to come home from work and read the Adventures of TinTin to him many nights.
Pranav's team consisted of a wonderful, loving, intuitive nurse who took care of his needs during the day—he required frequent suctioning and was fed through a G-tube.  His OT and PT  were equally warm and caring. They visited once per week to address his IEP goals.  His "classroom" teacher spent several hours per week with Pranav, generally  three hours per day, 3-4 times per week.  She had an amazing rapport with Pranav and worked on core curriculum goals in all subject areas.  Always energetic and upbeat, she gushed with pride over Pranav's ability to grasp concepts quickly and easily and challenged him with subject matter beyond his current grade level.
I visited Pranav once per week. Our therapy sessions focused on story comprehension, vocabulary development,direction following, and sentence building. I usually focused my lessons around themes, primarily the seasons and holidays. He enjoyed listening to stories and holding the character stick puppets that we made.  We also tried to improve clarity of speech, but it was challenging for him to clearly articulate productions of sounds due to his difficulty with swallowing and managing saliva. Poor  muscle tone made it difficult to coordinate oral motor movements. Despite his reduced clarity, he was relatively intelligible to those who were with him regularly.  We all managed to figure out what Pranav was saying—and he had a lot to say!!! Pranav was very bright!  He was a whole year ahead with math and reading skills. He loved his teachers because they opened up the world for him and challenged him to achieve and learn about the world around him.  He understood another language (his parent's native Indian dialect).  He loved to learn.  He loved to ask questions.  He loved to ask how my son was doing and looked forward to visits from him—they were only one year apart and had become friends over the three years I worked with him.  We were invited to birthday parties, holiday parties, graduation parties. We were all (the OT,PT, nurse, teacher and myself) treated like part of the family.
Pranav's parents found out they were expecting a second child around the time Pranav was turning six years old. They hadn't planned the pregnancy, but were willing to accept whatever
the future held.  Pranav's baby brother turned out to be perfect in every way. He was a special gift.   Pranav was a great big brother!
Over the years, Pranav had taken several trips to Children's Hospital to treat complications that arose.  And although he had already outlived the statistical odds, his parents knew that
their son was regressing.   There are currently five clinical drug trials being conducted on all populations affected by SMA. Clinical testing of novel therapeutics (non-FDA approved drugs) will commence for SMA in the next 2 years.
Pranav passed on  March 29, 2011. He was seven years old.  He went into cardiac arrest caused by a mucus plug in his lungs. Respiratory complications, as predicted in the diagnosis of children with Type I SMA, were the cause of his passing.   I visited Pranav and his family in the hospital during his final hours.  I told his parents that he had taught me far more than I could have ever taught him.   He was an inspiration and I was honored to have known him.   I continue to stay in touch with his family and I enjoy watching their second son, Darshan, grow and thrive—as Pranav lives on in him.
Pranav taught me some important lessons….to be grateful and thankful for what I do have, to keep life in perspective by enjoying the good moments and to bravely face challenges and conflicts.  He is still my Wednesday morning wake-up call!!
*******************************************************************
Please read more about SMA at http://www.fsma.org/Home/ and http://www.fightsma.org/