Baby it's hot outside!  Not just in my neck of the woods (The Great Garden State) , but many parts of the country seem to be feeling the heat as well this week!  Apparently, this will be the longest heat wave in 20 years around here!  How are you keeping cool?  We are spending our time at the pool, the beach, or somewhere air-conditioned as much as possible.  July also happens to be National Ice Cream Month!  Great timing! I can't think of a better treat to beat the heat!!
If you are an SLP working in a summer program, I have a few "cool" ice cream themed ideas" to share with you.  Hope you all like the cold stuff,  because I have plenty of it to serve up, so here's the scoop….
First up–I posted this video last year for National Ice Cream Month.   Me and my "SpeechSnacks crew" show you some ways to turn your ice cream sundae into a language sundae!   If your school allows you to bring in the real deal, here's a fun and delicious way to demonstrate a few language concepts.  It would also be great to share these ideas with your speech families so they can reinforce and carryover some of these skills at home!!!
Target the following goals with this activity:
Practical  knowledge of PREPOSITIONS (spatial concepts) by asking them key questions about the locations of  different parts of their sundae.  i.e.: Where is the cherry?  ON TOP OF (or ON) THE WHIPPED CREAM.  Where is the ice cream??  UNDER  THE CHOCOLATE SAUCE.  Where are the bananas?  BETWEEN THE WHIPPED CREAM. 
COMPREHENSION OF "WH" QUESTIONS i.e.:   What is ice cream made of?  Who drives and ice cream truck?  Where can you buy ice cream?
SEQUENCE the steps they took to make the ice cream sundae (using key words to organize their thoughts–FIRST,NEXT,LAST)
DESCRIBE what their sundae looks like (to help develop sentence length and complexity)
Use ADJECTIVES to describe their sundae: i.e.: CREAMY, DELICIOUS, FLAVORFUL 
BUILD VOCABULARY by addressing ANTONYMS AND SYNONYMS: i.e. Name some synonyms for cold—freezing , frigid, Name some antonyms for cold–sweltering , burning 
The next ice creamy idea I want to share comes from a guest post I wrote over at  The Next Chapter in My Speech World. She celebrated her one year blogiversay a couple months ago and asked me to create a summer-themed therapy idea that was fun and functional, so here's  what I came up with. You can view the entire post here.  Basically, I took my ice cream sundae idea mentioned above and turned it into a language building activity that involved a few simple materials (no real ice cream for this one).  This activity targets categorization and good auditory skills for listening and memory.   The students are the "servers" and the SLP is the "customer" placing the order.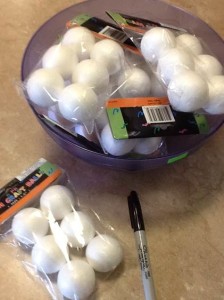 All you need are a few packs of Styrofoam balls, a Sharpie marker, a plastic bowl, cups and an ice cream scoop—I picked up everything from the dollar store.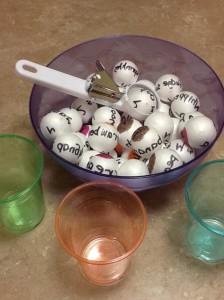 Check out all the details in my guest post to see how I color coded and labeled all the Styrofoam "scoops" and used them to address various language goals!  Your kiddos will love using the scoop to build their own ice cream creations!!!!
Finally, I took my inspiration from the above two activities to create a new product for my TpT store—The One-Stop Ice Cream Shop!!  It truly is a one stop shop since you can work on so many language goals with the materials contained in this one packet!  You can find this item in my TpT store here!  If you purchase, please remember to leave me some feedback–it's always so appreciated!!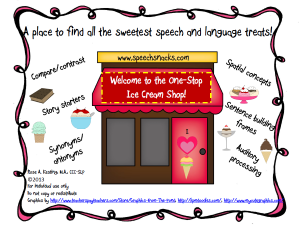 In this 45 page packet you will find the following target areas addressed:
SPATIAL CONCEPTS—Spatial Sundae Sentences LEVEL 1 and 2–
Cut out the pictures and words and have student arrange them on the sentence frame after you  ask them to describe the location of various items on the "Where is It?"menu  together.   The sentences for level 2 are lengthier/more complex as the student is required to determine two locations for various objects and construct an appropriate sentence to reflect that location.
AUDITORY MEMORY/LISTENING/DESCRIBING SKILLS—Can I take your Order/Build a Scoop Levels 1,2,3—
Player 1 or therapist acts as the waiter/waitress and asks "Can I take your order?" Player 2 (or therapist) chooses an appropriately leveled card and must describe the "order".  Player 1 must recall and repeat the order accurately.  They are then able to select a Build a Scoop Card.   The player to build the most sundaes/cones is the winner!
COMPARE/CONTRAST—
Using the Venn diagrams, write or discuss the similarities and differences between the items presented on each page.  To make these more user friendly, slide the sheets into clear plastic page protectors and use a dry erase marker to write in your students responses.  You can easily wipe off the clear plastic and it will be ready to use the next time.
SENTENCE BUILDING WITH NOUNS & ADJECTIVES—"Build a Descriptive Sentence Sundae"
Cut out the pink ice cream pictures and blue adjectives.  Form good descriptive sentences by moving the picture cards and word cards into the correct spaces.
SYNONYMS/ANTONYMS SORT-
Includes 3 sorting mats for "cold" "sweet" "creamy" synonyms/antonyms and 3 pages of synonyms/antonyms (36 cards total) . Find the appropriate topping (vocabulary word) that belongs.  Use each mat separately with the set of synonyms/antonyms provided or lay out all the mats and mix all the pages of topping together to make the sorting/identification task more challenging.
STORY STARTERS—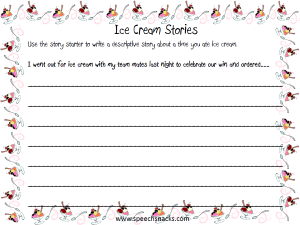 3 story starter pages. Use the story starter to write a descriptive story about a time you ate ice cream.  Utilize the adjectives, synonyms/antonyms, and other resources in this packet as reference in this culminating activity.
SPEECHSNACKS recipe card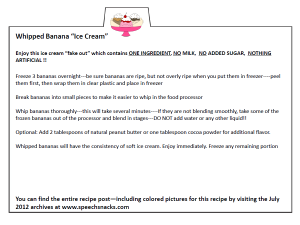 A collectible recipe card for banana ice cream! You can find this post—including colored pictures for this recipe by visiting here.