So in celebration of  the event, I have a "speechsnack" to share with you that clearly represents the outdoorsy spirit!   One of my family's favorite summertime foods is a treat we've enjoyed at the beach, around a campfire and simply while grilling in our own backyard—-S'MORES!!!  But I also know that it is not the healthiest of treats on the planet either, so I've tweaked the traditional recipe just a bit to make myself feel a little better about devouring this sweet indulgence.
I've included a quick and simple two -page print out for an auditory memory/listening game that is fun and challenging !  It's also a great way to learn what important items you would need to bring on  a camping trip.  Did I leave any out?????   It's a great way to pass the time while driving to your favorite vacation destination too.  
Special thanks to the folks at Smarty Ears—I used their awesome Custom Boards app to create this set of game cards!  Don't forget to check them out—-an app well worth the price that you will use time and time again!!
Download your set of 24 Camping Cards for Memory Game here!!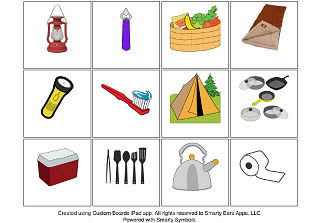 I'm bringing a ________________when I go camping!!!!  
Cut the cards apart and put them into a pile.  Choose the top card and use it in the sentence above.  The next player takes a card and must remember what you are bringing and add the item on their card.  Play continues until someone forgets what item go bring camping.
Players earn mini marshmallows for remembering the camping items when its their turn.  They can thread them onto the uncooked spaghetti strand and it will look like a roasting skewer.  The winner is the player with the most marshmallows on their stick!!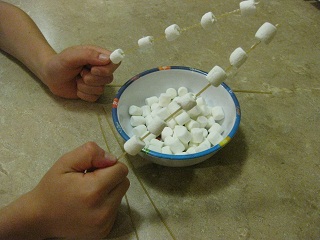 S'MORES CRISPIES
This recipe is extremely kid-friendly, which means that the kiddos can make most of the recipe themselves (with your supervision of course—and you will definitely have to do the first step for them which requires use of the stove to melt the butter)
When the recipe is completed, ask your kids to repeat the steps, recall the ingredients and describe all the tastes and textures they experienced while helping prepare this treat!!
Ingredients: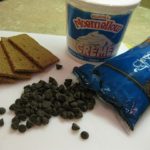 2 cups all-natural graham crackers, (be sure to check ingredients for crackers free of partially hydrogenated oils) broken into small pieces—definitely a job for the young chefs!!!
2 cups puffed brown rice cereal
1 cup Ricemellow Crème—I love, love , love this stuff!!  (available in Whole Foods and other natural foods stores)
1 Tbsp butter
1/2 cup chocolate chips (or chopped chocolate) of your choice: semi-sweet,
dark, milk, white, grain-sweetened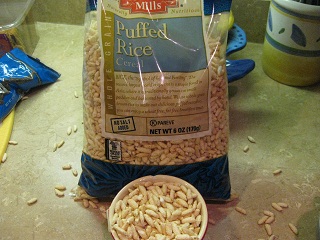 Heat a large saucepan over medium heat. Add in the butter and heat until just melted.
Spoon in the marshmallow cream, and stir until melted.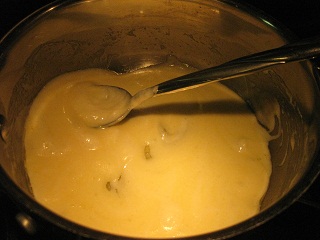 Remove from the heat and quickly stir in the cereal and graham crackers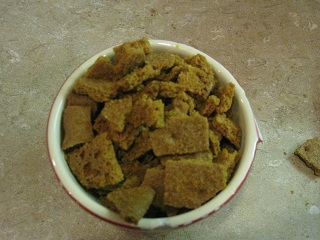 Now for the fun part the kiddos can handle…….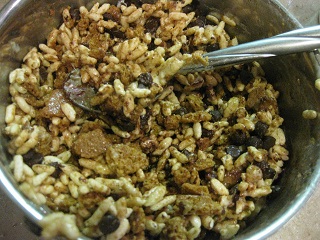 Fold in the chocolate with a spoon.—-or if you prefer, USE YOUR HANDS!   What kid doesn't love playing with their food!!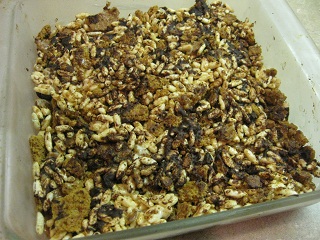 Using a rubber spatula, spread the mixture into an 8-inch square pan
coated with cooking spray or butter, pressing down to create an even top—OR, again, USE YOUR HANDS!  Let the kids press and pat down the mixture with their hands and fingers..
Refrigerate until firm before cutting into bars.
Dig in and enjoy your very own campfire treat without the need for an open fire—-and a little less mess!