If you have more tomatoes growing in your garden than you know what to do with, then check out this week's post—Part II of our Super Summer Soup Series!!  Nothing shouts of late summer more than the taste of fresh garden tomatoes.  This soup is meant to be consumed when cold—something that many of us may not be accustomed to, however once you have a taste of cold gazpacho soup, you'll be sold on the fresh and refreshing change of pace and delicious summer flavors!  And what a great way to get the kids to experience so many different veggies all in one dish!  **If your kids have issues with textures, you can puree the ingredients instead of chopping to create a smoother soup. This week, I've added a card game for learning idioms—you know, those silly expressions,( also known as figurative language) that make our language colorful and fun.  They don't actually translate literally, but stand for something else.  Hope you enjoy "Idi-Yummy Idioms," inspired by various veggies.  I chose idioms that contained the names of vegetables.  Each idiom card has a matching definition card to go with it.  Play as a "GO FISH" card game or MATCHING game…get creative,  let the kiddos help decide how to use them!

************************************
Summer Gazpacho Soup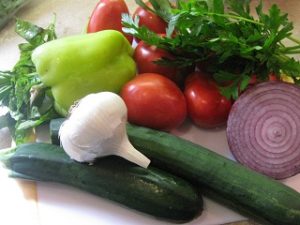 I've create sequencing cards using my Custom Boards app for the kiddos to practice verbal expression and organizing thoughts with FIRST, NEXT, LAST .  You can print out a copy (with larger print) here. 
This sequence is a "how-to" process for blanching and peeling tomatoes before using them in the soup.  I prefer to remove the skin from tomatoes for soups and sometimes salads to improve the texture.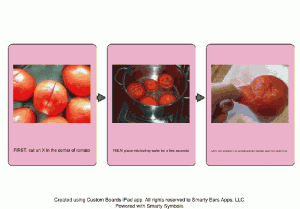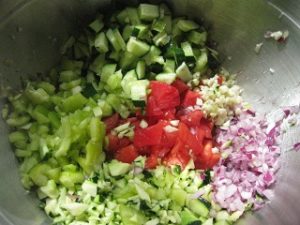 Ingredients:
5 large ripe tomatoes (blanched and peeled)
1 large cucumber, diced—I prefer English cucumbers which contain no seeds
1 large green bell pepper, diced
1 garlic clove, minced
1/2 red onion, diced
1 medium zucchini, diced
1/4 teaspoon chopped basil
1/4 teaspoon ground cumin
1/4 cup red wine vinegar
1/4 cup extra virgin olive oil
4 cups LOW SODIUM tomato juice (I prefer to add salt to taste—-regular tomato juice is VERY high in sodium so watch out if you are looking to avoid the extra salt!)
dash hot pepper
salt and pepper to taste
chopped parsley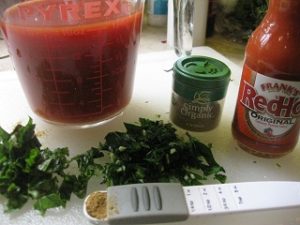 In a large bowl, combine all vegetables. Stir in vinegar and olive oil. Add tomato juice and hot pepper. Blend well. Add salt and pepper to taste.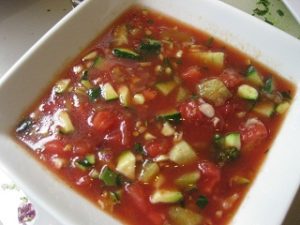 Chill for several hours before serving!