This recipe was inspired by the great figs that grew on my tree this summer—and my ancestors who grew them previous to me. They are quick,easy and a great substitute for other snacks and desserts that are high in refined sugar and artificial ingredients. If you like fig newton's, you're going to love homemade fig bars too!!  Enjoy them and let me know what you think!
Did you know…..
January 16th is National Fig Newton Day.
Fig Newtons were created in 1891 by the Kennedy Biscuit Works in Cambridgeport, Massachusetts.
According to Nabisco:  "Fig Newtons were named after either Sir Isaac Newton or the town of Newton, Massachusetts."
Fig Newtons were one of the first commercially baked products in America.
Fig Newtons are the 3rd most popular cookie in the U.S., over 1 billion are consumed each year.
FIG BARS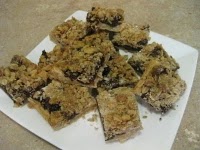 Crust– 1/2 cup butter, softened 1/2 cup granulated sugar (I used raw turbinado sugar)
1/4 teaspoon pure vanilla extract 1 cup unbleached, all-purpose flour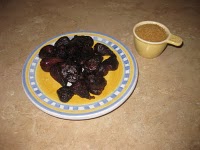 Filling–
1/4 cup sugar
1 cup boiling water
1 bag (9 oz) dried mission figs, chopped (1 cup)

Topping–
1/4 cup unbleached all-purpose flour
1/4 cup packed brown sugar
3 tablespoons cold butter
1/4 cup rolled oat
1/4 cup chopped walnuts
Heat oven to 350 F. Spray 9 inch pan with cooking spray. In a small bowl beat butter, sugar and vanilla on medium speed until well blended. Add 1 cup flour and beat on low-speed until a soft dough forms. Press into bottom of pan and bake for 10-15 minutes.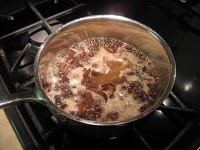 Meanwhile, in a 2 qt sauce pan cook filling ingredients over med-high heat for 5-10 min. Stir frequently until figs are tender and liquid is absorbed. spread
over crust.
In a small bowl mix flour, brown sugar, and butter using a fork. Stir in oats and walnuts. Sprinkle over filling.
Bake 15-20 min or until topping is light golden brown. Cool about 1 hour and cut into bars. ( I like to put it in the fridge to cool completely–it will make it easier to cut into bars)
Makes 16 bars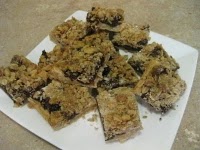 Here's Your "Speech Snacks":
HOW & WHEN??
The /f/ sound is a very visual sound, which makes it easy for you to model for your kids, and even easier for you to see if they are producing it correctly!
Cue your child to "Place your top teeth on your bottom lip and blow out air." This sound is typically produced between ages 3 1/2 -4 years.
Place your hand in front of your child's face to feel the airflow. Have them do the same by placing their own hand in front of their mouth/face. Also–practice the proper placement in front of a mirror with your child for visual reinforcement.
Another way to cue proper placement involves placing a dab of peanut or almond butter, cake frosting, marshmallow fluff (or some other favorite that will adhere) to the spot between the lower lip and chin. Ask your child to try and reach for it with his upper teeth and scrape it off (or essentially pull it into the mouth with the upper teeth) . This exercise will help reinforce the correct position that you are attempting to stabilize.
WHAT??
While making the Fig Bars, practice counting figs…one fig, two figs, three figs, four figs, five figs.
Model short phrases and sentences using /f/: "soft figs", "sweet figs", "mission figs", "fig bars""fresh figs". "Figs are soft." "Figs are full of fiber." "Figs are sweet." "A fig is a fruit."
Read the "FIG FACTS" in part one of this blog (see Food For Thought page "A Fruitful Experience"or click here) to address comprehension and their ability to provide detail and descriptions of the information you have read to them (auditory recall).
Ask "WH" questions. Where do figs grow? What do figs look like? How do figs taste? How do figs feel? What shape are figs?
Cut a fig open and describe what you see.
Compare/contrast a fresh fig vs a dry fig.
Story Time: (stories to read along with your children that contain the /f/ sound)
Practice the sound at the syllable level by reading Jack and the Beanstalk and having your child practice saying "fe-fi-fo-fum." The Three Little Pigs is also great for practicing final /f/ position words "huff" and "puff".
Storytime for /f/:
Jack and the Beanstalk by Steven Kellogg
The Foot Book by Dr. Seuss
There was an Old Lady Who Swallowed a Fly by Simms Taback