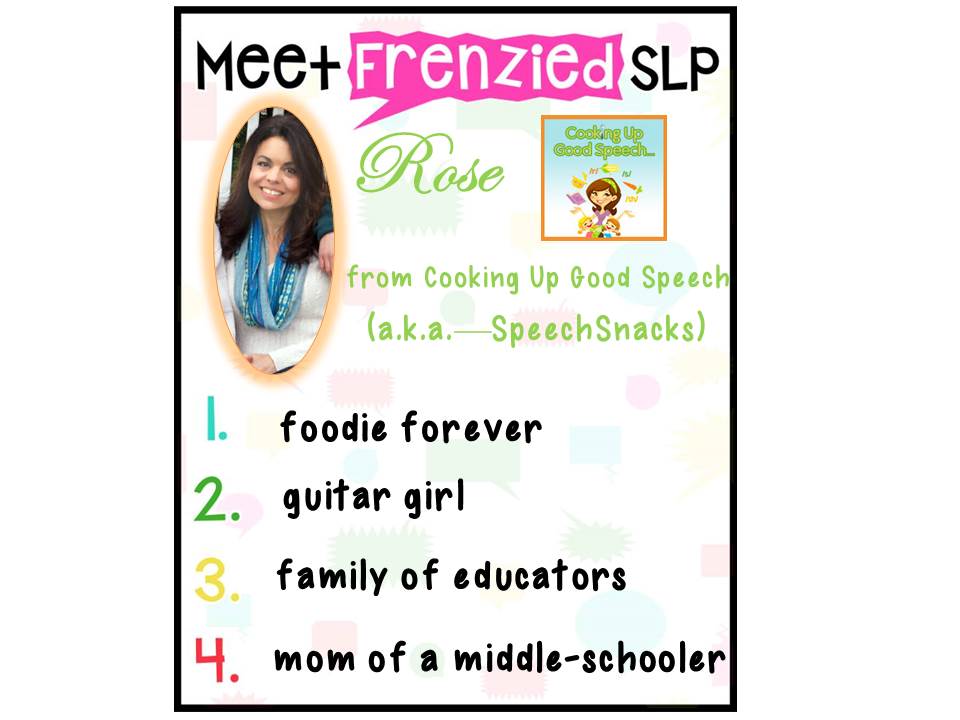 Happy New Year!   I'm so excited to kick the year off with The Frenzied SLP's!  Each month we will be posting tips, tricks and ideas to help make your busy lives a little easier.
Let me start off by explaining my intro…
1.  foodie forever–   If you have been following my blog for a while then you might have guessed that I love food!  Making it, writing about it, using it in therapy (when appropriate), and of course eating it!  In my next life I think I would come back as a pastry chef and own a small patisserie or boulangerie in Paris!  For now I will settle for sharing my passion with my family, friends and students!   You can browse my site for lots of food-inspired activities and TpT products with a food theme!
2. guitar girl–  I first picked up this instrument at a very young age.  I was taught to play the guitar by a nun (no, not Maria Von Trapp! lol!)  I played at all the folk masses in my church and as a teenager studied classical/acoustic guitar with a British guitar teacher.   When I became a parent,  I loved writing fun and silly songs for my baby boy.   Maybe one day I will get up the nerve to play for my older students—but I better learn something really cool so I can impress them!  I am a big advocate of using music in your speech/language lessons with all ages.  It's such a great motivator!!
3. family of educators–Practically my whole family is in the education business!   My husband is a school principal.  He used to teach middle school Spanish and started his career as an elementary school teacher.  My three sisters are middle and high school English and science teachers.  My brothers-in-law are music and physical education teachers.   We always joke about opening our own school someday.  I think we have all our bases covered!
4.  mom of a middle-schooler–  I thought the day would never come, but here we are.  I have a tween!  My son started middle school this year.  I am bracing myself for these years.  I have worked with middle and high school students for many years so I am well aware of the trials and tribulations!  Here's hoping we have fairly smooth sailing.
This month, I have an inspiring tip (it's actually a freebie in my TpT store) and a tasty dish to help you start off the new year on the right foot!  Let me know if you try either, I'd love to hear from you!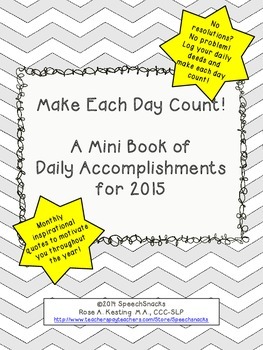 Instead of thinking about all the things that I didn't finish at the end of the day, this year I vow to focus on what I did accomplish (no matter how small or simple it was!)  And to remind myself that all the little things add up to big things over time, I'm going to keep track in a mini calendar.   It will serve as a simple and effective way of noting daily accomplishments.   By the end of the week/ month/year, I will have many reminders of all the positive, productive, meaningful tasks that I completed!
I think this will be the perfect way to start off the new year, without making definitive and specific resolutions that often stress us out and then later fizzle out!
You can grab your own copy of my "Make Each Day Count" mini-calendar HERE.   Remember, your tasks might be as small/simple as filing away papers to clear your workspace,    finally finding your favorite speech reward stickers that had been missing, changing the light bulb that has been out for the past month at home!   The tasks might be more involved such as completing an evaluation on a challenging student, getting a student to finally produce a difficult sound, or cleaning out your messy closets at home and donating the unwanted items.  The important message is that you remind yourself that you are moving forward, making a difference in some small (or large) way, and always trying to "make each day count."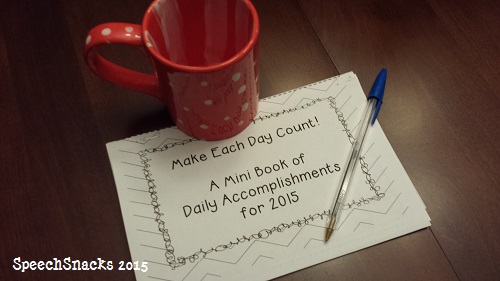 Keep your mini book in your school planner, at your workspace at home, in your purse, next to your bedside or somewhere you will remember to take a moment to record a few words before the end of each day.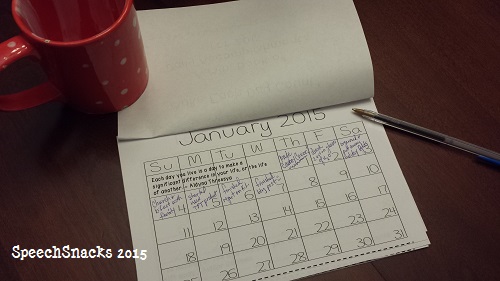 And I couldn't end my post without sharing a recipe!  (I'm hoping to have a new one for you each month.)   Some people believe that consumption of black-eyed peas will bring luck and prosperity in the new year so I whipped up some Cowboy Caviar for you!  Not only does it have symbolic value but it is also a very healthful way to start off the New Year!
 COWBOY CAVIAR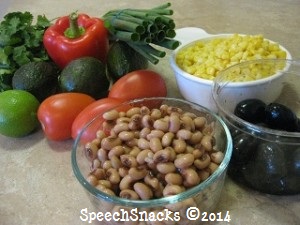 Combine the following ingredients in a large mixing bowl: 1 can black-eyed peas (rinsed and drained), 2 cups corn ( I prefer thawed, frozen corn to canned corn) 2 cubed avocados, 3-4 diced Roma tomatoes, 3-4 chopped green onions (scallions), 1 can chopped black pitted olives, 1 diced red pepper, 1 bunch chopped fresh cilantro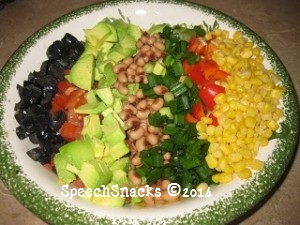 Mix the following dressing ingredients: 1 freshly squeezed lime, 2-3 cloves garlic finely minced, 2-3 tsp Tabasco sauce, 1 tsp cumin, 1/4 cup extra virgin olive oil, 1/4 cup red wine vinegar, salt/pepper to taste
Mix dressing ingredients well and add to chopped ingredients.  Let sit overnight in refrigerator to allow dressing to infuse into all ingredients and enhance flavors.  Serve with tortilla chips or crackers.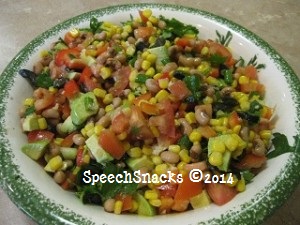 Share and enjoy at home with your family or bring some in to work for your coworkers!  It will make lunchtime more enjoyable and you will be sharing the gift of luck and prosperity with those around you!  All the best in 2015!