This past week I used several holiday themed reading passages with my middle and high school students to highlight tier-2 vocabulary as well as reading comprehension and identifying main ideas and supporting details.   I use these sites as some of my best go-to resources for finding great age-appropriate text:
One of the words we came across in a passage was "traditions."  I proceeded to ask some of my middle schoolers if they could provide examples of traditions that their families celebrate during the holidays.  Their answers included , " I don't know of any," "We don't have any,"  "I'm not sure," and "What are those?"   Our lessons became a great teachable moment as we began a discussion of traditions.  I shared many of my own family's traditions that I experienced growing up and found that many of my students became very engaged and interested in hearing more.  They were also motivated to put more thought into their own traditions .   By the time our lesson was over, my students could name at least one tradition  their family celebrated.   For example, "We always go to my aunts house on Christmas Eve."  "We open gifts only after Christmas morning mass. "   "We have lasagna for dinner on Christmas Day."   "We fry all of our Hanukkah food with olive oil."
I went home that evening and began searching for family photos and other pictures that represented  holiday traditions in my own upbringing.  I shared a few of these visuals with my students:
During the holidays, my family has always celebrated an Italian-American tradition known as La Vigilia (The Feast of Seven Fishes).  This celebration commemorates the wait, the Vigilia di Natale, for the midnight birth of the baby Jesus. My mom cooks this Christmas Eve feast every year. It includes at least 7 different fish dishes as well as other side dishes.   It is the most anticipated night of the year in my family!  Our table looks something a little like the picture below: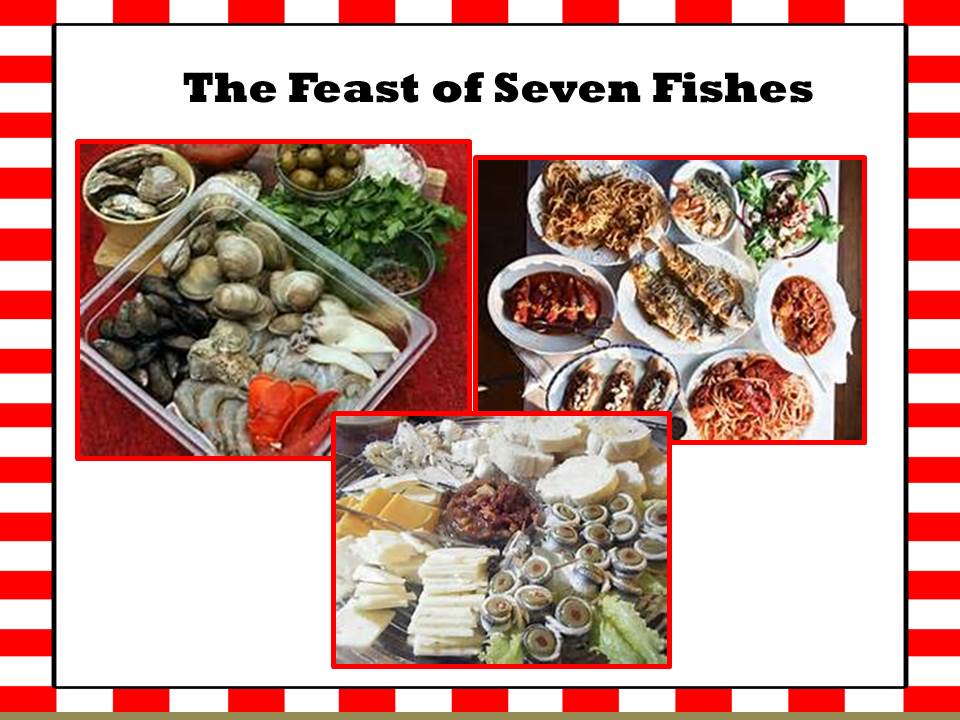 My Polish-American background is also big on traditions during the holidays.   We break oplatki or "Christmas wafer" prior to our feast.  Everyone gets a piece of oplatki on their plate and we all take turns breaking off a piece of each others wafer. This Christmas Eve observance symbolizes unity and solidarity with all members of the family.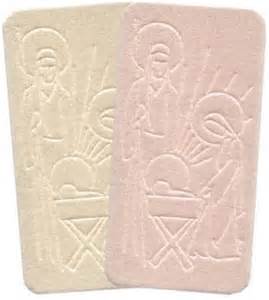 Growing up, it was a tradition for me and my three sisters to get a new pair of pj's from our grandmother on Christmas Eve.  Very often we received identical pj's so that we all matched!   It was a very cute tradition and I adore looking back at the photos of me and my siblings in our matching outfits! I am the oldest of the siblings—the first one on the right in the picture.   (I think my students found this one pretty amusing!)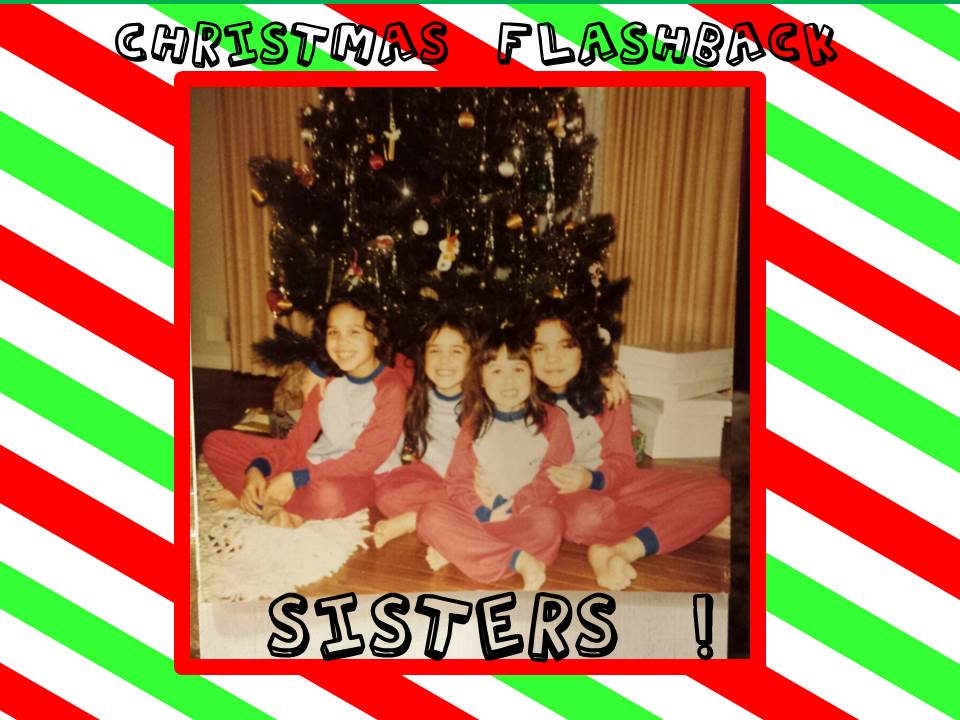 Another holiday tradition in our household was the baking of the cookies.  My mother made at least 7-8 different types of cookies for the holidays.   Today, the tradition has been past down to me!  I make many of the same cookies as my mom and have added a few new additions of my own.  I bring them to our La Vigilia feast every year. (And yes, I like to take pictures of my Christmas cookies as shown below!!)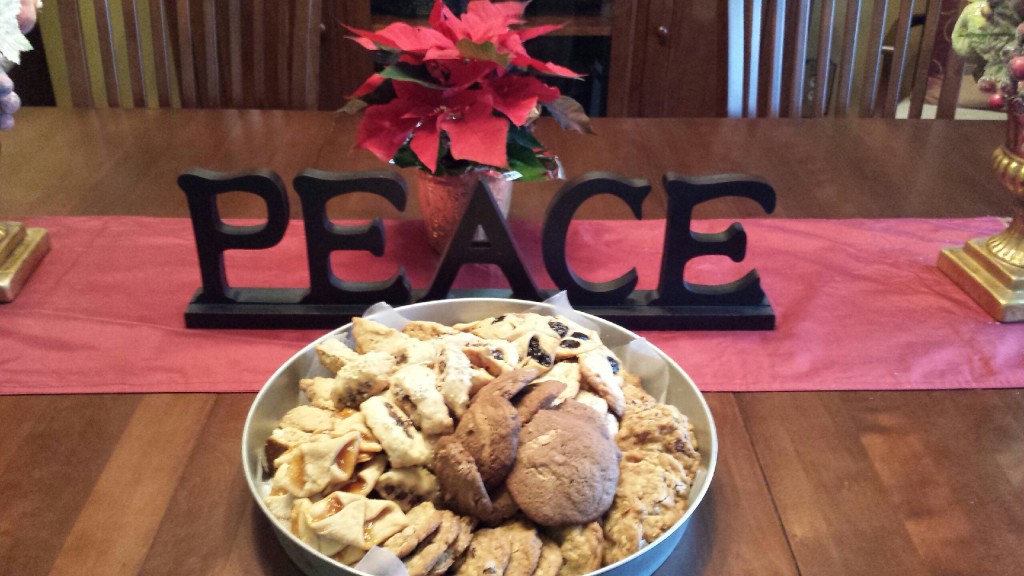 I enjoyed sharing these memories with my students.  It was fun walking down memory lane and it gave them a better understanding of this concept.
(My list is too long, but I  have many other traditions that I celebrate with my own family, some old ones as well as some new ones that we have established over the years.   For starters, my son received his first Hess Truck from Santa on his first Christmas and will be guaranteed a new Hess collectable as long as they keep making them!   I'm sure he will find it very amusing to receive toy trucks when he starts entering his adult years!)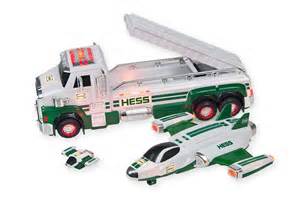 I was inspired to put together a packet that would be a great follow up to our discussion about traditions.  I will be using this activity in the days leading up to our holiday break.  I think it will be a great way to tie in vocabulary building, written language and conversational skills.   You can grab this FREEBIE in my TpT store here!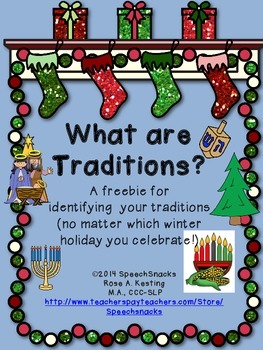 During this holiday season I hope my students can take away the following messages about traditions:
Traditions can be unique to our own individual family units and yet they also help us connect with others  since many of us share similar traditions.
Holiday traditions apply to all religions, ethnic groups  and races.  Even the smallest of gestures that you participate in annually can be considered a tradition.
Although our students might not quite realize it yet, the memories we build and the people with whom we celebrate our traditions is far more valuable than any material gift we  receive!
What are your holiday traditions?   I'd love to hear how you celebrate!   Wishing you all the best during this festive season. Health and happiness in 2015!