This is PART I of a three part series in which I will be featuring soups that are great to make during the warm weather months.  Each post also contains speech and language games created by me!
Summer Garden Vegetable Soup
Just because the weather outside is hot and steamy doesn't mean you can't enjoy a bowl of warm soup!  In the summertime many of us grow a bumper crop of  fresh veggies in our gardens yet find ourselves searching for ways to use them once they are ready to pick.  Supermarkets and farmers markets are brimming with many delicious, seasonal veggies as well.  One of the easiest ways to prepare all those  great garden goodies is by making a pot of homemade summer soup.   As  a share-holder at a local farm,  I am fortunate enough to receive an abundance of fresh, quality veggies on a regular basis.   This summer soup is one of the most satisfying and nutritious go-to recipes in my repertoire all season long!!    
I have included a fun game to address the /s/ sound in words, phrases and sentences (page down to bottom of post to see complete game info).  Get the kiddos helping in the kitchen as you

identify

and 

describe

the veggies and

sequence the steps

in making the soup.  Print out the photos and have them

recall the directions. 

Enjoy the many great benefits of this healthy recipe while addressing speech and language skills with your kids.
       SUMMER VEGGIE SOUP   
Serves 6:
Ingredients–
2 tablespoons olive oil
4 cloves chopped garlic
1 teaspoon chopped oregano
1 cup fresh or frozen corn
1 red or green bell pepper–seeded and chopped
3-4 medium carrots, sliced thinly 
1 quart low sodium vegetable or chicken broth
1 can chopped tomatoes or 4 blanched and peeled fresh, chopped tomatoes
1 cup fresh okra
1 zucchini or yellow squash
3 scallions (green onions)
salt and pepper to taste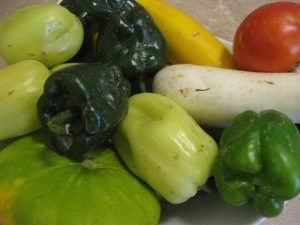 These are the veggies picked fresh from our farm in beautiful Chesterfield NJ.  Buy local!!! Visit your local farm or farmer's market during the summer months.
****LABEL AND IDENTIFY THE NAMES OF VEGETABLES WITH YOUR KIDS.  DESCRIBE, COMPARE/CONTRAST THE TASTE, TEXTURE, COLOR and SHAPE.  CATEGORIZE VEGGIES BY COLOR—BUILD A LIST OF GREEN, RED, YELLOW, PURPLE VEGGIES.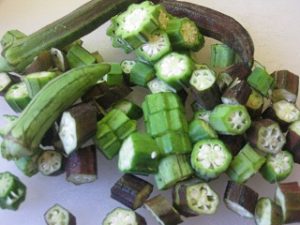 When buying fresh okra, look for young pods free of bruises, tender but not soft, and no more than 4 inches long. Okra may be stored in the refrigerator in a paper bag or wrapped in a paper towel in a perforated plastic bag for 2 to 3 days, or it may be frozen for up to 12 months after blanching whole for 2 minutes. Cooked okra can be stored (tightly covered) in the refrigerator for 3 to 4 days.   Along with containing high amounts of fiber, okra also contains high amounts of vitamins A, C, and B6. Large amounts of calcium, zinc, riboflavin, folic acid, and iron are also present in this vegetable.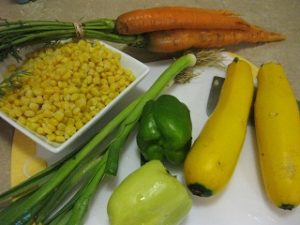 Heat oil in a pot over medium-high heat.  Add garlic and oregano and cook just until garlic begins to sizzle.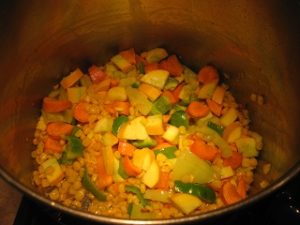 Sitr in corn, peppers and carrots and cook until softened.  Add vegetable stock, chopped tomatoes, salt and pepper.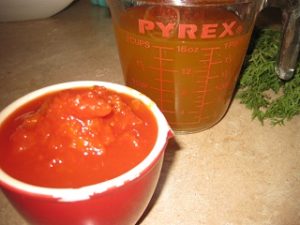 Add okra and zucchini/squash.  Reduce heat and simmer until okra is tender.    Stir in green onions.  Serve soup with a side such as warm, crusty bread or how about some cheese quesadillas like the ones pictured in photo??!!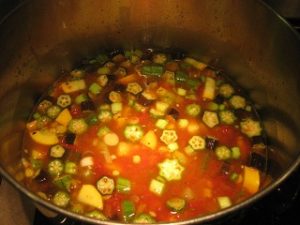 Download   "Soup's On!" Memory Cards for /s/  here.  Glue them onto card stock and laminate for durability.  I tied in the actual ingredients used in the recipe when making the memory card pictures.
To Play:
Each player is given a soup pot.  Get your copy here.  Cut a slit in the inside of the pot and staple another sheet of paper behind it so that the matching pairs will fit in.  Leave the top  unstapled for easy retrieval of the pieces afterwards.
Have players take turns turning over cards as they try to find the matching pairs.
Every time a pair is found, cue the student to say:  "SOUP'S ON!"  This phrase addresses both initial and final /s/.  If the two cards do not match, have the student say: "STILL SIMMERING" (s-blends and initial /s/)
The matching pair is then placed in the soup pot and the student can now address the sound at the sentence level, saying, "Stir some (name the matching vegetable pair)  into the soup." 
Continue playing until all the matching pairs have been found.