Do you partake in a push-in therapy model in your school?   In addition to pull-out therapy, I provide this service on a weekly  basis as part of  my student's IEP's.   Several of my speech/language students are in each of the three classes that I spend time in.   I love the functionality of the push-in model.  Seeing students in the classroom setting and observing how they respond and interact in a class full of peers provides one more opportunity to address their IEP goals in a meaningful and practical way.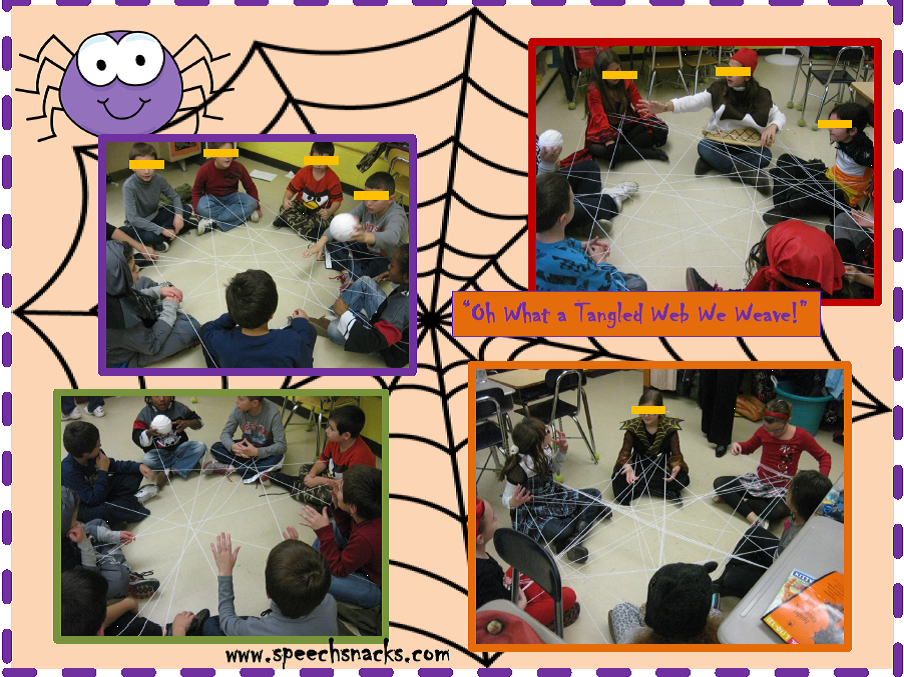 I was looking through some old pictures from my time in an elementary school setting and found this fun activity I used on Halloween.   If you work in a classroom with a teacher who is open to suggestions and  likes when you share creative ideas, then I have an activity for you!  You will be addressing language goals for categorizing and naming tasks with your language kiddos while engaging the entire class in a fun and functional activity.  The only thing they will be focusing on is all the fun they are having weaving their spider web, while you get to observe and make note of their language skills.
To weave your web of words, you will need a group of students sitting in a circle and one ball of white yarn.   If you have more than 15-20  students in the class, divide them into two equal groups and each group can create their own web.
The first student loosely wraps the yarn once around their waist so that the yarn stays in place.
Pick a category or topic that you would like students to generate answers for.  The student with the ball of yarn must give a response to the category.  Then they need to call out another student's name and toss the ball of yarn to them.  That student wraps the yarn once around their back, gives an answer and then tosses it to someone else.  Continue until you wish to change topics/categories.  Your yarn should start to take on the resemblance of a "spider web."
You can also play this activity as a memory game.  For example, play "I went trick or treating…..  and I got—-name a candy"   The next player must remember all the previous responses and then add one of their own before tossing the yarn ball to the next person.
Need some Halloween themed ideas for playing this game as a categorization task?  Here are just a few.  Name…..
things that are orange
things that are black
synonyms for "scary"
Halloween costumes
things you do at a Halloween party
fall activities
things you eat made from apples
Wondering how to get your kiddos out of the tangled web after they have had fun creating it?  They can lift the section of web that formed around them over their head or an adult can cut them free by snipping their section with a pair of scissors. (Please use caution.  It would be a good idea for them remain seated while doing this part!)
Do you use a push-in model in your speech/language therapy program?    This might be a fun way to work on some language skills while equally including everyone!