An  "empire"  is defined as a group of states or peoples united and ruled by an authority—and Smarty Ears has definitely shown us that it is an authority when it comes to technology in speech therapy and it's newest creation "Language Empires" rules in the land of apps!!
I was given the opportunity to review Language Empires, just released by Smarty Ears on January 2nd!   The app is currently selling in the itunes store for $19.99  (it will go back to full price of $29.99 on 1/10/13).  From inferencing to sequencing to vocabulary, predicting, figurative language and WH questions, this app does it all!   If you have older students on your caseload working on higher level language goals, (such as myself) then this app will definitely fit the bill!  The app's theme is represented by several historical empires.  Love this!  Could it be used as a teachable cross-curricular moment?? I think it makes for a great opportunity to turn a language lesson into a history lesson too!!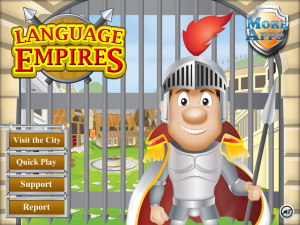 Let's see how Language Empires takes us on a trip around the world—from ancient times and into the future….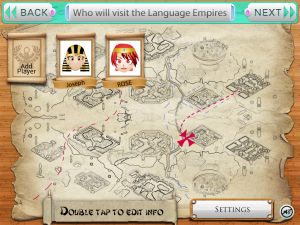 To start, you will need to select the "visit the city" option and select the players.  You can choose from an avatar (many are appropriately themed to fit this app—gladiator, pharaoh, knight, etc), your own photo or no picture at all.  This game allows for 1-5 players at a time.  Players can choose more than one location in order to address several language goals in the same game.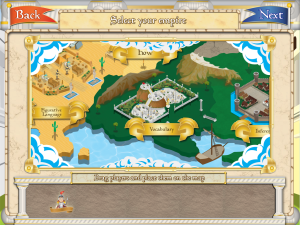 There is also a "quick play" option.  No need to set up players and collect data with this feature, just start playing with the avatar provided–a great option when you have only a few minutes to fill at the end of a session.
Once you have chosen your players and enter the main game screen, drag  your player to the selected empires.  You can choose from Ancient Egypt (figurative language), Ancient Greece (vocabulary), Medieval Times (inferencing), Ancient Mayan Civilization (predicting), China (WHY questions), Great Britain (WHICH questions), Roman Empire (HOW questions), and The Future (sequencing).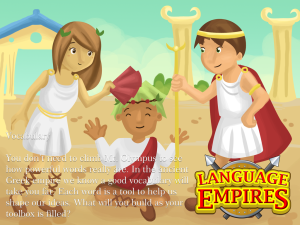 Each language area is introduced by a very creative poem—a great way to catch your student's attention and provide an example of the skill being addressed.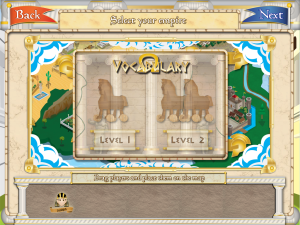 Two or three levels of play are presented for each language area.  This feature makes the app truly versatile for a wide range of age/ability levels.  I teach in a school with students from ages 8-18 and will surely find value in all levels of play!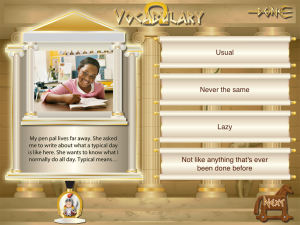 Each question includes a photo that supports the scenario being addressed.  The photos provide helpful contextual cues.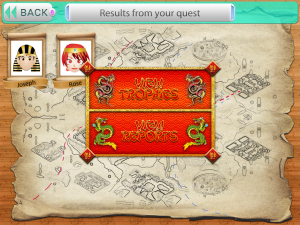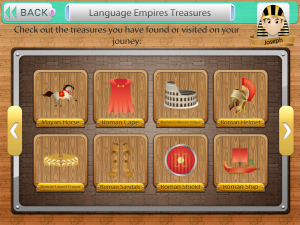 As you answer questions correctly, you earn rewards or "treasures" which are saved and can be accessed on each student's profile.  You can  earn up to 95 possible treasures such as a  Roman toga, Mayan horse and Egyptian headgear!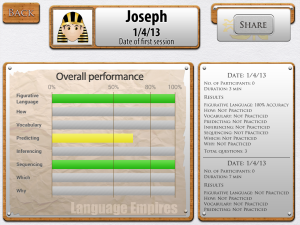 Language Empire (like all Smarty Ears apps)  collects data to create a report of your performance by breaking down the percentage correct in each area practiced.  It also offers a nice visual bar graph to view skill levels and  overall performance.  Results can be emailed, printed out or shared.
**********************************************************************************************
I liked the practical scenarios presented in the predicting, inferencing and figurative language empires.  The colored photos work great as supplemental visual cues.  The sequencing category was my favorite part of the game.  I liked the practicality and historical content used such as– the first man landing on the moon, Ben Franklin, The Wright Brothers, the Olympics and food-related sequences.
I found the game to be very user-friendly, liked the ability to turn the background music on/off, and the option to display written questions or remove them (which may be beneficial when focusing on auditory comprehension, listening skills)
I don't have many criticisms for this app.  If I had to make one critique, I would say that although I enjoyed the beautiful, detailed visuals in each of the empires, some of them may be a bit distracting to some of my students.
Thank you Smarty Ears for producing another wonderful learning tool for use in our therapy rooms!!