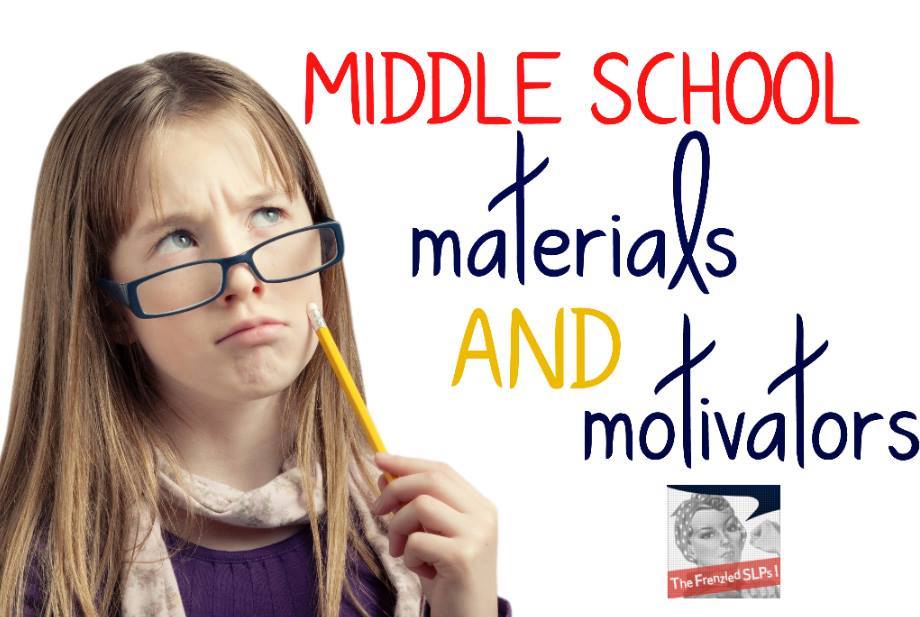 If you have middle school students on your caseload, then you're in for a big treat today.  The Frenzied SLPs are holding a linky party and the theme is : Middle School Materials and Motivators so get ready to wow your tweens and teens with some great ways to keep them focused, motivated and feeling a little more positive about attending their speech sessions!
I live in the world of the middle school student right now–literally!   Not only do I teach this age group all day long, I have a seventh grade son of my own, so middle school madness is a daily occurrence in my household.  I know how the mind of the middle schooler operates.  Can you say "prefrontal cortex" ten times fast?   Well I sure can— and I repeat it every time my seventh grade boy makes a silly decision, acts in a less-than-mature manner or says something goofy/inappropriate/confusing/unrelated/humorous.  Yup, that about sums up a middle school boy (and girl too in many cases.)  And although my son is a bright, high achieving student, he is also very disorganized and lacks focus—-again, classic traits of many  middle school kids.   Here is a recently published article "Inside the tweener's brain—The middle schoolers brain"  from GreatSchool's.com . It contains some great insight into the role of the prefrontal cortex and how it is responsible for some of the behaviors of adolescents and teens.    Rest assured, many of these behaviors are only temporary, and as the young adult mind matures, their reasoning, organization and decision making skills also mature and develop. ( In many cases, this may not happen until boys are well into their 20′s, so I have to tell myself to just hang in there!! )    In the meantime, understanding the strengths and weaknesses of the adolescent brain will help both therapist and student have more productive, well-directed therapy sessions.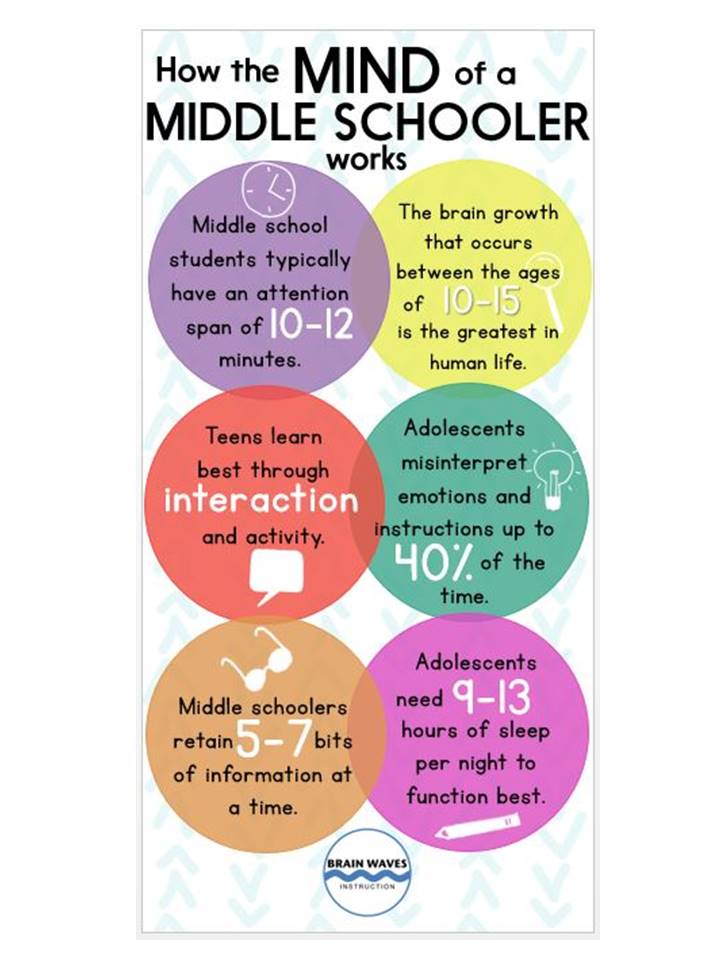 Here are a few of the ways I have successfully connected with my students.   But first remember: a little patience, humor and compassion goes a long way as our tweens and teens experience some of the biggest changes and challenges during this tricky time in their young lives!
1.  Know your students!  Of course knowing their IEP goals and present level of functioning is essential, however I'm talking about really knowing their likes and interests.   If you can connect with an interest, hobby or event that they are interested in, then you have won half the battle.  For example, I have a middle school girl who loves anything related to clothing fashion. I searched the internet and found several interesting articles about current fashion trends for the fall.   We used the passages to address new tier two vocabulary as well as conversation skills and just like that, painlessly targeted two IEP goals.    As another example, a boy on my caseload is a huge fan of Johnny Cash.  Well no sooner than I could say the magic words "Ring of Fire" (a popular Cash song) I had his full attention.  He shared his book on the biography of Johnny Cash with me and we went to work searching for main ideas and supporting details with no complaints or resistance.
2.  Have your students get to know you! I keep a picture of my family on my desk, (including our family pet).  I will often share stories about the mischievous antics of my crazy dog as well as how my son spent the weekend and what he is learning in his middle school.  My students are genuinely interested in hearing about my life, just as I am interested in knowing about theirs.   The will often ask me how "crazy dog" and "middle school boy" are doing and what they are up to lately.  I recently wrote a blog post about our summer vacation and discuss how I shared my vacation memories with my students at the beginning of this school year.   I have also blogged about my holiday traditions and making connections with students by sharing the ways they celebrate the holidays with their families.  These conversations are definitely not a waste of a therapy session!   They are great ways to address a variety of goals while  showing your students your human side.
And if you are looking for some great TpT products that were inspired by my summer vacation and holiday traditions posts,  you can find them in my store: here and here.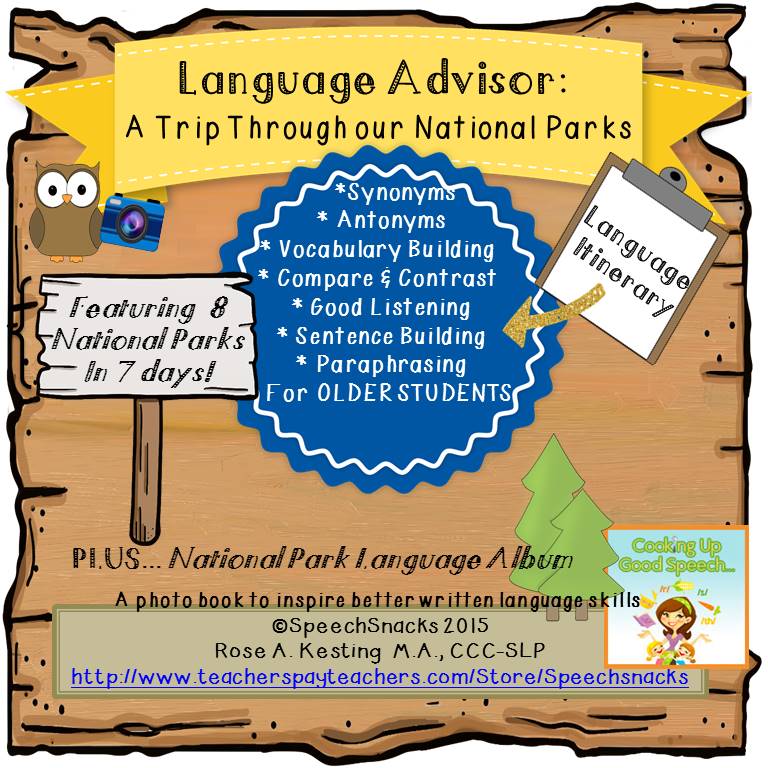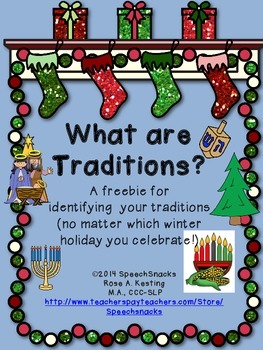 3.  Food–the great equalizer!!  I don't like to use food to bribe but a few fruit chews, pumpkin cookies or yogurt drops goes a long way with this crowd!   I am fortunate to work in a school which allows food in the classroom. I always check with my school nurse first for the students who have allergies.  I keep a student allergy list in my planner as reference.  I am also a very health-conscious person in my own life so I only give to my students what I would feed to my own family as well.  I keep a stash of snacks that are free of artificial dyes, colors or hydrogenated oils.  It's generally pretty easy to find snacks that fit the bill at my favorite store of all time, Trader Joe's.   I stock up on a few of these treats and keep them in my desk drawer.   When do I pull out my secret stash?    1–When we are having a particularly successful session and I want to reward students for working hard and staying focused.  2–When I am working with a student who is struggling to get motivated and I've tried to verbally encourage and redirect with little success.  3-  When it's a special occasion like a student's birthday,  or when a holiday is approaching.    I let my students know that the treats are occasional, not a regular occurrence.  I also remind them of the importance of saying thank you.  Occasional treats have been a successful way of giving praise, breaking down the invisible wall with the challenging student or just taking a break from the usual verbal positive reinforcement in therapy sessions.  And I must admit, I enjoy partaking in the treat with my students as well.
4.  Keeping it current!  Middle school students should be aware of what is going on in the world around them.  Not just the world of Instagram, Snap chat and friends, but the real world and real issues!  After all, they will soon be heading out into the great big world as adults.  Issues about health, politics, the environment, and money are timely, relevant ways to discuss non-fiction content while also addressing speech and language goals!  I keep the following sites saved to the favorites bar on my computer.  Whenever I want to find a current event, I have several excellent sites to pull from.  I use these articles to address vocabulary, comprehension, written language skills, auditory memory, articulation and many other goals.   Here are some of my recommendations:
5.  You Tube!    I love using quick video clips (usually no longer than 2 minutes in length) to work on sequencing, WH questions, inferencing, problem solving and social skills.  Some of my favorite video clips are from America's Funniest Home Videos. I also like using commercial clips and video clips of animals and babies being  funny, silly and cute .  Although the animal and baby clip usually contain very little verbal language, there are tons of non verbal cues which make for good inferencing and problem solving exercises.   I have never had a middle school student complain about having to watch a video during our speech sessions.  Most students ask if they can stay longer or watch more videos when they come back next session.  Definitely add You Tube/video clips to your list of motivators!
6.  Jokes!  This year, I have been starting off my sessions with a "Joke of the Week."  I had a few joke books lying around at home that belong to my son who is a big jokster!!  I started writing jokes on my white board at the beginning of the day and now my students come into my room and expect to see a new joke when they enter!  Here's an example of last week's joke:  What do you call an everyday  potato?"  A commentator!   (LOLOLOLOLOL!!)  I think it was pretty clever and funny–and so did most of my students.  A few understood it right away, a couple laughed but I could tell they didn't really get it and a few just rolled their eyes at me!   I asked students to explain the joke to the rest of the group as well as define the word commentator and then use it in a good sentence.  I got a lot of mileage out of such a simple, silly little joke!  If I can get middle school kids to smile and laugh, then I'd say we have had a successful session!  You can find lots of jokes online. Do a search for "jokes for kids."  Just make sure they are all "clean" and age- appropriate of course!
7.  Play games!  There are a myriad of speech/language games on the market and I use many of them, however sometimes keeping it simple is best. I keep a collection of colorful dice,  a container of magnetic chips and a magnet wand and a few dry erase markers and  small white boards handy at all times.  You would be amazed by the level of motivation and interest you will get when you tell your students they can roll the dice to earn chips and keep track of their own scores.   I always play along too and tell them that I will earn their points if they can't provide the answer!  They hate the fact that I might possibly win so it motivates many of them to work even harder.   (By the way, I always make sure they know the games are purely for fun and if I have a student who  gets upset by the friendly competitive nature of a game involving points, then I avoid that type of reinforcement!)
8.  My TpT store!   Creating materials for the big kids can be a challenge, however I've tested out my products on my own caseload and receive the seal of approval for the activities in my TpT store.  There are other SLPs who make great TpT materials too so be sure to search the TpT site for products that will motivate this age group.  Here is the link to the products in my store made especially for older students along with a visual preview of some of the products I offer for the older crowd.  I hope you find something that will benefit this fun and challenging age group!