The Healthy Lunch Box
WHAT ARE YOU PACKING IN THEIR
SCHOOL LUNCHES THIS YEAR????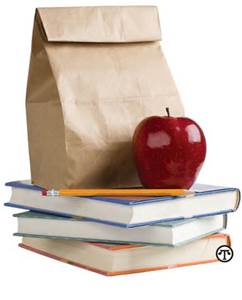 Please note: I am not a dietician and this information is not to be taken as health/medical advice.  I am a speech-language pathologist with a passion for creating and sharing healthy and delicious food ideas and incorporating those ideas into my therapy sessions when it can benefit and supplement my speech and language lessons and approved by school officials.
It's that time again….time to make the lunches!   It was so nice having that short respite for a few weeks—no worrying about what, when and how to pack a healthy lunch for the kiddos on a daily basis.    
Check out these facts:
#1–A recent survey found that fifty-five percent of U.S. moms with school-age kids are stressed out by the idea of shopping for and packing school lunches. (Really??? I thought that number would be even higher!)
#2–Less than half of parents said they made lunches for their children more than three times a week.
#3–Fifty-six percent of parents of school-age kids go for convenience and  purchase pre-made items and snacks rather than making their own to add to a  brown bag lunch, but that number increased to 69 percent among younger parents  ages 18-34.
Are you finding yourself fitting in with these statistics??  Do you secretly hope the kids will beg for the school lunch so you are freed from this tedious, unenjoyable chore??  After all, how bad can that

"pink slime"

really be??!  
#4–On a brighter note,  The Healthy, Hunger-Free Kids Act of 2010 has been updated to

USDA guidelines

and, as a result, schools will offer more fruits, vegetables and whole grains. (effective 2012-13 school year.) 
 So, what can you pack that satisfies your kiddos appetites and is good for their growing bodies?
Here are some ideas that might take a little of the stress and anxiety out of the process.  I hope you and your kids can settle on trying a few of them!    And don't forget to add a sweet message to their lunch bag to let them know you are thinking about them during the day!!  "Family Education has some great freebie messages to share. Grab your printables here!!  Have a happy, healthy, slime-free school year!!     
 Back-to-School (or After-School) Lunch & Snack Ideas
Kids don't have a great deal of time to eat lunch at school.  In addition, they spend part of their time socializing while they are eating.  Keep lunches simple, but make the most of the content in their brown bag.  Keep it nutrient-dense, low in sugar and free of empty carbohydrates!  And stay away from those pre-packaged "lunches" with the individual compartments (you know which ones I'm speaking of!).  They are expensive, full of sodium and contain very little nutritional value!
         
  
2- The ABJ Sandwich
In our house, the Almond Butter and Jelly Sandwich rules!!
I started giving my son almond butter when he was very young.  I learned that one of the main reasons not to give peanut butter to your children until they are older is to prevent them from developing a peanut allergy. Almonds produce the mildest reaction of all the tree nut allergies.  Plus I learned that almonds/ almond butter were significantly better for you compared to peanut butter.
I started putting almond butter on apples, bananas, toast, crackers and to make sandwiches. The almond butter "stuck" with us as the favorite nut spread in our house.
Here are a few interesting facts:
Almond butter -vs.- peanut butter…what's the difference??
Almond butter has less saturated fat. Saturated fat is the bad kind of fat that can cause all sorts of problems, from obesity to heart disease. Almond butter, on the other hand, is packed with monounsaturated fats, the kinds that provide energy and make foods taste good without clogging our arteries.
Almond butter helps control blood sugar. Commercially made peanut butter is full of sugar. Almond butter actually helps control your blood sugar since it's doesn't contain a lot of sugar and takes a long time to digest.
Almonds are categorized as alkaline. Alkaline foods tend to increase your energy and metabolism while contributing to overall good health. Acidic foods do the opposite. Almonds are highly alkaline while peanuts are highly acidic.
Almonds contain higher concentrations of nutrients. A typical serving of almonds contains significant amounts of vitamin E, iron, calcium and magnesium as well as 14% of your daily recommended dose of fiber. Peanuts are relatively nutrient poor and as mentioned contain higher amounts of saturated fat.
Almond butter contains fewer calories. There isn't really a major difference here, but a serving of almond butter does contain a few less calories than the same amount of peanut butter. Over time, it all adds up.
3- Snow Pea Salad
Snow peas are high in vitamins C and also contain vitamins A and K.   They are a quick, delicious side salad for dinner and a great idea for packing in the school lunchbox.  Like many raw vegetables, it is best to blanch them before consuming.    Blanching is an easy technique that keeps vegetables crisp and tender. By boiling vegetables briefly then quickly "shocking" them in ice water, blanching preserves texture, color and flavor.  I always blanch my veggies at home when I put out a vegetable platter (crudités) or when I bring in the food for class parties.  And amazingly, the kids always go for the healthy stuff first…so if you are room parent this year, don't forget your veggies!
How to Blanch your Veggies:
Bring a pot of water to a rolling boil.  Add a pinch of salt.
Throw in vegetables for approx. one-two minutes. Cook just until tender.  Take one out to taste.  It should still be crisp!
Have an ice bath prepared in advance. Simply fill up a bowl 3/4 full with water and add ice cubes.
Place veggies into an ice bath to quickly chill them until
they are cool.  Remove with a slotted spoon.
You will need
snap peas or snow peas, grape tomatoes, and fresh mozzarella cheese.
After blanching the snow peas, add them to a large bowl with halved grape tomatoes.
Add fresh mozzarella cheese….the mini bite size pieces are perfect for a salad.
Make a simple, light dressing. Don't mask the fresh flavors of the vegetables with a heavy, oily dressing! A simple combination of squeezed lemon, extra virgin olive oil, cracked pepper and sea salt complement this salad nicely.
Pack the salad in a plastic container for a school lunch, bring to a picnic or have as a side salad with your dinner…delicious, healthy, simple, Enjoy!
4- Edamame!
Eda-whaty???  If you aren't familiar with this soy bean product, here's the scoop…Edamame are fresh green soybeans.  They are a delicious and nutritious vegetable option and a great meat substitute because it is considered a complete protein. They provide the necessary protein, along with a variety of vitamins and minerals, without the saturated fat and cholesterol present in meat. Grocery stores sell frozen edamame either shelled or still in the pods.
A 1/2-cup serving of shelled edamame contains only 100 calories, with 3 g of unsaturated fat and 8 g of protein. It also provides 4 g of fiber and is a good source of calcium, copper, folate, iron, magnesium, manganese, phosphorus, thiamin, vitamin A, vitamin C and vitamin K. Edamame doesn't contain any cholesterol and has very little sodium.
I like to pop the edamame beans out of the pod and eat them lightly salted or simple defrost frozen shelled edamame beans and salt.  You can also boil them in salted water for a few minutes. Pack edamame beans in a zip lock container for school lunch and you have a great high-protein substitute for your pbj.  Edamame can also be put in soups, stews, salads and made into hummus.
Important!!! Be sure to buy ORGANIC edamame beans only.  80% of soybeans in the U.S. are genetically modified.  Which means the genetic make up of the beans have been altered to resist harmful pesticides.  Organic soy beans are non-GMO (genetically modified organisms).  The possible harmful effects of GMO foods are still inconclusive, however, when it comes to the foods I choose to have my family consume, I prefer to err on the side of caution until there is better information available!
I discovered this one when my son was in preschool.  I wanted to give him cut up apples without having to add lemon juice to avoid the browning. (apples just don't taste right with lemon juice on them).  So cut, cube or slice the apple however you like.  Throw the apples in a zip lock baggie and then add a generous sprinkle of cinnamon.  Zip up the baggie and shake, coating all the apples.  Done!  They will never notice the slight browning since the apples are covered in cinnamon… and the school cafeteria will smell like apple pie!  As a substitute for pie crust, give them a few graham crackers on the side.
6-Dried Fruit and Nuts
This is so quick and simple, yet full of everything necessary to sustain your child's energy.  Remember, lunch doesn't always have to be a sandwich–there are plenty of other great options and substitutes. Of course if your child has a nut allergy, this one may be off limits!!
Combine mixed nuts (unsalted or lightly salted) such as almonds, cashews and walnuts.  Add a handful of raisins, dried apricots, craisins or dried cherries.  You can also throw in some mini chocolate chips—dark chocolate chips contain antioxidants and are lower in sugar than milk chocolate. That's it!  Put this in a zip lock with a fruit and drink.   Supermarkets sell some great pre-made nut and fruit mixes too—I love the combinations sold by Trader Joe's!
7- Grapes–the "other" juice box  
Add some grapes to their lunchboxes and a bottled water instead of a sugary juice drink.
Grapes are at the height of flavor in September.  This is harvest time for many of the varieties.  Imported grapes are heavily sprayed with pesticides.  Please try to buy organic if possible, especially if grown outside the US.  A baggie of grapes is a good substitute for boxed fruit juices which are usually very high in added sugar.  Grapes give a natural sugar boost and are low on the glycemic index. Plus, they contain flavonoids that are very powerful antioxidants.
8- The After-School Yogurt Parfait:
Like many kids, mine comes home famished after a long day (and early lunch schedule) at school.  Here's one of the quick snacks we grab before heading out to religion class or sports practices….  
Skip the flavored yogurts that claim to contain real fruit—read your labels carefully, most of them are very high in sugar and contain very little real fruit!!  Here's the real deal….
Try Greek strained yogurt.  It is very thick, creamy and filling—you'd never know it contained 0% fat!  Greek yogurt is also very high in protein!   There are several brands available in your local supermarket and many brands also carry 2% fat and fruit varieties, which contain some sugar.
You can add whatever you like to your parfait…we like walnuts, fresh fruit and honey or agave nectar drizzled on top.
This is the perfect snack to hold them over until dinner time…try it for dessert too!!
Healthy Lunch Hunt FREEBIE!!