Special Foods for Special Kids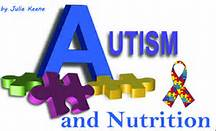 This page of "SpeechSnacks" is dedicated to those with  ASD (Autism-spectrum disorder), ADHD and special dietary needs.   It contains information related to dietary restrictions and suggestions for children with ASD and ADHD. These foods fit the criteria for families who may be avoiding wheat and dairy ingredients (a gluten-free/casein-free diet.) 
Check out the following posts for foods that are gluten-free and casein free—-
SUNDAY MORNING ALMOND PANCAKES
SPECIAL RESOURCES FOR SPECIAL DIETS

Looking for some great resources for preparing foods for your family that are nutritious as well as gluten-free/casein-free??  Check out  The Kid-Friendly ADHD & Autism Cookbook.    This cookbook provides gluten-free milk-free substitutes and recipes as well as successful suggestions for feeding the picky eater. The authors share details about just how and why the diet works. The specialty ingredients are explained and extensive sources provided. There are also testimonials from the parents and from the children themselves.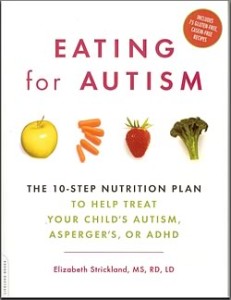 EATING for AUTISM  is written by leading dietitian Elizabeth Strickland —this book debunks the myths surrounding nutritional interventions and fully explains the nutrition-autism connection.
Here is a wonderful site with information regarding diet and nutrition for children with special needs.  Check out Nourishing Hope–Diet and Nutrition for  Autism and ADHD… and check out their informative blog, filled with recipes and nutrition advise for those with ASD!
FOOD FACTS FOR SPECIAL NEEDS DIETS
Autism Spectrum Disorders (ASD) are developmental disorders that affect children by disrupting their ability to communicate and interact socially. Specialized diets may reduce the symptoms associated with this disorder.  The gluten-free/casein-free diet is one such diet that has been growing in popularity. Some parents report improvements in autism symptoms with this dietary regimen (although research is limited on the actual effects of this diet).


What is a gluten-free/casein-free diet for autism?
A gluten-free/casein-free diet is also known as the GFCF diet. It is one of several alternative treatments for children with autism. When following this strict elimination diet, all foods containing gluten and casein are removed from the child's daily food intake.


Some parents of children with autism believe their children are allergic or sensitive to the components found in these foods.  Even when no allergy is confirmed, many parents of autistic children still choose to offer the GFCF diet. Among the benefits they report are changes in speech and behavior.
Which foods contain gluten?
Gluten is a protein found in the seeds of several grains such as barley, rye, and wheat. A huge number of foods contain gluten.
When someone is on a gluten-free diet, most bread and grain products are forbidden. It is important to make sure that the child receives ample fiber, vitamins, and minerals.


Which foods contain casein?
Casein is a protein found in dairy products and other foods containing dairy or lactose. Many soy products and imitation dairy products also contain casein, so it's important to read labels carefully when following a strict casein free diet.
Because the GFCF diet for autism restricts dairy products, you'll need to make sure the child's diet has other good sources of calcium and vitamin D which are necessary for strong bones and teeth.
(Some information obtained from webmd.com)
The following foods are ADHD diet super stars:
Nutrient rich foods. Fruits and vegetables should form the bulk of anyone's diet. Lightly steamed, in soups, raw as snacks and in salads, they are perfect foods for ADHD kids. Blueberries are especially supportive of brain health. 
Omega-3 fatty Acids. ADHD kids are often low in them and deficiency has been linked to everything from impulsive behavior to aggression, dyslexia, depression, and temper tantrums. Get Omega-3s from low-mercury fish and from fish oil supplements.
Ground flax seeds and nuts. Flax seeds and nuts, especially walnuts, are rich in fatty acids and lignans, often lacking in our diets. Throw a tablespoon of ground flax seeds in a fruit shake– it won't taste any different, but it'll be thick, creamy and super healthy!
Make sure your child avoids:
Foods with artificial colors and preservatives. Avoid foods and drinks that list on their labels U.S. certified color Red #40, Blue #2, Yellow #5 (Tartrazine), Yellow #6 (Sunset Yellow), as well as sodium benzoate.
Junk foods. ADHD kids' bodies have issues when processing sugar. Leave candy bars and soda out of their diet. They have no nutritional value and may aggravate ADHD symptoms.
"Bad" fats. Trans fats and saturated fats have been linked to all sorts of degenerative diseases, from heart disease to various cancers. Skip anything deep fried and anything that has partially hydrogenated fats in it.
Wheat and dairy products. Gluten and casein can provoke allergies and may alter brain function. 

Many parents have seen a difference in their child's behavior when they've excluded gluten containing grains and dairy product from their children's diets.

Make millet, quinoa, oatmeal instead; encourage your child to try rice, almond or soy milk.
Here are some helpful tips about what foods to avoid and what to serve in their place:
Substitute 100 percent fruit juice for soft drinks, fruit drinks, and fruit punches — all of which are typically artificially colored and flavored. If your child must have a soft drink, try 7-Up, Squirt, or Sprite. These brands are naturally flavored and free of dyes—though they all contain sodium benzoate. Even better, buy natural sodas or fruit spritzers sold at health food stores.
If you have time to bake, make muffins, cakes, and cookies from scratch. Cake mixes contain red and yellow coloring. Use pure extracts instead of artificial vanilla (called vanillin), almond, peppermint, lemon, orange, and coconut flavors. No time to bake? Try Pepperidge Farm Chessmen cookies, which are free of dyes and low in sugar.
As you would expect, the more colorful the cereal, the more food dyes it contains. Look for breakfast cereals that are free of dyes — like Cheerios, which doesn't contain artificial colors, flavors, or preservatives.
If your kids love barbecue sauce, or if you use it to spice up everyday dishes, read the label before buying a bottle. Many brands are loaded with Red #40. Does your child enjoy popsicles? Buy Welch's Fruit Juice Bars, one of the few brands without dyes or preservatives.
Jell-O and other gelatin mixes are loaded with artificial coloring and flavors. Make your own gelatin salad or desserts by dissolving plain gelatin in 100 percent fruit juice for a pretty, and nutritious, dessert.
Here are some natural food colors that don't cause hyperactivity: annatto; anthocyanin; beta carotene; caramel; carmine; chlorophyll; paprika; red beets; saffron; turmeric
(some information obtained from December/January 2008 issue of ADDitude)
Helpful links for SPECIAL NEEDS DIETS: