It was the summer of the ALS Ice Bucket Challenge!  Did you take the challenge?  I did, along with my son!   It was an honor to participate in this awareness-raising sensation along with millions of others this summer.   And it inspired me to turn it into a teachable moment with my middle and high school students when I return to school.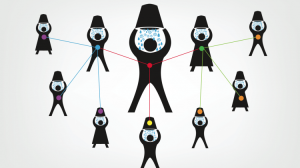 If you took the challenge, share it with  your kids. They will get to see your "human" side and realize that teachers are real people with real lives too!!

Educate your students with some background information about ALS as a way of addressing comprehension skills.  Here is the official web site for the ALS Ice Bucket Challenge. It  explains ALS in clear and simple terms and would be a great reading comprehension lesson.
Incorporate video clips of the Ice Bucket Challenge videos in your therapy lesson.  Show your students video clips of various challenges (there are millions of them on Facebook and YouTube so it shouldn't be too hard to find many examples, including challenges from celebrities, professional athletes and everyday people.
Use the videos to address language concepts with your students: inferential thinking, answering WH questions and problem solving.  (Please screen for appropriateness before sharing with your students!)
What are people being challenged to do?   (What are the rules of the challenge?)
Why do you think people were pouring buckets of ice water over their heads? (What is the purpose of this action?)
What reactions/emotions do those taking the challenge have in common?
Identify the CAUSE and EFFECT in the segment.
Describe/sequence the video. What happened first, next, then, last?
Here is a compilation of celebrities taking the challenge:
And how about those Ice Bucket "fails!"
These clips are a great way to address problem solving.
What went wrong in the challenge?
What could have been done differently?
How did the participants react to the "fail?"

Bring the "challenge" into your therapy room this school year with an activity that I created in my TpT store.  I call it the SLP Speech Bucket Challenge!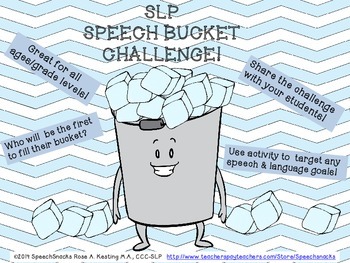 The first student to fill their bucket with 20 ice cubes is the winner. But don't pick a melting ice cube or you will have to put your ice cubes back into the pile!
Game includes:
•Your choice of two versions of the bucket graphic to appeal to various age groups plus one extra bucket to write in your own challenge title.
•One sheet of 12 colored ice cubes.
•One sheet of 12 melting ice cubes.
•One sheet of black/white line drawing ice cubes for use with the goal you are targeting.
Want to add a little more fun to the Speech Bucket Challenge???
Let the winner pour a bucket full of "ice water" on your head! NOT real ice water of course! Fill a plastic container with any of the following: Styrofoam "peanuts", cotton balls, shredded paper, confetti (or any other material that is soft and safe!) The rest of the group must clean up the mess when the fun is over!
I hope this FREEBIE gets your year off to a fun start while teaching some important lessons!   Challenge on!