Letter boards are everywhere!  You can find them in Target, Walmart, office supply stores and Amazon.  Instagram has hashtags  and Pinterest has pinboards  dedicated to these clever posts.  We use them to make grand announcements about engagements, pregnancy due dates and those adorable baby milestones.  I love to use my letter board during the holidays and for special dinners. I post the menu for my guests to read in anticipation of all the delicious dishes we will be consuming.  One more way I started using my letter board is in the speech room.   Although I could easily use a white board or paper and pen for the same purpose, I have found the letter board to take on a magic of its own with my older students.  I attribute this to the multisensory, interactive features of this simple and relatively inexpensive product.  There's something to be said about multisensory activities that allows students to experience learning from a perspective that other methods don't offer.  When students learns something using more than one of their senses, the information is more likely to stay with them.  Multisensory instruction helps kids tap into their learning strengths to make connections and form memories. And it allows them to use a wider range of ways to show what they've learned.  Multisensory teaching takes into account that different kids learn in different ways.  I teach at a school that embraces the Orton-Gillingham approach so we are all about multisensory learning (using visual, auditory, and kinesthetic-tactile pathways simultaneously to enhance memory and learning .)  Links are consistently made between the visual (language we see), auditory (language we hear), and kinesthetic-tactile (language symbols we feel) pathways in learning to read and spell.   I think my letter board is just one more great way to reinforce our teaching philosophy!  I even decided to create something FREE in my TpT store to help you use a letter board effectively with your students.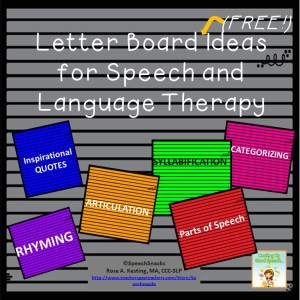 Here are a few ideas:
1–Syllabification: the division of words into syllables, either in speech or in writing.  For students challenged by multi-syllable words and challenging content specific vocabulary (in this case, it was algebra terms that were difficult for this student.)  I wrote the words for him as reference (algebraic and numerical ) and then had him sift through a pile of letters and spell them out on the board, while breaking the words down into clearly separated syllables.  He actually said that it was fun doing this on the letter board.  (Yay! Bonus points for me!)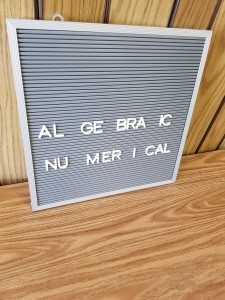 2- Categorizing/Association: I worked on generating words within a category by having students pick a letter out of a bag.  They had to think of a word that started with that letter and then try to think of other words associated with the word or a list of words in that category. For the example below, she chose a "W" and came up with the category WAYS to EXERCISE.   She also came up with the word WEATHER and then names things associated with the word WEATHER.   The "W" words were spelled out on the letter board, but we used a white board to write down all of her additional responses.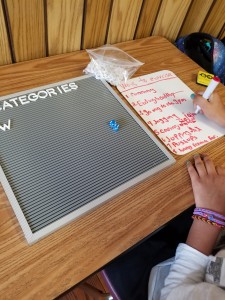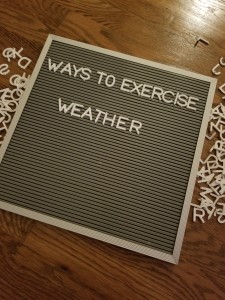 3– Inspirational Quotes for addressing critical thinking skills: My older language students use the letter board to choose and spell out the words to an inspirational quotation (see my FREEBIE TpT product for quote cards that you can use for this activity.)  We discussed what the quote means to them, how they can relate/apply it to their own life experiences and/or what lessons can be learned from the quote.  We also did a Google search for the authors of the quotes to find out the historical significance of their words.  I then have them write out their responses on the form provided in the download.  I like displaying these positive messages in clear view for any/all of my students to read and discuss.  Some great conversations have come out of these quotes!

4–Parts of Speech:  Right now I'm focusing on nouns, verbs and adjectives with several of my students.  I have them pick a letter from the bag and spell out a noun/verb/adjective that begins with that letter on the letter board.   We then talk about ways to use the words together to form a sentence.  Using a dry erase board, they can formulate creative sentences using the words on the letter board.

5-Acrostic Poems:   Brainstorm  a word/idea with your students. Chose a word that is seasonal, content-area specific, relevant to a current event or the student's interests. Spell the word going down the middle of the board. Then create an acrostic poem.   Ask students to come up with words that they can associate with the main word.   It will involve some creativity, but will be a fun word-finding challenge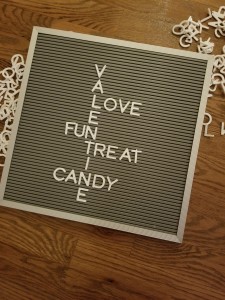 6-Rhyming: This activity will help increase phonological awareness skills.  Display a word on the letter board : i.e: ran.  Ask your students to sift through the letter bag and find as many letter/blend combinations that rhyme with the original word as possible.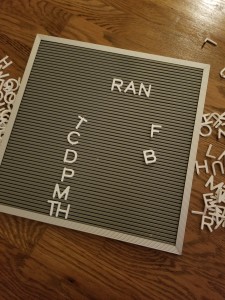 7-Articulation:  Do you have older students who are still working on the /r/ (or any other sound) and can't seem to get them motivated to practice?   Pull their sound out of the bag and let them use it to spell out a word with their sound in the beginning, medial and final position.  You can add a white board to save time and ask them to then use the words to form sentences.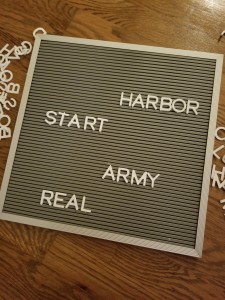 Do you use a letter board in your therapy sessions?  What creative ways have you used it with your students to address their speech and language goals?  I'd love to hear from you!